May 06, 2016
Auto Detailing Equipment: Three Things your Mobile Service Needs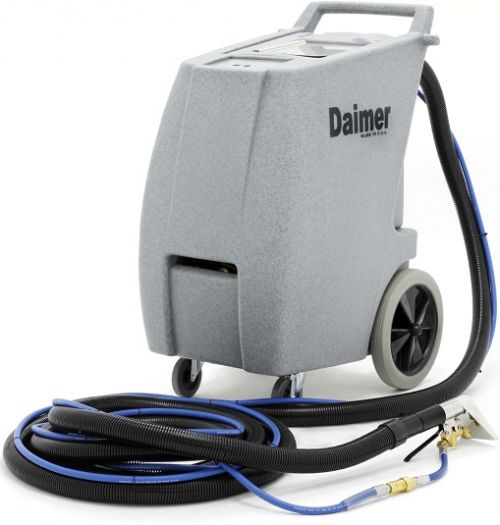 To run a successful mobile auto detailing service, you need to be able to provide your clients with superior cleaning. This allows you to not only keep regular clientele, but these clients will also recommend you to their friends and family, allowing your business to grow.
When selecting an auto detailing service, your customer has specific expectations on what they are paying for. Most detailing services will clean a client's car, using special auto detailing equipment and tools to clean the car of dirt and grime, both on the inside and outside of the vehicle. While the client may have specific reasons to get their car detailed, many either simply want a clean car or they want their car cleaned for resale, to get the most money back for their car. To meet the expectations of your clients, you will need a commercial grade carpet cleaner. This carpet cleaner must have three very important features: Heat, Quick Drying Time, and be Portable.
Clean with Heat
As you are probably aware, steam is one of the most popular ways to clean leather and water sensitive materials. For example, alcantara and suede are usually cleaned with steam because it will leave your surface mostly dry. Steam is also used for taking out the dye transfer from leather seats in vehicles.
For carpets and upholstery, use a steam cleaner to remove stains, spills, and dirt. The heat easily removes dirt and odors from the carpet and upholstery in the vehicle. Then, use the bristles in the brush to rejuvenate the aesthetics of the carpet.
Fast Drying Time is Essential
To make sure that you are making the most money, you need to make sure that you are working efficiently—and the client is going to want his or her car back as soon as possible. Considering many people use their car to go just about anywhere, you can imagine the inconvenience it is to have to wait for your car to be back in commission after being cleaned. The fact is that people do not want to wait. And, the faster you get their car back to them, the higher the chances that they will use your services again in the future.
Using a steam cleaner to clean your carpets helps you reduce your drying time. Because the carpet is not fully saturated, like a traditional carpet cleaner, it is instead just dampened by the steam. Then, you can vacuum over the steam to reduce more of the wetness and therefore reduce the dry time even more.
Get A Portable Car Shampooer
The last thing you need to make sure you have in your vehicle carpet cleaner for your mobile detailing business is a carpet cleaner that is portable. Not only does the machine itself have to be portable, it needs to have parts and functionality so that it is easy to use in a vehicle. How large are the parts and equipment? Does it have a long enough hose for you to be able to move from the front seat to the back seat? Will the hose offer enough reach? What add-ons does the equipment come with? These are just a few questions you should ask yourself when selecting the right carpet cleaner for your mobile auto detailing business.
Shop Daimer Auto Detailing Equipment
To find the best carpet and upholstery cleaner for your mobile auto detailing business, view the selection of carpet cleaners offered by Daimer. Go to view each of the carpet cleaning machines that would suit your individual carpet cleaning needs.
Daimer offers a variety of carpet cleaning machines, all featuring the three things named above: heat, fast dry time, and portability. The XTreme Power XPH-5900IU has a 4.5 gallon tank and reaches temperatures up to 210 degrees Fahrenheit. Also, the low flow feature causes less wetness to ensure even faster drying time. In fact, you can expect the carpet to clean in approximately one hour. The machine offers a long hose, allowing you to reach all the spots you need, and there are optional wands available for purchase, with a rugged 4 inch wand included.
Daimer is the leader in carpet cleaning machines and is a trusted brand, most known for the durability and superior performance.
Along with exception machines, Daimer also offers a variety of financing options, allowing you to get the carpet cleaner you need and within your budget. With affordable carpet cleaners, Daimer is the number one online carpet cleaner store. To top it off, Daimer also offers a variety of warranties on the equipment to ensure that the carpet cleaners last. For more information, view www.daimer.com or call a Daimer carpet cleaning representative at 877-830-7346. Daimer is open 24 hours a day and 7 days a week, so that we are always available when you need us.