January 10, 2015
Daimer brings you the best carpet cleaning machines available on the market!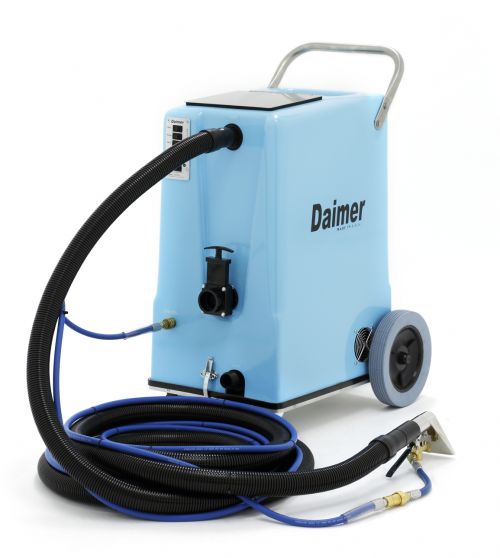 Dirt is a fact of life. As much as you try to prevent it, it still somehow tracks it's way inside. Stains are also a fact of life. If you have kids or pets, you know this to be extremely true. There may be stains that you just can't seem to get up with your spot cleaner, so you feel as if you need to hire a carpet cleaning company to come out.
Hiring a carpet cleaner is not a cheap expense. Usually, carpet cleaners will charge upwards of $150 a room! Would it not be so much easier, instead, to purchase your own carpet cleaning machine so that whenever there is a spill or dirt is tracked in, you can just fire it up? Daimer brings you the #1 brand of carpet cleaning machines for commercial and residential use that you will not be able to find anywhere else.
Along with that, our industrial and home carpet cleaning machines are extremely affordable and easy to transport from room to room  for use! Making the small investment to purchase a carpet clean machine should not be a tough machine. You know that spills and dirt are going to happen: it's inevitable. So, why not just take the leap and purchase your very own carpet cleaning machine for sale on Daimer.com?
We at Daimer believe in our products and that we have the best home carpet cleaning machine available. We know that they are capable of getting the toughest dirt and grime out of your carpets. We believe in making our customers happy 100% of the time which is why we have included a free upholstery/stair told in some of our most popular carpet cleaner models. We also offer huge discounts on all of ours models because we believe that residential and commercial cleaners should be able to be afforded by everyone.
We are American owned and operated and take pride in the creation and distribution of our products on our home territory. Our parts are well-made and we know that they work well. However, we also do ship our carpet steam cleaning machines to over 240 countries across the world because we want everyone to see how amazing our products really are! You won't be able to find the affordability that we at Daimer can give you on the best commercial carpet cleaning machine available online or offline. So, what are you waiting for? Reduce the stress of finding a carpet cleaner and pick up one of our excellent portable carpet cleaning machines today!
Daimer's professional carpet cleaning machines outshine all of the rest  
There are many things that one should look for when it comes to finding the best carpet cleaning machine. One thing that you should look for is whether or not it is heated. Having a carpet cleaner that is heated machines can mean it is more powerful and can get rid of stains quicker and easier.
Steam carpet cleaning machines are also safer for your carpet and have the ability to clean without high temperatures. The next thing you should look for is quality of the carpet cleaning machines for sale. Are there separate parts included? Does it have a high-powered extraction method? Buying cheap portable carpet cleaning machines will do nothing but tear up your carpet, so if you are going to buy one, you have to buy one that is a quality product. Also, you should look at the carpet cleaning machine reviews online before purchasing, which will tell you things about the product that you may not have known and see what other people's experiences with the product has been. This will let you know if it will be a good purchase.
If you are thinking of purchasing one of the commercial carpet cleaning machines for sale online, looking at these aspects are even more important. In a high traffic area such as a business, having the best commercial carpet cleaning machine available is extremely important. Our industrial carpet cleaning machines available online are the perfect option for your business. If you are dealing with a commercial property that sees a lot of traffic and attracts a lot of dirt, your best option is to look for a carpet cleaner that is heated.
On daimer.com, we have carpet cleaners that reach up to 210 degrees fahrenheit, which is the industry's highest temperature! Having a carpet cleaner for your business' use will save you a great deal of money. Carpet cleaning companies will upcharge if they know you are a business because they know that commercial properties tend to have more dirt and grime that accumulate on their floors. The small investment of purchasing your own commercial cleaner will have a lasting benefit.
Not only will it give you an easy, inexpensive way to clean your business' floors after a spill or for a regular deep clean, having your own carpet cleaner on hand is great to keep your commercial property looking nice for customers. If your floor is dirty, customers will notice. Keeping your floors clean is an extremely important aspect of customer service. With the purchase of your new carpet cleaner for your business, you will not only have clean floors, but happy customers, as well! So, if you have been searching for the best carpet cleaning machine for your home or business, your search has come to an end: welcome to Daimer!