October 24, 2014
Bring a Commercial Carpet Extractor into Your Life
In an effort NOT to replace your carpets in their entirety, you might be thinking about grabbing a carpet cleaning machine, such as a steam cleaner or even a carpet shampooer. These are a great idea, but the problem is that sometimes the damage to the carpet has simply made it too far. Sometimes if you want to make your rugs look as good as new, you will have to really go the extra mile. Of course you could try a regular steam cleaner, and you could scrub those floors again, and again, and again, but when it comes right down to it, some stains need a lot more work in order to be removed. This is where a commercial carpet extractor will come into play. Not only do they utilize many of the same techniques that you would see in a traditional carpet cleaner, they tend to go far deeper, extracting dirt from the deepest layers of your carpet, and giving a much more comprehensive cleaning than you could have hoped for otherwise.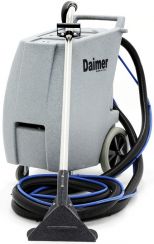 How Do Commercial Carpet Extractors Work?
A carpet extractor is capable of removing dirt and grime from the innermost layers of the carpet, from dirt, to debris, to deposits.  By doing so they tend to leave the area cleaner than ever before, and in addition to that, they actually manage to leave the carpets dry in the aftermath of the cleaning, which is not always possible with traditional carpet shampooers. Once the dirt and debris are removed from the carpet they can simply be vacuumed up and you can go about your business.
Though high pressure is not always a necessity, the commercial carpet extractor is certainly capable of utilizing it.
Use of carpet extraction cleaner systems is imperative in commercial carpet cleaning. Investing in high-quality industrial carpet extraction machines is a sensible decision to make, if you have to deal with heavily soiled and dirty carpets on a regular basis.
Carpet extraction cleaning equipment pumps water and also a carpet cleaning solution, if needed, at high pressure into the carpet layers. The carpet extractor vacuum cleaner then sucks out the residual dirt, grime, debris, and excess water with a high-powered vacuum. Delivering far more of an impact than its more traditional counterparts. If you are buying one for upholstery, then a smaller unit might be in your best interest. More industrial use however will require a bit of a bigger model. All in all, what you have here is a tool capable of removing some of the toughest and most stubborn stains from virtually any carpet. With that being said, you can see why so many people tend to prefer this particular tool over the plethora of traditional capret cleaners that are currently available on the market.
Less Water, Less Mess
Extractors simultaneously spray a mist of hot water onto the carpet and simultaneously vacuum. Daimer provides the best of the best in terms of carpet scrubbers, carpet extractors, and other great tools that you might choose to utilize in the effort to get your carpets clean. Along with basic carpet extractors you will find that Daimer does provide a few models specifically for car detailing along with non-heated carpet extractors for very specific purposes within different facilities both commercial and industrial. This highly eclectic collection provides you with everything you need, and then some when it comes to getting the job done and ensuring that you can continue to get that job done for many years to come.
Remember to compare the models side by side before you actually purchase any of them. With a purchase this important, you certainly want to make sure that you are making the right decision, and that it will be a bit kinder to your carpet than some of the other alternatives that you might be inclined to try. Some also operate at a much higher pressure. For example, some will go up to 500 psi(pounds per square inch) while others will simply remain at something like 220 psi. The amount of pressure you need ultimately depends on what sort of building you work in, or in other words, how much foot traffic you are going to have on a regular basis. In other words, if your office is sitting outside of a coal mine, you are probably going to need something that packs a bit of a bigger punch. In the end, the model you get is up to you, so start planning today and make sure your floors are perfectly clean tomorrow.