May 01, 2015
KleenJet® Pro Plus 300CS: The Most Powerful Commercial Vapor Steam Cleaner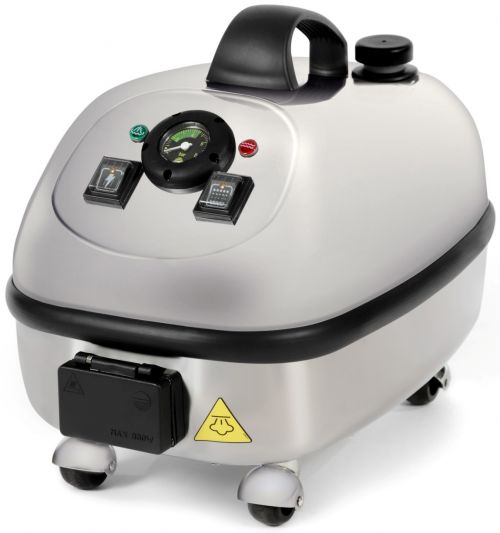 This commercial vapor steam cleaner is the most powerful vapor steam cleaner on the market. It gives you increased temperatures up to 310°F along with pressure levels of up to 75 psi. Unlike other commercial vapor steam cleaners, the water in this cleaner heats up within just 7 minutes. It has a total volume capacity of 4 liters. The Advanced Self-Regulating Continuous Refill technology means that this machine constantly refills the water distribution system all on its own without having to press any buttons or a need to shut the machine down.
Initial Features Include:
An Advanced Self-Regulating Continous Refill technology that allows you to add water to the system without having to turn the machine off at any time.
Heavy gauge 4 liter stainless steel boiler; includes a 2 liter boiler and a 2 liter water chamber.
Daimer's flagship model with pressure levels up to 75 psi. Water temperatures can heat up to 310°F. In just 7 minutes, the water will be heated up to its desired level.
Polished stainless steel housing.
Perfect for either commercial or residential use.
Self-cleaning boiler.
The Advanced Self-Regulating Continuous Refill Technology makes it a breeze to refill the water. There is no need to ever have to shut the machine down in order to refill the water chamber. Continue to use the machine while adding water at the exact same time. Save time by not having to power up and power down this machine each time you need to add water.
A self-cleaning boiler makes the Kleenjet Pro Plus 300CS easy to maintain. Unlike other vapor steam boilers, this boiler does not have to be broken down and taken apart in order to be cleaned. This makes it very easy to maintain the boiler and the machine. It also features Boiler Scale Reduction. Boiler Scale Reduction is achieved by the continuous vibration of the mechanism. This helps to reduce the amount of scaling left on the boiler that is normally left behind from lime, calcium and other elements in the water that can build up on normal boilers. Less cleaning time means that more work can be accomplished. Save yourself time and money!
The Kleenjet Pro Plus 300CS is Daimer's flagship model of all of their steam vapor cleaning machines. Its patented design features a total of a 4 liter water capacity. It includes both a 2 liter boiler and a 2 liter water chamber. That means that 2 liters of water remain heated while having an additional 2 liters of backup water supply. This means that machine will never run out of water. You will never have to worry about having an empty machine while performing a cleaning job ever again.
This is the most powerful commercial steam cleaner on the market today. It has pressure levels of up to 75 psi. This means that you will have strong water pressure to remove even the toughest stains. The intense vapor steam power makes cleaning any surface simple and easy. Vapor steam penetrates dirt and stains and makes them easy to remove leaving you with a fresh and clean surface each and every time. The powerful high voltage boiler allows water to heat up in just 7 minutes. No other vapor steam cleaner heats up this quickly. Most machines take at least a minimum of 15 minutes for the water to heat up to the desired temperature. This machine has the capacity to heat water up to temperatures of 310°F. The increased temperatures and high pressure levels create the ultimate combination in steam cleaning power. This makes the Kleenjet Pro Plus 300CS better than any other type of steam cleaning machine that is available on the market today.
The Kleenjet Pro Plus 300CS by Diamer is perfect for both commercial and residential use. Use it to perform any type of job where vapor steam cleaning is needed. Great for cleanup from construction sites because it removes dirt and debris that can be left behind after flooring and carpeting are installed. Perfect for automotive detailing because it works on both carpet and upholstery to remove stains and dirt. Ideal for cleaning tile and grout in areas such as gym bathrooms. Leaves floors clean and sanitary. Can even be used on residential cleaning jobs such as professional residential tile and carpet cleaning.
Other Great Features Include:
30 Free Detail Brushes that allow just about any job to be performed where vapor steam cleaning is needed. Great for large or small areas. Each brush has multiple uses. Use them on hard floors such as tile, Perfect for cleaning grout on tile floors and countertops. Ideal for cleaning all types of carpeting.
Lifetime Boiler Warranty allows you to save money. Never have to worry about purchasing another cleaning machine because the boiler has stopped working. Even if the boiler fails we can replace it. You will save hundreds of dollars because you will not ever have to worry about spending money on a new boiler or an entirely new machine if the boiler ever breaks.
Patented replacement heating elements allow you to save even more money. On most steam cleaning machines, once the heating element goes out the entire machine has to be replaced. That could cost you hundreds or thousands of dollars just after one or two years of use. Simply replace the heating element and begin using the Kleenjet Pro Plus 300CS once again.
Satisfaction is guaranteed with the KleenJet® Pro Plus 300CS. Never consider purchasing another type of steam cleaning machine every again. Check out https://www.daimer.com/steam-cleaners/kleenjet-300cs.htm.