April 14, 2015
Everything You Should Know When Buying Electric Pressure Washers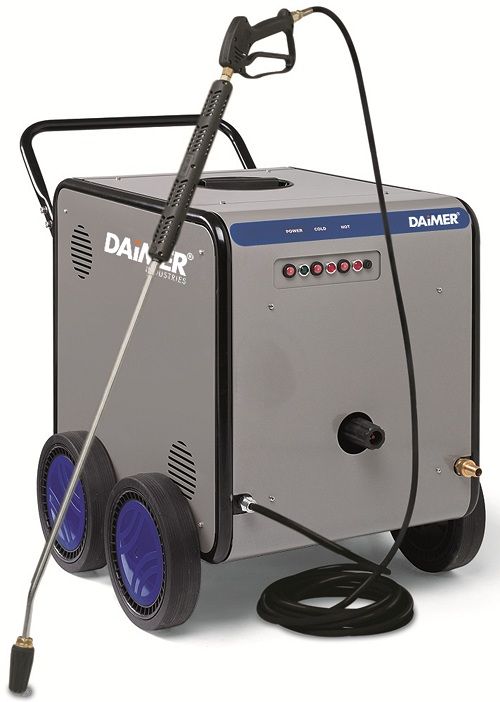 Electric pressure washers are excellent tools for cleaning many different types of outdoor surfaces. In fact, when compared to a garden hose, they are 10 to 15 times more powerful. In addition, they get the job done using about 80 percent less water. Now that you know that pressure washers are powerful and energy efficient, let's learn more about these valuable tools so you are sure to get the best electric pressure washer for your needs.
The Electric Pressure Washer
Typically, the electric pressure washer is used for light to medium-duty projects. This does not mean, though, that you cannot purchase an industrial electric pressure washer for heavier-duty jobs. On the contrary, Daimer Industries carries several pressure washer models suitable for the diverse nature of commercial cleaning needs.
One thing that is important to mention about the commercial electric pressure washer, or any electric pressure washer for that matter, is that it should only be plugged directly into an outlet. You should never use an extension cord between the machine and the electrical outlet. Keep this in mind as you shop for the perfect model and consider the placement of your projects and how far they are located from a power source.
Important Pressure Washer Electric Terms and Definitions
Every pressure washer, electric or gas, contains similar parts and work in much the same way. An electric or gas motor drives a pump that compresses water and pushes it through a hose. The pressurized water exits the hose through a gun or wand. It is important to understand common terms related to pressure washers so you get the right one for the job.
GPM and PSI – These acronyms are measurements that tell you the amount of cleaning power the pressure washer has. GPM, which stands for "gallons per minute," refers to how fast the water flows out of the machine. PSI, or pounds per square inch, tells you how much water pressure the machine puts out. Multiplying the two numbers gives you the cleaning power of the washer.
Amps – Amps are the measure of the power of the electric motor. The higher the amps, the more powerful the machine is.
Axial cam/Triplex  - These two terms are names of two pump types. Commercial electric power washers typically use triplex pumps because they last longer and tend to be more efficient.
Adjustable wands – This is an adjustment on the wand itself that lets you change the spray from narrow to wide. When you do this, it changes the water pressure from high to low.
Interchangeable wands – Models with interchangeable wands allow you to switch from one spray type to another.
Nozzle tips – Nozzle tips provide specific pressure and flow depending on which one you choose. Many models come with interchangeable tips so you can adjust the amount of pressure and flow based on the type of cleaning job you are doing.
Rotating nozzle – This is simply a nozzle tip that emits a power water spray in a circular motion.
Detergent injection – Many pressure washers are capable of using specially designed cleaners. These cleaners are injected into the spray either from a tank on board the machine or by a siphon hose.
Water level sensor – This is an indicator that lets you know when the water level is starting to get low so the pump does not get damaged.
Thermal relief valves –These safety features help reduce heat and pressure buildup.
The Electric Heated Pressure Washer
An electric heated pressure washer is ideal for commercial use because the machine has a built in heater. Everyone knows that hot water simply cleans better than cold water does, so it makes sense that the cleaning power of this heated machine is considerably more than a cold-water pressure washer of the same GPM and PSI. Using an electric hot water pressure washer for industrial purposes breaks dirt, grime and grease down faster; thereby cutting down on the amount of time spent cleaning.
One thing to note here is, it is never a good idea to use hot water in a machine that is not designed for it. The hot water damages the seals and O-rings inside the pump.
Buying the Most Powerful Electric Pressure Washer for your Money
When it comes to buying the most powerful electric pressure washer for your money, the best rule of thumb is: buy a machine that is going to fit your needs. We know this is a broad statement, but if you really think about it, the pressure washer that addresses the majority of your cleaning projects is the pressure washer for you. There are many different pressure washer models available, so before you head out to buy one, sit down and consider everything you want your new washer to do for you. Think about how often you will be using it. As a starting point, a commercial pressure washer should be rated for at least 2000 hours.
Once you have an idea of the type of electric pressure washer you are going to need, be sure to check out the models we have available on our website: www.daimer.com/electric-pressure-washers/. We sell the most powerful and technologically advanced pressure washers in the industry, and we pride ourselves on our expertise and dedication to our customers. Contact Daimer Industries today to find out more about electric pressure washers for your business. We look forward to serving you.