April 16, 2015
How to Select the Right Industrial Pressure Washer for the Job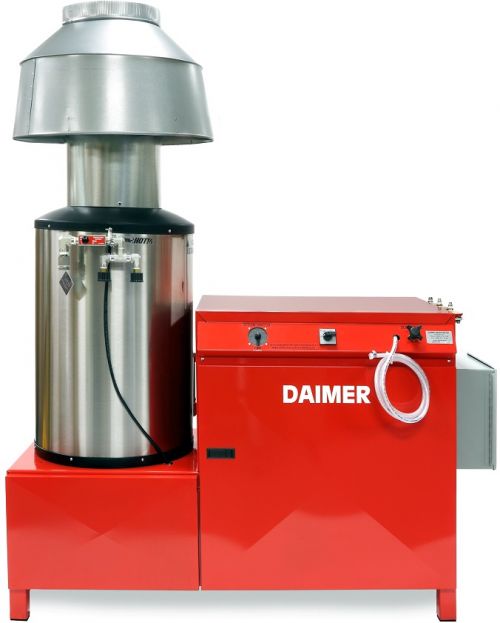 If you already know you are going to be using your machine for more than 100 hours a year, you will certainly need an industrial pressure washer. Industrial pressure washers contain internal components such as brass heads that make them much more durable than residential use pressure washers. Some commercial and industrial units use a direct drive system that reduces the number of components in the machine, thereby reducing the overall price. Others use a belt driven system that improves the durability of the machine, but also increases the number of components as well as the price.
Industrial pressure washing equipment is specifically designed to handle heavy-duty use in tough environments. They are built with the best quality components (forged brass heads and steel valves), and they are intended for use up to eight hours a day, every day of the week. Daimer Industries carries a wide selection of industrial pressure washers for sale, including electric, gas, diesel and propane powered models. Remember, when buying a pressure washer for industrial use, it is important to select a unit built with high-quality parts. While we know price is an issue, purchasing a machine that is long-lasting and powerful enough to get the job done right is the number one goal.
Industrial Hot Water Pressure Washer vs. Cold Water Pressure Washer
Cold water pressure washers do a fine job of cleaning many different types of surfaces with a combination of spray impact and the proper cleaning chemicals for the job at hand. A rotary nozzle helps increase the cleaning power of a cold water power washer, as does the right application of cleaning chemicals. Pressure washer cleaning chemicals are formulated specifically to power through different types of materials, so be sure to use the right one if you choose a cold water machine.
An industrial hot water pressure washer heats water up to 330 degrees. At this temperature, the spray powers through grease, dirt and grime easily and without chemical cleansers. Cleaning time is cut almost in half. An industrial hot water power washer has two power systems: the pump, which creates the high pressured water, and the burner-coil, which heats the water stream.
The pump can be electric or gas powered. The burner coil needs electricity to run, and it needs propane or diesel to heat the water in the coil. Because of these extra heating components, a hot water pressure washer is much heavier and much more complex to maintain than a cold water machine.
Determining the Best Industrial Power Washer for You
Before you head out to purchase an industrial power washer, you need to determine what type of performance you expect out of the machine. How much pressure (PSI) will you need? How much water flow (GPM)? Do you want a cold or hot water machine? Once you have decided these answers and considered the information above, you can decide if a gas powered or electric powered machine is best. Both machines are capable of providing an industrial clean with a variety of drive systems.
Electric Pressure Washers
Electric power washers are quieter than gas machines and do not emit fumes that pollute the air. However, the biggest disadvantage of these machines is their need to be plugged into an electrical outlet during use. This limits the extent to which you can use them if there is no outlet available. Also, most electric units plug into a regular household outlet. Industrial electric washers have 220-volt circuitry that requires outlets only found in industrial settings.
Gas Drive Units
There are three types of gas powered pressure washers: direct drive, belt drive and gear drive. These units provide more horsepower, which equates to more cleaning power and longer durability, which makes them a good choice for industrial use.
Direct drive gas motors contain less internal working parts, which makes them less expensive than their other gas counterparts. However, because the pump is directly connected to the engine, it turns at the same speed, which causes more wear and tear, and ultimately, a shorter life span.
Belt drive gas machines contain internal components designed to slow the speed of the pump. This makes for a longer pump life, but also causes a slight loss in efficiency as there is additional friction caused by the additional belts and pulleys.
Gear drive gas pressure washers reduce pump speed with an added extra gear in the engine. This again, reduces wear and tear on the pump.
Find the Right Industrial Pressure Washer for Sale at Daimer.com
Once you've made the decision to purchase a pressure washer for your business, visit Daimer.com to browse our wide selection of machines to find the right industrial pressure washer for sale that fits your needs. For instance, we recommend our Super Max 9000 model for a multitude of commercial and industrial applications. This electric powered, propane heated industrial grade pressure washing equipment features a whopping 1500 PSI, a flow rate of 2.8 gallons per minute (GPM) and temperatures up to 330 degrees. You won't find a more powerful machine for the money.
If you are still unsure, please don't hesitate to contact our expert staff to answer all your questions. We will be happy to walk you through a variety of features and solutions to find the industrial pressure washer that will fit all of your cleaning needs.
Meta Description:
Click here to find features, tips and suggestions that will help you select an industrial pressure washer that meets all of your heavy duty cleaning needs.