October 15, 2014
Promote the Best of Cleaning with an Electric Pressure Washer
If you run a business, then there is a good chance that you have considered seeking a pressure washer for various tasks. Maybe you have browsed retail stores, and maybe you have looked at various consumer based models. If you wish to really get anywhere however, you are going to need to look at professional models, and you will need to make sure you have the power source you need. In this case, you are probably looking for something that is electric powered.Pressure washers are in high demand, and with good reason. You can purchase them from a number of different sources, for example, your local retail store if you wish to purchase a consumer model. If you are running a business however, having a real industrial pressure washer on hand is always going to be a good idea. How much of a difference does a pressure washer make exactly? What does it do for you? First of all, a pressure washer, operating at a high rate of pressure, is going to give you a much cleaner surface. You could be cleaning your swimming pool, a factory floor, a vehicle, or any number of other areas, and at some point, you just need a high pressure cleaning system. The electric pressure washer is a device that brings in the results.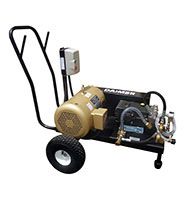 Why Electric Pressure Washers?
An electric pressure washer is a tool that can make your cleaning tasks far easier than ever before.  The question you must ask however, is how you will go about choosing the best electric pressure washers for sale, especially when there are so many of them floating around on the market. Daimer, fortunately, is one of the best brands, but that still leaves you trying to decide which model you want to go with, which isn't an easy decision in the least.
First of all, it helps to understand why we tend to promote the commercial electric pressure washer. Well, there are actually a few reasons, first of all, it can be easier to use an electric power source than a gas one, in certain settings. If the wiring in your building is  sufficient, it will be easy to power your pressure washer, making it much more idea for indoor cleaning, if applicable. Because they do not emit any type of exhaust, you do not have to limit your time using the device, nor will it pollute the atmosphere.
Electric pressure washers are convenient, to say the least. They can be deployed anywhere in the building, they take very little time to start, and as a result, many companies tend to prefer them. The best part is that they are quiet, while exhibiting much higher pressures than their counterparts. Some actually provide a pressure level of 2175 PSI with a considerably low flow rate. The increased temperatures available with heated models will give you the ability to effectively clean and degrease, and will ultimately contribute to a much healthier work environment. However, a three phase electrical supply is required for most of these models.
Going Cold
On your unending quest to find the most powerful electric pressure washer, you might be interested in a hot water washer, but you should also understand that not every surface needs to be cleaned with hot water. Sometimes you need to compensate by finding a good cold water pressure washer, or perhaps one that is able to switch modes. Luckily, there are plenty of options even if you are staying within the Daimer brand. With that in mind now would most certainly be a good time to start looking into the different pressure washers that Daimer has to offer. Not only are they powerful, they come in a plethora of different styles to ensure that no matter what the job happens to be, you CAN get it done, and you can do so in a timely manner.
The Daimer website gives you the option to compare many different models side by side, which is something that most other companies do not allow you to do. You will be able to compare the pressure, the power source, and even the portability of the unit in question. There are so many different features for you to consider before you actually make a purchase, some of which will impact the way in which the device is able to clean. Before you make any decision, evaluate the needs of your facility whether you are simply cleaning your recreational vehicle in your driveway, or doing something far more complicated, such as washing cars in an industrial wash setting. Then again, you might even be cleaning floors. If you're ready to make a difference along with a much cleaner environment, then now would be the time for you to get started and get to purchasing.