April 01, 2015
Tackling the tough Jobs with our Cleaners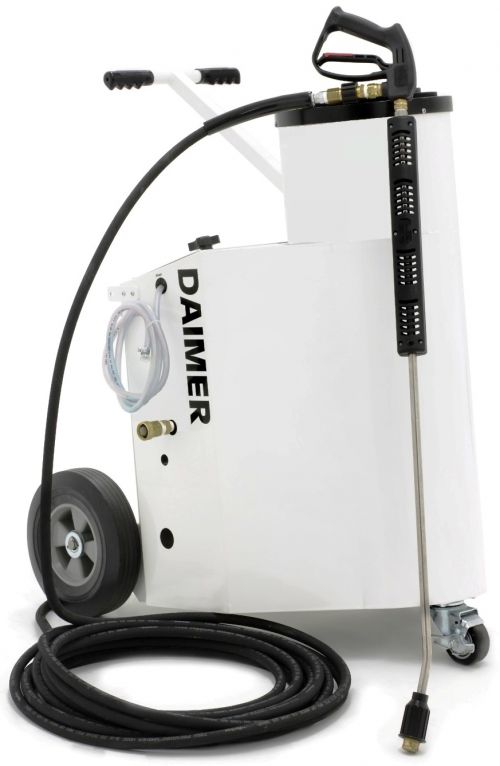 Deep cleaning can take a lot of time! Who wants to waste an entire Saturday scrubbing out the car, apartment or hosing down the outside of your home? There is an easier way! At Daimer, we offer the best quality home, commercial and industrial cleaning equipment in the industry. Here are just a few ways we can help make your cleaning routine a snap:
What can I use a stem cleaner for?
When you need a deep clean on your wood floors or inside your car, our steam cleaner is a great solution. With PSIs ranging up to 115 PSI and temperatures over 300 degrees, our stem cleaner is guaranteed get the job done right the first time. We offer several different models of cleaners to fit any need. The water in our powerful cleaners reach maximum temperatures within 15 minutes, allowing you time to prep the area you need to clean quickly. Our commercial-grade units are lightweight and compact, making them easy to move around and to store when it's not in use.
Our steam cleaners are easy to use and provide the best technology available to ensure a clean, sanitary surface in a quick amount of time. One major benefit of using a steam cleaner is that the water temperature is hot enough to sanitize and dry quickly. This is especially important for cleaning areas that contain fabric. Fast-drying water reduces the risk of mold and excess moisture buildup. Using the steam cleaner in commercial settings, allows for a high-quality clean without draining concerns.  For best results use your steam cleaner on surfaces like glass, ceramic, wood, metal or tile. When you want the best clean for your commercial property or home, choose the best company in the industry.
Visit our website to learn more about how you can use our steam cleaners (including for getting rid of bedbugs and cleaning/sanitizing bathrooms and kitchens.)
Where can I use the carpet cleaner?
Our commercial grade carpet cleaner is a great option for homeowners and businesses. Our industrial grade cleaners are designed to clean quickly and thoroughly. Depending on the model you choose, you can use your new cleaner on interior and exterior carpeting, inside vehicles and for upholstery. Each model offers different benefits from low-drying times to environmentally friendly models that do not require any soap. With PSI levels up to 500 PSI, you will get a deep clean quickly. We offer an eco-friendly cleaner that is guaranteed to make your carpet cleaning better, without damaging the environment.
Our advanced cleaning system shoots water into the carpet layers. When you combine the heavy water pressure and hot temperatures with our excellent cleaning tools, the dirt and grime is easily removed and sucked out of your carpet or upholstery. When you add in a high quality carpet cleaner (like ours) the cleaning is deeper, faster and better. We offer some of the best cleaning units in the industry. Our machines will help you get the job done faster, saving your time and money. In addition, many of our units offer fast drying times. Your customers will appreciate the faster drying times so they can back in their homes sooner.
Read more about our carpet cleaning machines on our website. Call us when you want the best cleaning tools in the industry.
What jobs is the pressure washer good for?
When you have a heavy-duty job to tackle, any old cleaning machine just won't do. Our commercial-grade pressure washer has the strength you need to tackle even the dirtiest job! We offer the most powerful technology in the industry. With water temperatures up to 330 degrees, you won't find a hotter product on the market!
Our expert cleaning machines feature the best designs and offer the best results. We offer low-flow rate machines which reduce the amount of water needed to get the best clean possible. This helps reduce your impact on our natural resources and saves you money on your water bill! In addition, we offer units that provide different options for cleaning. Some cleaning projects require hot water to complete the task, while others fare better with cooler water temperatures. You don't have to purchase two machines! Our convenient washers make it easy to get every job done from auto detailing to cleaning cement.
We know that every job and every client has different needs, which is why we have so many choices! We offer the best industrial pressure washers on the market with different features to meet your needs. Need to detail an indoor project? Try our stem pressure cleaners. You get all the bang without the excessive water. This power pressure washer is safe for indoor projects and uses less water so you don't have to worry about a sopping mess when you're finished! These washers provide the heat and water pressure required to clean even the dirtiest mess and meet the toughest industry standards. Click here to learn more about how we can help you!
Daimer ranks among the best companies in the world for pressure washers, stem cleaners and carpet cleaners. Our industrial and commercial grade machines are used in over 200 countries by major corporations and governments. We understand the importance of protecting the environment and providing a high-quality product! In addition, all of our parts and machines are built in the United States. We help better communities by providing reliable work. Visit our website our call us today to see if we have the machine you need.