February 04, 2015
Steam Vacuum Cleaners For A Total Cleaning Experience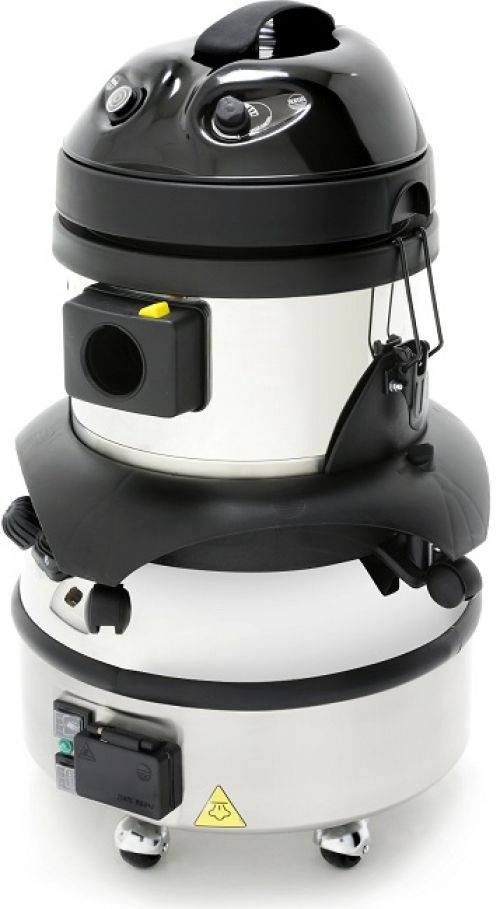 are undisputedly the best cleaning equipment for getting off stains from different types of hard surfaces. Cleaning surfaces that are hard especially in a commercial environment requires the use of machines that have a high output power. The output temperature and the pressure play a vital role in establishing the cleaning capability of a steam vacuum washer.
The best steam vacuum cleaner from daimer.com has temperature outputs that can go as high as 386°F. These vacuum and steam cleaner combo machines are able to get rid of the most stubborn stains that result due to dirt built up as a result of their heating power.
Commercial buildings such as hotels, food processing industries, restaurants and cafes find that getting a vacuum and steam cleaner is the best option since it makes eliminating tough stains and bacteria from the floor, sanitary fittings, joints and so many other surfaces fast and easy.
How do steam vacuum cleaners work?
The best steam vacuum cleaner works to get rid of stubborn dirt, filth, bacteria and fungus from rugs and carpets. They also help in disinfecting and sanitizing your rug too. Steam vacuum washers are available in various sizes from handheld to large steam cleaners for industrial purposes. Each steam vacuum washer has an inbuilt boiler. When you put water on the steam vacuum washer, it gets heated in the boiler and emits steam.  As you clean using a steam vacuuming cleaner, the steam is sprinkled at very high temperatures and run into the rug with spinning brushes. The pressure combined with the excessive heat help in loosening any grime and stains.
Steam cleaning versus dry cleaning
These are some of the most common cleaning methods and there are lots of myths about them. But is one more superior to the other? The best method depends on an individual.
In steam cleaning, steam is not used at all. However, a hot water solution is normally used but immediately retrieved, thus creating a flushing action on the surface. There are so many types of steam cleaning from industrial machines to small handheld machines.  Each machine has unique capabilities majorly the pressure in which water is emitted and the retrieval capacity.
Steam vacuum cleaning helps in removing soil than any other method. Additionally, liquids that have soaked such as coffee, tea or juice can easily be eliminated with the steam cleaning.
The name dry cleaning is quite misleading since a small amount of moisture is applied so as to enhance the dry compounds that have been used. This method is not good for deep cleaning and it's only recommended for light cleaning. Dry cleaning is best when you are short of time since surfaces can be used immediately the cleaning process is over. This is why most commercial buildings prefer this method of cleaning.
Why you should buy a steam and vacuum cleaner
The best steam vacuum cleaners combine the dust particles on your surfaces with warm steam ensuring that none of these particles are driven towards you as you clean. This means that even when you are allergic to dust you can use the machines.
The vacuum and steam cleaner combo is enough to get rid of stubborn stains and also get off bacteria on your floors. This means that you will not need to use harmful chemicals that may cause health problems to you and your family.
Steam cleaners help in cutting costs. Cleaning the entire surface of your floor just requires little amounts of water. This helps you to save on water bills thus helps in cutting down costs.
Since you are able to regulate the heat in your vacuum steam washer, then it makes the machine a versatile one since you can clean different surfaces such as floor tiles, shower doors, fabrics, plastics, metal screens and drapes.
You can opt to use chemicals if you want that extra shine on your surfaces. However, if you opt to use detergents, it is recommended that you use eco friendly chemicals so as to reduce allergy triggers.
Where to buy my steam vacuum cleaner
Now that you know how vacuum cleaners work and their benefits, where can you buy one? At Daimer.com, we have a collection of different steam vacuum washers that will cater for your diverse needs and perfectly fit into your budget. Forget your swap and pail and get yourself a steam and vacuum cleaner from our online store at daimer.com.
We are the best online sellers of high quality steam vacuum cleaners and we are the most preferred because of our affordable prices. Additionally, we offer free shipping with no sales tax. When you get to our website, you will find lots of steam and vacuum cleaning machines so depending on your budget and what specifications you are looking for, you will be able to make your final choice.
We do not compromise on quality so you can be sure you are getting the best there is in the market from us. In case you encounter any problems while using your steam vacuum unit, you can always consult us and our highly knowledgeable staff will be ready to assist you. Here at Daimer.com, we want you to get value for your money, and we provide just that.
Do you want to get your home stain free? Then talk to us and we will have you sorted with the best steam and vacuum cleaner. We will offer you with irresistible rates!