July 29, 2015
Super Max 8700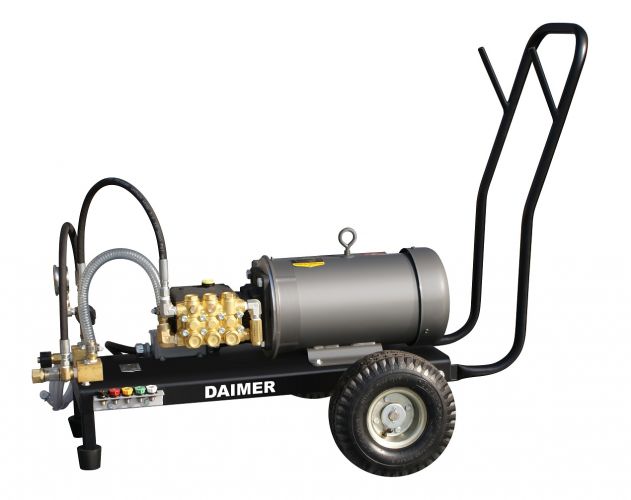 Finding the right portable cold-water pressure washer for your business just got easier. The Super Max 8700 provides a low-flow rate of just 3 gallons per minute with an intense 1500-psi water pressure. The compact machine allows for maximum flexibility while on the job and easy portability so you can get more done, faster and easier.
With optional features like the wet sandblasting system and two gun operation, this cleaning tool provides the versatility you need to get more cleaning jobs done faster, saving you money and time. Cold-water pressures are an excellent option for businesses that need to get cleaning done without the expense and fuss of a hot water pressure cleaner.
If you work in an industry that needs to clean up grease and oil, the cold-water pressure washer will not be your best choice. Grease and oil require hot water temperatures combined with intense heat and cleaner to maximize cleaning results.
The Super Max 8700 is a cold-water pressure washing machine. This tool is ideal for zapping sand and mud away and works wonders for removing paint. Combine the high PSI with our ecofriendly cleaning solution for best results. The Super Max 8700 is perfect for cleaning businesses or for any professional businesses seeking an easier, faster way to maintain a clean office/manufacturing space.
This electric pressure washer is perfect for various cleaning solutions including bathroom, floor and outdoor uses. You can utilize this machine to maintain your storefront and/or entryway, commercial property and other facilities.
About the Super Max 8700
With 1500 PSI, this portable cleaner provides enough water pressure to remove caked on mud, dirt and other substances, without causing damage to more sensitive surfaces. Daimer's low-flow technology reduces the waste of water by maximizing the use of water flow. At only 3 gallons per minute, this machine uses less water than many other cold-water pressure washing machines already on the market.
While the Super Max 8700 is specifically designed for cold-water pressure washing, it can accommodate water temperatures up to 180 degrees. This is a great option for more stubborn build up.  For best results, this electric cleaning machine requires the use of a generator with at least 8000 watts of power. Additionally, the use of a power cord restricts offsite use to locations with easy-access to a power outlet. However, you can easily overcome this with a portable generator or extension cords.
The continuous use machine allows you to keep cleaning until you are done. Simply hook the pressure washing hose up to a water source and work without worry. The Super Max 8700 features a direct drive pump method as well as low-pressure injection pressure infusion.
At 240 pounds, this machine is lightweight and easy to move around. The powder-coated steel, high-gloss, chip-resistant coating is available in black. This housing maximizes longevity and allows you to maintain a professional appearance. The small unit is easy to store at just over 1.5 feet wide, 2.5 feet deep and 2-feet tall. Easy to store and easy to move, the Super Max is ideal for companies on the go.
You can easily mount the cleaning machine to a trail and choose optional features including a more powerful wet sandblasting cleaning option, a trailer mount and multi-gun operation. The multi-gun operation allows multiple cleaners to work at once or allows you to switch tools faster.
Super Max Parts
The Super Max 8700 includes a 3-foot durable trigger wand with a quick disconnect to make tool switching faster and easier. You will also get a 0-degree blast nozzle, a 15-degree nozzle, 25-degree nozzle, 40-degree nozzle and a 25-foot high-pressure hydraulic hose. You can purchase additional hoses and nozzles from Daimer. We offer different lengths as well as custom options.
Each of the nozzles offers a unique spray pattern that allows for different cleaning options. The zero-degree nozzles will give you the most bang. This is known as a cutting nozzle. This nozzle works best on cement and concrete surfaces. Your 15-degree nozzle will best work in situations that require the removal of dirt, mildew or paint. This nozzle is safe to use on most surfaces. The 25-degree nozzle is best for sweeping away dirt or mud. You can also use this nozzle to get rid of leaves quickly. The 40-degree nozzle is a great option when you need to clean a larger area (like siding) quickly. In some cases, this you can also use this nozzle to clean the outsides of vehicles safely because it reduces water pressure to a safer intensity.
We built our pressure washer to accommodate various nozzles sizes. Use caution when choosing your nozzle so you can utilize the cleaning power of the Super Max safely.
Because Daimer ships cleaning machines all over the world, we accommodate various electric power needs. Generally, the Super Max utilizes a 220V-240 V, single-phase 60 hertz power source. However, we can optimize your machine to utilize other options including 220V-240V three phase, 50 or 60 hertz and a 440 volt, three phase 50 or 60-hertz electrical source.
Daimer provides industry-leading cleaning machines across the globe. Our powerful cleaning tools maximize water temperature and pressure, while minimizing water waste. We can customize our machines to fit your specific needs. From portable, lightweight pressure washers, to durable multi-purpose machines, we have a pressure washer for every industry. To find out whether the Super Max is the right tool for you, check out our comparison tool, by clicking on pressure washers and then "compare."