May 06, 2015
In the Market for a Mobile Power Washer? Look no Further Than the Super Max™ 9000 by Daimer®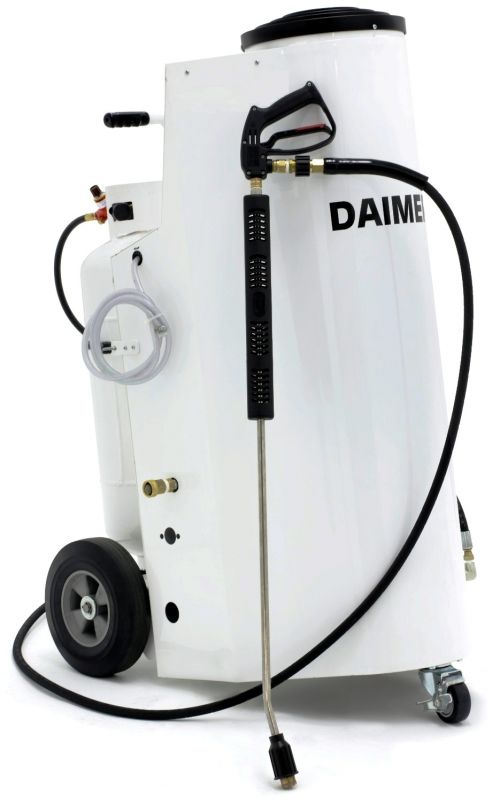 When it comes to things like maintaining massive industrial settings, commercial areas and even vehicles, a pressure washer that is mobile can be indispensable – if it is the right one.  Mobile pressure washers can come either with trailer mountable configurations or as a wheeled machine.  The wheeled versions tend to be smaller and more moderately powered.  As such, this makes these the ideal option for applications in either commercial or residential settings.  On the other hand, the trailer mountable configurations tend to cater more to the demands that are set forth by industrial maintenance needs.
Quality Matters
When you are in the market for a pressure washer, the one that you ultimately decide on needs to be durable enough to be able to handle the daily use that can be quite rough in industrial or commercial environments.  This is why it is critical to buy your pressure washer from a leading supplier.  The top of the line distributors will offer mobile pressure washers that are of a high grade that feature things like components made from stainless steel as well as housing materials that are heavy duty.  The brands that are industry leaders will have coils made from heavy gauge stainless steel so that you get the utmost in terms of longevity and ruggedness.
Cleaning Functions that are Versatile
The technologies for cleaning that are used in advanced steam pressure washer systems have been specifically designed to be able to meet the needs of a variety of industries.  For example, for pressure washers that will be used specifically on cars, there are manufacturers who make advanced pressure washers that have been designed specifically for applications involving cars.
While conventional pressure washers will have a high level of pressure, the ones made for cars will not.  This is so that they will not damage the exterior of the vehicle.  Also, the lower rate of flow on these pressure washers made for cars means that they are also safe for use on the engines of the vehicles.
If you happen to be looking for a mobile pressure washer that is equipped with tri-mode capabilities then you need to take a closer look at the Daimer® Super Max™ 9000. This machine allows for you to spray wet steam, hot water or even cold water depending on your needs.  As such, it can be used in a variety of applications.  It has steam temperatures that go as high as 250⁰F and a 2.8 GPM flow rates which means that this pressure washer is one that has a great capability for cleaning.  Also, the pressure levels are at 1500 PSI which makes this machine ideal for pressure washing vehicles.
This type of pressure washer is perfect for any sort of cleaning applications that call for pressure levels that are high and temperatures that are moderate.
This Super Max™ 9000 is a tri-mode steam pressure washer.  It can be used independently as a pressure washer that uses cold water, as a pressure washer that uses hot water or as a steam pressure washer.  The temperature of the steam in this model is at 250⁰F, which means that this model offers you cooler temps than the Super Max™ 6000 or 7000.  That said, the 9000 gives you more power because it has a higher flow rate. This is a pressure washer that is perfect for applications that call for a high rate of pressure but do not need extremely high temps at the same time.
Features at a Glance
Daimer® ensures that their pressure washers are equipped with heavy gauge stainless steel coils. Each one of our pressure washers has around 90 pounds of steel in them.  For this reason, you will never need to worry about aluminum coils that are fragile and tend to fail.
You can use the wet steam output of the Super Max™ 9000 with every spray pattern…even up to 40⁰!
Daimer® makes pressure washers in a wide variety of different power configurations so that they can be used across the globe regardless of the requirements.  Choose from:

110-120V
575V
208V
440-480V
220-240V and
380V as well as
Both three phase and single 50 or 60 Hz
Parts Included
With the Super Max™ you will get a 3 foot trigger wand that is durable and is equipped with a quick disconnect.  You will also get 5 nozzles:
0⁰ blast nozzle
15⁰ nozzle
25⁰nozzle
40⁰ nozzle and a
Steam nozzle
All of these nozzles can be used in conjunction with the wet steam output.  A 25 foot long high pressure steam hose is also included.
If this is the type of pressure washer that you are in search of, then Daimer® is the only name you need to know.