May 13, 2015
The Benefits of the KleenJet Supreme 3000CVP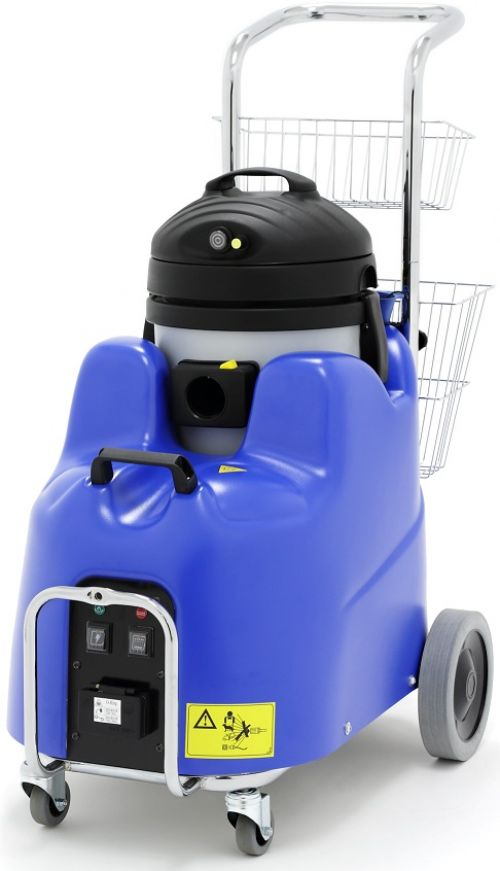 Not every steam vacuum cleaner is created equal. The KleenJet Supreme 3000CVP is a commercial-grade steam vacuum cleaner designed to pick up dirt and grime in some of the most troublesome places. Your commercial or residential building can greatly benefit from having this practical
and efficient device available.

The KleenJet Supreme 3000CVP is one of the top steam vacuum cleaning systems on the market today. It has a 110V configuration, which helps you to get a simple, yet powerful clean. With the ability to heat up to 365 degrees Fahrenheit, the 3000CVP is able to produce professional results in just minutes. It is easy to see why so many businesses are choosing the KleenJet Supreme 3000CVP over others in its class.
 
Useful Features for a Superior Clean
Like many of the other steam vacuum cleaners available from Daimer, the KleenJet Supreme 3000CVP is able to produce desirable results in just a few moments. The steam vacuum cleaner uses a five liter
high-quality boiler and a four liter water chamber to provide you with an excellent clean. The continuous refill and non-stop steam system also help you to clean a much larger space without having to worry
about refilling. This makes it an excellent addition to your home or office cleaning routine!

Some features included in the 3000CVP are:
Capable of producing pressure levels as high as 115 PSI
Stainless steel boiler with lifetime warranty
Attached cart for convenience
3 micron HEPA filter to protect against allergens
ATIS anti-bacterial technology included

The KleenJet Supreme 3000CVP was designed to help business owners get the clean they need. It is designed to be practical and simple to use. The portable design and attached cart make it perfect for hotels, offices, corporate buildings and more. Because of its competitive pricing and efficient features, many homeowners are also discovering just how effective the 3000CVP can be.
 
Destroy Diseases with the 3000CVP

The KleenJet Supreme 3000CVP focuses on going above and beyond the standards of office cleaning with an abundance of useful features. It does this by including technology designed to kill germs and bacteria. The 3000CVP was certified by an independent laboratory to destroy disease-causing bacteria and. By taking advantage of ATIS technology, the 3000CVP has a 99.999% kill rate against MRSA.

Air purification features are also emphasized in the cleaner's design. HEPA filer to 3 microns gives you extra protection when fighting allergens. This also helps you to get a more versatile clean and capture a wider range of allergens and molds. The result is a superior, commercial-grade clean that you can rely on.
 
How to Use the 3000CVP

When you are ready to use the 3000CVP, turn it on and wait 15 minutes for the boiler to fully heat. Adjust your settings as needed and wheel the cleaner to a convenient area. The practical design of the 3000CVP is very straight-forward. Use the wet vacuum to help extract moisture as the dry vacuum extracts grime and dirt. The system is very easy to understand and apply to your regular cleaning routine.
The professional cleaning system uses several steps to provide you with an all-around good clean. The KleenJet Supreme 3000CVP is capable of cleaning a 2000 foot area without needing to be moved. What's even more impressive is its flexibility in the areas that it can clean. Most standard surfaces will be cleaned using a large rectangular floor brush. Smaller, detail cleaning brushes will allow you to perform more precise cleaning jobs, such as auto-detailing. 50 free detail brushes are included with the KleenJet Supreme 3000CVP.

The goal of the device is to provide you with a powerful cleaning system that you can trust. This reliable system allows you to perform a number of cleaning jobs correctly so that you can have the clean space you deserve.
 
Save Money by Working with Daimer

When you are looking for a new steam vacuum cleaner, it is important to work with a company that is experienced and willing to go the extra mile for you. Daimer uses a direct-sales approach that allows us to truly assess a client's cleaning needs. Whether you need the powerful clean of the KleenJet Supreme 3000CVP or a smaller unit, we are here to help.

In addition to having years of cleaning experience, we also strive to help you save money in the long run. We offer lower prices on most cleaning units and try to keep your maintenance costs down as much as possible. The best way to do this is with the little things, such as including free detail brushes or a lifetime warranty. Additional detail brushes are available for a fraction of the cost when compared to other units.

Our dedicated sales team wants to help make sure your needs are being met. When you contact us about the KleenJet Supreme 3000CVP or any other unit that we may sell, we will answer any questions that you have. We provide you with prompt, reliable service that you can count on.

With the help of the KleenJet Supreme 3000CVP and Daimer, you can get the superior clean your building needs. Contact us today to learn more about how this top quality steam vacuum cleaner can help your business grow. You will be surprised by just how clean your commercial building can be in just a few hours.