October 06, 2014
The Uses and Advantages of a Commercial Steam Cleaner
When it comes to cleaning, you have a lot of work to do. While it may not be at the top of your list, you have to consider the repercussions if you should fail to do so. For example, with an unclean work environment you could find yourself shut down by the health department and forced to pay extensive fees for re-opening. Such fees can be devastating to any business, and with that being the case, you will want to avoid them as much as possible. So, when it comes right down to it, you need a sanitary method of cleaning your building, and you need to make sure that it is done in a timely manner. It's not always easy, but with a commercial steam cleaner you can actually take some of the stress off of yourself. Let's take a look at a few of the greater advantages of a commercial floor steam cleaner and discuss exactly what it can do for you.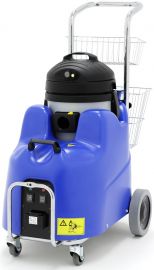 The Advantages of a Commercial Floor Steam Cleaner
The high end commercial steam cleaners are great for cleaning indoor areas and they use very little water, meaning they will not generate drainage issues. With a low flow system you will not only dry the carpet out faster, but also prevent mold colonies from forming and leading to even more potential health problems. There is also the pressure to consider, and unlike a home model, the commercial grade steam cleaner is able to utilize pressure levels up to 120 PSI, meaning the removal of grease and grime is easier than ever before.
Steam powered units are able to remove the dirt, grease, and grime by neutralizing the adhesive effect that they are imbued with, and in the meantime, the suction will remove it from the floor, depositing it into a second tank on the machine. Eventually the expended water too will be brought back into the machine, and dumping it is quite simple.
A good commercial vapor steam cleaner can be used to clean commercial kitchens as well as laboratories if you so desire. You can use such a device to take care of baked-on surfaces in a number of different locations and appliances. These include:
Ovens(racks)
Stoves
Sinks
Racks
Etc
Steam cleaners can also be used for laboratories, gyms, public restrooms, and virtually anywhere that features a flat surface. This is truly your one stop shop for a cleaning solution. One thing you must be careful of however, is using steam vapor cleaners for carpet. Yes, they can spot clean, but full sized carpet cleaning machines are necessary for large areas, and you may consider looking into a low flow machine as this will help to save water along with ensuring that the carpet dries in a reasonable amount of time.
Finding the right steam cleaner for your business will require you to look at several different models and weigh the features. There are some commercial steam cleaners for sale online which feature temperatures of 369 degrees Fahrenheit, and others that are set at a lower temperature. There are also those that come with stainless steel boilers as opposed to the typical aluminum boiler. The perk there is the lack of corrosion. Finally, you will want to look for something that promotes health, generally by eliminating bacteria. With a HEPA filter, most models can reduce pollen and other allergens, making the office a much more friendly working environment.
You have your work cut out for you, but there are plenty of commercial steam cleaners to help take the load off of you. As far as price is concerned, these professional units can cost anywhere from $300 to $3000 or more depending on the make and model. Despite that, it is well worth the expense as you will be able to keep bacteria at bay while ensuring that you can maintain a clean workplace while watching out for your aesthetics. This is one way to have the best of both worlds, and it is most definitely recommended.
So how do you get started? The best thing you can do right now is take a look at the website to see what models are available, and most importantly which ones have the best features. You might be tempted to consider price first and foremost, but hat doesn't' always work out. What does work out however, is choosing a steam cleaner as well as a commercial portable steam cleaner that can not only spot clean, but take care of large sections of carpet. Once you have the device you need and the crew to use it, your workplace will quite literally begin to shine. The only question now, is whether or not you are ready to take the next step and give your building the tools it needs to remain the best, and most importantly, remain clean.