July 14, 2015
Behold the power of XTreme-Impact Technology in the multifaceted XTreme Power HSC 14000A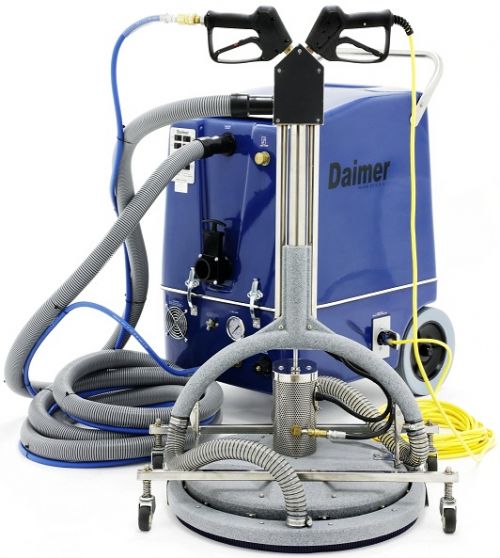 We've done it again with our break-through technology: Let us introduce you to the XTreme Power HSC 14000A that includes our extremely popular XTreme-Impact® Technology. We've combined that technology with our powerful HSC 1950 19" motorized spinner head and the HSC 11500A extractor resulting in effective and adaptable cleaning. To put it plainly the HSC 14000A is several machines in one.
We sell the most powerful tile and grout cleaning machines and this is one of them. It's a self-contained floor and hard surface cleaner. The spinner head included with this model gives you better results than any of the non-motorized spinner systems on the market. It has 60 percent faster cleaning power and gives you 70 percent better cleaning results. That's not all, the XTreme Power HSC 14000A cleans 30 times faster than vapor steam machines and it's up to 10 times faster than other normal technologies. How's that for some quick cleaning?
The HSC 14000A is full of options and power
This device is the quietest and strongest transportable turbo spinning hard surface spinner machine in the world. You'll be getting a mercantile multi-service hard surface cleaner with spinner and adjustable capabilities from 0 to 1500 psi. Add to that an optional 9" spinner, which is great to use in smaller areas, and other optional wands and you're in business. Your optional wand choices include a 12" four-jet squeegee wand and an 18" six-jet squeegee wand for the smaller jobs that are in tight spaces.
This machine also gives you a commercial carpet clean extractor that's fully adjustable from 0 to 500 psi that can come with the optional carpet wand. You'll also get the commercial upholstery cleaning machine that's fully adjustable from 0 to 500 psi with an upholstery wand as elective. It's also a commercial pressure washer that's fully adjustable up to 1500 psi and up to 1.2 GPM with an optional pressure washer. That's not all, you'll also have the commercial wall cleaning system that's fully adjustable up to 1500 psi and has a squeegee wand; it can come with an optional 9" spinner for hand placement or a 12" four-jet wall squeegee wand.
If you're familiar with our HSC 14000 then you'll understand the performance behind the 14000A. The 14000 is a portable commercial industrial turbo charged hard surface spinner cleaning machine that has equipment with simultaneous extraction. What makes the 14000A different is the acoustic case surrounding it that reduces the operating noise to a very low 58 decibels. With a 19" motorized spinner head that turns at 1000 rpm while firing water at 1500 psi you will get unbelievable speedy, cleaning power.
With continuous extraction (and continuous use) due to the 200 cfm vacuum airflow grease and dirt are removed and collected instead of disbursed. The versatile hard surface spinner cleaning machine, again like the 14000, cleans up to 1,000 square feet per hour. 
This machine is popular for use, and does an exceptional job, at health and fitness clubs where there is rubber flooring. Other surfaces where this machine does an extraordinary job include concrete, brick or paved areas on walkways, driveways or sidewalks. It's great to assist in floor stripping like removing wax buildup from vinyl and for cleaning marble. Tile and grout is no match and neither is travertine, limestone, quarry and other porous stone. It's a master at cleaning uneven surfaces better than other equipment in the same type class.
The optional wands allow this machine to be used in three additional ways, which we've briefly mentioned: 1) carpet cleaner, 2) upholstery cleaner, 3) pressure washer. With that many options you'll be able to take on more jobs and complete them in a quick and efficient manner. With a quieter machine it's even more ideal to work in nursing homes, hospitals and similar facilities as well as hotels and comparable establishments. All of these locations require a minimal of disturbance to the environment and that makes the XTreme Power HSC 14000A your machine for those types of jobs. That's premium noise reduction at its best.
Review the XTreme Power HSC 14000A
Now that you know what you'll be getting let's cover how you're going to protect it. With such a mighty machine you need to be assured that it's always in working condition that's why there are four warranties:
Extractor System Warranty for one (1) year on parts and 90 days on labor
Spinner System Warranty for one (1) year on parts and 90 days on labor
Limited Spinner Housing Warranty for three (3) years
Extractor Housing Limited Warranty for five (5) years
Included with the HSC 14000A is one (1) each of the following:
19" diameter motorized spinner
25' vacuum hose
25' solution hose
The optional parts that are available for you to purchase are:
12" 4-jet squeegee wand
18" 6-jet squeegee wand
9" detachable motorized spinner
12" 4-jet wall squeegee wand
Even we are wowed by the applications of this machine. They are:
Residential bathroom cleaning
Floor and wall cleaning in foodservice kitchens
Floor cleaning maintenance of large area hard floors and linoleum
Large area floor cleaning at hospitals
Cleaning kitchens as foodservice cleaning contractors
Residential marble floor cleaning
Commercial restroom floor cleaning
Stone floor cleaning
Time cleaning of swimming pools
Grout cleaning of porous and non-porous tile
Wall cleaning of most non-painted hard surfaces
 Window cleaning
There are so many jobs this machine can handle that you will be a fully operational cleaning giant in no time at all. Make the choice to purchase the XTreme Power HSC 14000A and you won't be disappointed. With the ability to clean quickly, efficiently, quietly and in a multifaceted way, the 14000A is the epitome of XTreme-Impact® Technology that you will not be able to do without.