May 19, 2015
Get a Better Clean with the XTreme Power® XPH-5900IU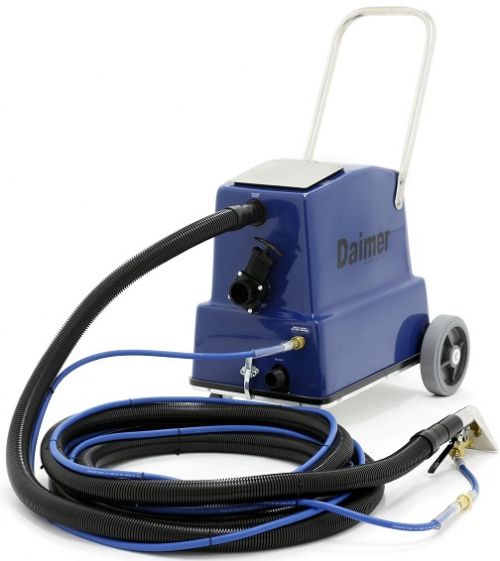 The XTreme Power® XPH-5900IU is a commercial steamer for upholstery and carpet. It is one of the most popular in the 5000 Series due to its high pressure levels and advanced features.  The XPH-5900IU  has applications in vehicles, where it can be used to clean the carpeting in a vehicle or the fabric seats in a vehicle.  This powerful device isn't limited to vehicles; there are number of places the XPH-5900IU can effectively clean, including large commercial buildings.
XPH-5900IU Features at a Glance
The XPH-5900IU is known for having powerful features that business owners love. Whether you are planning on using the cleaner on delicate upholstery or on high traffic carpet, you can rest assured knowing that you are getting an effective clean. Advanced features help you improve efficiency as you cut through dirt and grime with ease.
Powerful features include:
Highly advanced system with powerful inline heating elements.
Able to reach temperatures up to 210⁰ F.
Produces pressure levels up to 170 PSI.
Special low flow features that speed drying times to one hour faster.
Includes a 4-inch wand, with additional attachments sold separately.
Two gallons of cleaning soap included free.
Cost-effective design with many of the inline heating features included in advanced models.
The XTreme Power® XPH-5900IU is a commercial grade steam cleaner that is made for use on fabric upholstery.  This allows it to be used in office cubicles, vehicles, furniture and other commercial buildings.  With all of the great features of the XPC-5800TU, but combined with higher temperatures and faster drying times, the XPH-5900IU is one of Daimer's most popular designs.  Both the 5800TU and the 5900IU emit pressures that are continuous at 170 PSI putting them ahead of others in their class.
This cleaner also has a pair of inline heating elements that are quite powerful.  These heating elements are what allows for the 5900IU commercial grade carpet steam cleaners to be able to achieve temperatures up to 210⁰ F in as little as 5 minutes. It also improves drying time significantly, allowing you to get your cleaning job done in as little as an hour.
One of the best features of the 5900IU is the adjustable temperature control, which allows you to use the device safely on a wider range of surfaces. This helps to ensure the most effective temperature is being used at all times. Some fibers may be sensitive to heat levels and it is important to use the correct setting every time.
Low flow technology, which is found in every Daimer cleaner, is a patented technology that helps make the device even more unique. The advanced technology allows for a powerful and effective clean while minimizing the use of water.
An Easy to Use Cleaner
The 5900IU is an easy-to-use model with a lot of practical uses. Professional carpet cleaners and car detailers can quickly move this portable model. The unit is smaller than other competitor models, making it much easier to take on the job.