Compare High Pressure Washers for Commercial Cleaning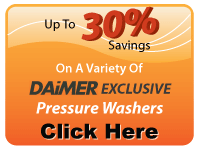 Commercial cleaning has its own unique demands when compared to both industrial and home cleaning which is why you need special high pressure washers designed to meet those special needs. In fact, you may not even realize yet how useful high pressure washers can be for commercial cleaning.

High pressure washers can be used in a number of ways. For example, restaurant owners without outside dining areas can use the high pressure washers to clean the floor in order if they can let the water run down a drain. Retail store owners who want their customers to see an inviting entrance to their shops can use the high pressure washers to clean away dirt, chewing gum, grease, oil, ashes, and more from the sidewalks. You can also use high pressure washers to clean automobiles, siding, or almost any surface.

Depending on how you need to use your high pressure washers, you will probably need to select specific types of equipment. Generally, if you need any type of sanitation along with the cleaning, as you would at a restaurant, then you need high pressure washers that allow you to use hot water or steam for your commercial cleaning. You are likely to spend less on cold water pressure washers, but without that heat you won't be able to do as thorough a cleaning job as may be expected.

The better choice is to choose a tri-mode high pressure washer which can handle all three commercial cleaning methods. Choosing these types of high pressure washers means you'll have access to any type of water temperature you need for any type of commercial cleaning you need to do. The Super Max 9000 from Daimer is one example of an effective tri-mode pressure washer.

Besides simply being able to choose the best water temperature for your work, you also need to compare the actual pressure created by the equipment. Commercial cleaning can sometimes require pretty high pressure to clean caked on dirt and dust, such as what you might find on the siding of your building. The previously mentioned Super Max 9000, for example, produces 1,500 psi which is sufficient for most of the commercial cleaning needs you'll be encountering in your business.

Fuel options may be another area worth comparing before you start buying high pressure washers for your venture. Besides electricity, high pressure washers can run on propane, gas, diesel, heating oil, or kerosene. Some of the machines can only run on one type of fuel - Super Max 9000 runs only on propane, for instance - while others can run on multiple types of fuel. For example, the Super Max 12820 can run on diesel, heating oil, and kerosene so you'll have more options.

Commercial cleaning does not have to be difficult. If we have the right tools, such as one of the best tri-mode high pressure washers on the market, then we can easily do all of the required cleaning in considerably less time and with significantly better results.
Related Products
Related Articles