** Super Max™ Pressure Washers Reduce Water, Chemicals By Up To 90%
Super Max™ Pressure Washers Are Greener ...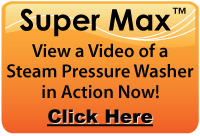 Green cleaning is the hottest topic in the cleaning industry and will be demanded by the government!

1. Reduction of water usage, which helps reduce precious and expensive fuel consumption, and the reduction of harmful chemicals currently used in the cleaning process today is absolutely critical!
2. People are searching for greener cleaning machines and equipment, as well as green chemicals containing no V.O.C.'s or other properties contributing towards global warming.

Daimer® Super Max™ products will assist you in your green cleaning goals! Thousands of new pressure washer users purchasers are buying Super Max™ steam pressure washers as are those replacing their cold and hot water pressure washers with Super Max™.

The reasons are clear-cut and discussed below.

We urge you to read the rest of this article if you are:

1. serious about green cleaning and preparing yourself for government green cleaning regulations the government will be enforcing soon
2. a professional cleaning contractor interested reducing your reliance on chemicals while making more profits
3. cleaning your own facilities and wanting to maximize reduce labor, time and greatly improve productivity
Steam Pressure Washers Up To 330ºF Save Tons of Water

Daimer® offers:

1. the largest line of heated pressure washers with a stable of machine models totally in excess of over 200, the largest in the industry.
2. In fact, our Super Max™ Super-Hot® (SP) dedicated steam pressure washers as well as general Super Max™ tri-mode pressure washers offer the hottest, most blazing temperatures in the world!

Always keep in mind ...

1. the hotter the pressure washer flow, the better the cleaning power, and the less water flow!
2. cleaning faster with much higher temperatures means cleaning in a mere fraction of the time of versus using conventional
hot water and cold water pressure washers on the market!
Huge Advantages of Super Max® Wet Steam
Over Other Pressure Washers In The Industry

Approximately 95% of pressure washers sold in the world are simply cold water pressure washers, which simply lack the cleaning power necessary to clean a large number of substances quickly and effectively.

Often times, cold water pressure washers ...

1. are absolutely unable to clean most build-up, such as chewing gum, grease, oil, grime, and much more
2. simply lack the high temperatures that are critical to clean as effectively and quickly as wet steam from Super Max™ steam pressure washers. The difference in cleaning power is like night and day!

Even hot water pressure washers up to 200ºF cannot touch the cleaning power that pressure washers up to 330ºF can offer you. Every 10 degrees increase in temperature improves cleaning power, and Super Max™ 330ºF steam pressure washers provide temperatures up to an incredible 130ºF over temperatures from hot water pressure washers,.

Super Max™ steam pressure washers emit wet steam at temperatures up to unimaginable 290ºF higher than temperatures flowing from cold pressure washers!

Certainly, cold water and hot water pressure washers ...

1. are more likely versus steam pressure washers to require pressure washing detergents or chemicals
to clean many substances.

Steam pressure washers ...

1. can remove gum, grime, oil, food build-up on metal, concrete, FRP, tile, grout, and most surfaces WITHOUT ANY NEED FOR ANY CHEMICALS!

You absolutely cannot clean the above substances without chemicals if you use cold water pressure washers, and chances are hot water pressure washers require the use of chemicals to assist you with your cleaning tasks.
Save Up To 90 Gallons Of Water Per Every 100 Gallons!

Imagine using steam pressure washers to save up to 90 gallons of water versus using cold water pressure washers,
and up to 60 gallons versus hot water pressure washers! Daimer® can help you!

The bottom line is Super Max™ steam pressure washers' temperatures save users tons of water that would normally flow
through cold or hot water pressure washers ... GUARANTEED!
Reduce Cleaning Time By Up To 50%

If you are trying desperately to clean your own facilities, dirty, greasy, grimy, oily, food laden floors, equipment, concrete and most other hard surfaces quickly and effectively, then Daimer® will save you tremendous time and allow you to clean faster than ever before!

If you are a professional cleaning contractor using cold pressure washers to remove grease and oil from food service or restaurant facilities, i.e. kitchen walls, quarry or other tile floors, concrete, exhaust hoods, etc., then you can stop wasting time precious time, money, and opportunity cost associated with spending more time at a customer's site.
Professional Cleaning Contractors Make More
Profits With Super Max™ Pressure Washers

Super Max™ allows cleaning professionals ...

1. to clean in a fraction of the time versus using other brands of pressure washers on the market.
2. allow you to perform more cleaning jobs in a day versus the low productivity and greater cleaning time associated with other pressure washers!

Take the next step in cleaning greener and more productively than ever before! Call us today and ask to speak with a Product Specialist who can guide you towards the best Super Max™ model for your needs.
Related Products
Related Articles