Description
Price excludes freight.
View This Video - Discover Daimer's Exclusive
Floor/Hard Technologies & Savings Over Other Brands!

XTreme Power Hard Surface Cleaners
Loading ...
BREAKTHROUGH TECHNOLOGY:
TILE AND GROUT, CARPET, UPHOLSTERY, WALLS ...
The XTreme Power® HSC 14000A includes Daimer's highly popular XTreme-Impact® Technology, and combines our powerful HSC 1950 19" motorized spinner head with the HSC 11500A extractor for effective, versatile cleaning.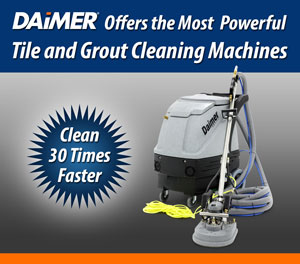 This robust, versatile machine system is actually several machines in one:
The MOST POWERFUL and QUIETEST PORTABLE TURBO SPINNING HARD SURFACE SPINNER EQUIPMENT AND MACHINE IN THE WORLD!
Daimer's exclusive motorized spinner features 60% faster cleaning power and 70% better cleaner results than non-motorized spinner systems on the market! Also, the power-enhanced machine cleans 30 times faster than vapor steam machines, and is up to 10 times faster than other conventional technologies.

1. Powerful Commercial Multi-Surface Portable 1500 PSI Hard Surface Spinner Cleaning Machine. Fully Adjustable from 0-1500 PSI. Add an Optional 9" Spinner for Smaller Area Cleaning.Other optional wands include a 12" 4-jet squeegee wand and 18" 6-jet squeegee wand for handling smaller jobs and tight spaces.
2. Commercial Carpet Cleaner Extractor. Fully adjustable from 0-500 PSI suggested. Carpet Wand Optional.
3. Commercial Upholstery Cleaning Machine. Fully adjustable from 0-500 PSI suggested. Upholstery Wand Optional.
4. Commercial Pressure Washer. Fully adjustable up to 1500 PSI, up to 1.2 GPM. Pressure Washer Wand Optional.
5. Commercial Wall Cleaning System. Fully adjustable up to 1500 PSI. Squeegee Wand. Optional 9" Spinner for Placement in Hands or 12" 4-Jet Wall Squeegee Wand.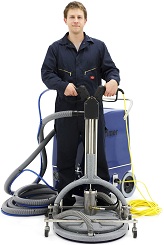 The XTreme Power ® HSC 14000A offers the same performance as the HSC 14000 portable commercial industrial turbo charged hard surface spinner cleaning machine and equipment with simultaneous extraction with the addition of an acoustic case that reduces operating noise to a very low and quiet 58 decibels. The 19" motorized spinner head rotates at 1000 rpm while firing water at 1500 psi resulting in incredible cleaning power.

Continuous extraction with 200 cfm vacuum air flow allows grease and dirt to be removed and collected rather than disbursed. This powerful and versatile hard surface spinner cleaning machine, like the HSC 14000, cleans up to 1000 sq/ft per hour and helps clean rubber flooring as is popular in health clubs and fitness facilities; helps clean grease dirt, oil, food particles, and more in concrete, brick, pavers, walkways, driveways, sidewalks; assists as a fast floor stripper to remove wax buildup from VCT/vinyl floors; cleans marble, tile and grout, unsealed travertine, quarry, limestone, Mexican, and other porous stone as well as tile and grout surfaces; cleans uneven hard surfaces better than other cleaning equipment of its type.

Optional wands allow this hard surface spinner cleaning machine to be used as a carpet or upholstery cleaner as well as a pressure washer. This quiet and powerful machine is perfect for the same markets and industries as the HSC 14000 hard surface spinner cleaning equipment, but is also ideal for applications such as those in hospitals, nursing homes, hotels, and many others that have demanding hard surface cleaning requirements, but place a premium on noise reduction.
Parts List
PARTS LIST
Included Parts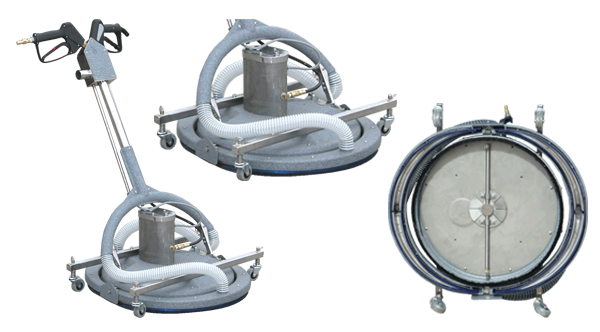 | | |
| --- | --- |
| 19" Diameter Motorized Spinner (shown) | 1 |
| 25' Vacuum Hose | 1 |
| 25' Solution Hose | 1 |
Optional Parts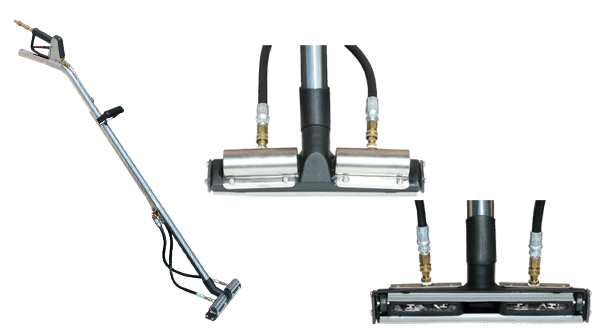 12" 4-Jet Squeegee Wand (OPTIONAL)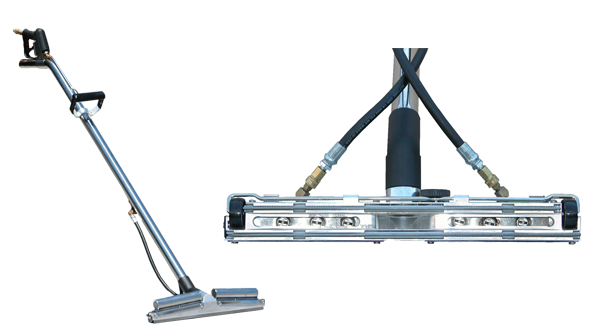 18" 6-Jet Squeegee Wand (OPTIONAL)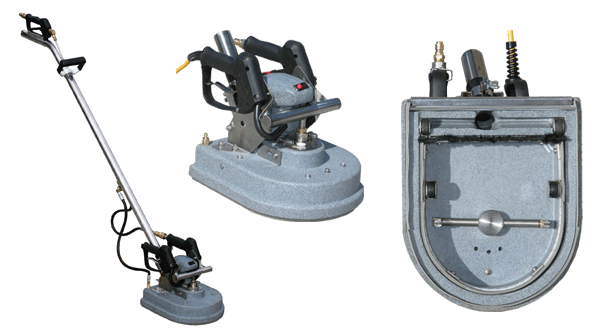 9" Detachable Motorized Spinner (OPTIONAL)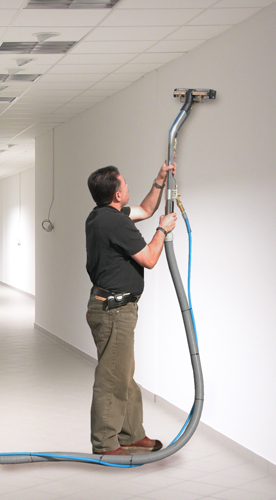 12" 4-Jet Wall Squeegee Wand (OPTIONAL) - Please call for more information.