Description
Freight not included.

View This Video - Discover Daimer's Absolutely

Outstanding Wet Steam Degreasing Capabilities

Vapor-Flo Hot Water Pressure Washer: Food Manufacturing
Loading ...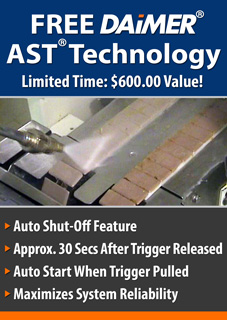 The Vapor-Flo® 8375 is an electric pressure washer featuring pressure levels of 1700 psi and a flow rate of 0.6 GPM. This pressure washer can heat up to 175°F in just 20 seconds. Additionally, the available hot and cold temperature settings make it easy to switch back and forth to match the application.
The 25° spray nozzle is slightly larger than nozzles on other models and is designed to clean larger areas. The Vapor-Flo® 8375 case is powder-coated steel to protect against chemical corrosion and chipping. An additional feature of the system's housing is the top access to the water tank. Designed with enhanced usability in mind, the 8375 allows operators to easily enter the essential water tank from the top of the machine.
Operators may consider enhancing the cleaning power of these pressure washers through the use of Eco-Green® chemicals, via the machine's siphon type standard/foam lance chemical injection. Options include adjustable pressure, assorted power methods, and custom hose lengths.
Daimer offers pressure washers in a variety of power configurations for worldwide requirements. The following are available: 110-120V, 208V, 220-240V, 380V, 415V, 440-480V, and 575V; single and three phase; 50 or 60 Hz. Please contact us for pricing.