Description
Free Bonus for Ordering Online: 6 Free Extra Plushy Microfiber Towels Valued at Over $19.00

FREE CART is Included.

FREE SHIPPING within the Continental United States.

Please call for freight pricing if shipping outside the
Continental United States.
View This Video - Watch Daimer's Advanced
Vapor Technology Steam Technology Remove
Ugly Back Gum Spots from Concrete

KleenJet Gum Exterminator Vapor Steam Gum Removal
Loading ...
Daimer Vapor Steam Vacuum Cleaner Systems Now Include

Special Water Capture and HEPA Filtration Technologies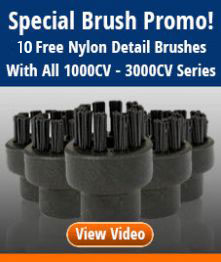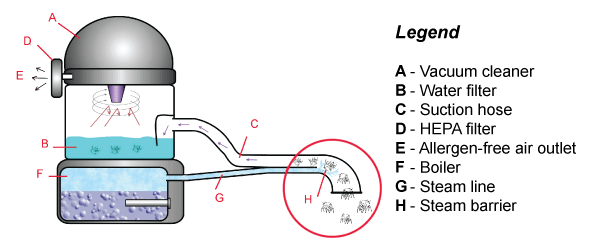 * HEPA Filter to 3 microns for extra protection against allergens
* Wet Vacuum Cleaner to extract moisture while cleaning to help eliminate the need for towels required by conventional steam cleaners that include no extraction capability
* Dry Vacuum Cleaner to extract dirt, pollen, dust mites, bed bugs, pet hair, and other allergens from carpet, hard floors, mattresses, and more surfaces and deposits them into water for easy disposal
* Air Purification for a cleaner, fresher indoor air environment

The Industry's Most Advanced, Effective Vapor

Steam Vacuum Chewing Gum Removal Equipment
Compare to other brands priced at up to $5900 .... without our technologies and features!
The KleenJet® GUM-EXTERMINATOR® Mega 1000CVGP - ATIS® is an outstanding independently certified ANTI-BACTERIAL Chewing Gum Removal commercial steam cleaner machine featuring Daimer's exclusive, patent pending ATIS® (Advanced Thermal Ionic Sanitization) technology. Daimer's unique ATIS® steam cleaning machines includes all the same features of the Mega 1000CVG (commercial vapor steam cleaner, steam vacuum cleaner, wet vacuum cleaner) to offer unprecedented features unavailable elsewhere in the industry to clean chewing gum from most hard surfaces. The steam cleaner also kills 99.99% of harmful bacteria including E.Coli and S. aureus, as well as mold species such as Aspergillus niger using the patent-pending ATIS® device in the boiler, which has been confirmed through independent laboratory tests. An EPA number is listed on each and every one of our "P" models.
No other steam cleaner brand on the market offers Daimer's patented technologies. ATIS® technology allows for increased boiler performance and efficiency as well as verified anti-bacterial results allowing customers to effectively eliminate disease causing pathogens. And, as a self-regulating continuous refill steam cleaner, the 1000CVGP can be used without the time-consuming hassle of refilling.
In addition to its advanced anti-bacterial and continuous refill technologies, the 1000CVGP boasts maximum steam temperatures up to 3568°F along with Water Ejection & Chemical Ejection capabilities.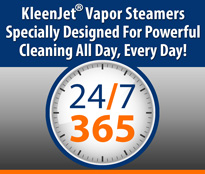 Learn about the Daimer® Difference.
Learn how to start a gum removal business in 7 easy steps!
View a list of disease-causing microorganisms killed by ATIS® Technology.
Review Daimer's 2-Stage Filtration Technology.
Expand your business by using chewing gum removal equipment for cleaning tile and grout.
One Example of a Daimer Steam Cleaner Application:
Steam Mopping Using Floor Brush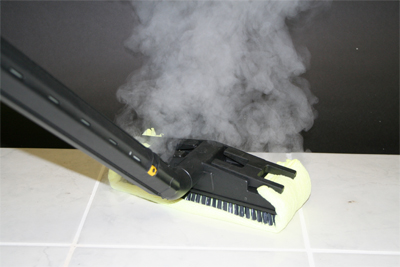 *Steam mop by attaching towel to floor brush under clips.
Testimonials
1000CVGP

Dear Daimer Industries,
Since starting my own chewing gum removal business and purchasing two Mega 1000 Steam Cleaner chewing gum removal machines, I have made much more income than I could have imagined, and far more than when I worked as an employee for any company in the past. My business has grown faster than I could have realized.
Once I show any potential customer how quickly and efficiently the gum is removed from any surface, they are amazed. I've recently received substantial chewing gum removal contracts from school districts to clean the chewing gum from concrete sidewalks, brick, walkways, and other areas. I'm also cleaning chewing gum for property management companies, large shopping centers, and many other customers.
Since California is very environmentally conscious, your chewing gum removing systems are perfect for my needs because they're EPA compliant. The Daimer machines clean better than other chewing gum removal equipment I've seen for more than 2 times the price, and the other machines don't have the vacuum extraction system you have in your gum removal equipment. I love your machines because they're so reliable, easy to use, and remove gum in seconds!
Thank you for all of your help and I hope to be able to purchase more machines as my business grows.
Sincerely,

Tony Croshier
Owner, The Gum Guy
1000CVGP
Regarding your 1000CVGP:
This is a great machine and it comes with the works! I've been using mine to remove gum and also for floors and tile cleaning. The wet/dry vac is also a pleasure because it saves time on wiping. Also, I can tell my customers that it has a HEPA filter for removing allergens and an antibacterial technology. It is also the most powerful machine I looked at for the money.
At first, I saw an ad on the Internet from a company in another country. Though I had a bad experience buying from a foreign company before -- the service was always a problem -- I decided to give them a shot. But when I called them, they wanted to charge a lot more for a machine that didn't have water filtering or HEPA or antibacterial technology. The company also insisted that the machine could clean carpets better than a carpet cleaner. (Sorry, but I had to laugh when they said that.) So, then I checked your site and called your toll-free number. And here I am writing to you.
Keep turning out great products. Go America!
Henry T.
Harrisburg, PA
1000CVGP
I am a cleaning contractor and I've been very happy with my 1000CVGP steam cleaner. The machine came with a lot of attachments that allow me to handle almost kind of hard surface. The gum removal attachments are great. The machine is also compact and easy to move around in my van.
Recently, I landed a $15,000 grout cleaning job. The machine continues to offer a great return on investment!
R.J.
Chicago, IL