* Daimer's Technologically Superior Vapor Steam Cleaners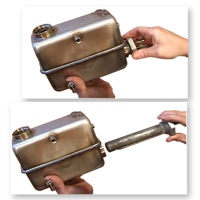 Daimer Feature - Replaceable Heating Element Technology
We at Daimer our proud of the fact we offer the most extensive line of vapor steam cleaners and steam vacuum cleaners in the world. The following are merely several of the vapor steam cleaner advancements brought to you by Daimer:
Patented TrueTemp® vapor steam cleaner technology...
within every one of our continuous refill steam cleaner models. This feature, which marks a breakthrough in vapor steam cleaner technology and reliability, helps maintain consistent boiler water temperatures and precise boiler refills. The result is optimum and reliable vapor steam pressure and temperature flow.
Patented Self Cleaning vapor steam cleaner technology...
within every one of our continuous refill vapor steam cleaner models. This wonderful feature helps keep the boiler clear of scale and calcium buildup, which occur naturally whenever water is heated in any vapor steam cleaner. Simply run a rinse cycle using ordinary tap water without the need for harmful chemicals or acidic vinegar like other brands suggest when cleaning their vapor steam cleaners.
Patented Replaceable Heating Element Rods ...
within every single vapor steam cleaner model in our line. While other vapor steam cleaner vendors require you to replace the entire boiler at costs up to and over $600.00, the replacement (a very rare situation) of a Daimer heating element is a mere fraction of the price of a new boiler. Heating element replacement technology results in absolutely no reduction in boiler efficiency whatsoever! In fact, our heating elements offer enhanced heating and boiler efficiency over and above other technologies in the industry.
Automatic Direct Water Feed Technology...
on every industrial vapor steam cleaner and steam vacuum cleaner. Simply dial the knob on the machine's control panel to the direct water feed mode, and this outstanding feature allows users to connect a water line to the machine similar to a pressure washer. The vapor steam cleaner draws water automatically from the water line only when the water within the boiler reaches a specific level, and automatically shuts off when the refill is complete. The user may also select the standard mode, and the system will signal when to add water manually into the water chamber. Daimer offers the right water refill method depending upon the user's preference.

Consider Daimer for the the best values in advanced vapor steam cleaners and steam vacuum cleaners.
Related Products
Related Articles