Description
Free Bonus for Ordering Online: 6 Free Extra Plushy Microfiber Towels Valued at Over $19.00

FREE CART is Included.

FREE SHIPPING within the Continental United States.

Please call for freight pricing if shipping outside the
Continental United States.
  Daimer Steam Cleaner Systems Now Include
Special Water Capture and HEPA Filtration Technologies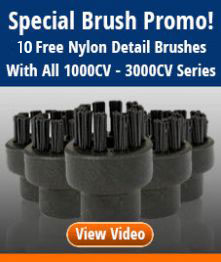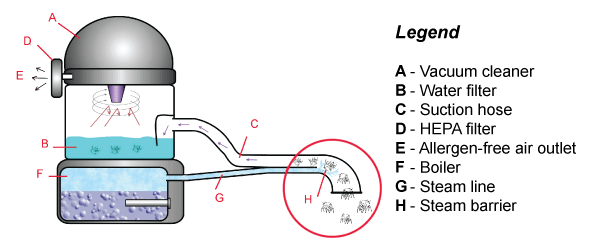 * HEPA Filter to 3 microns for extra protection against allergens
* Wet Vacuum Cleaner to extract moisture while cleaning to help eliminate the need for towels required by conventional steam cleaners that include no extraction capability
* Dry Vacuum Cleaner to extract dirt, pollen, dust mites, bed bugs, pet hair, and other allergens from carpet, hard floors, mattresses, and more surfaces and deposits them into water for easy disposal
* Air Purification for a cleaner, fresher indoor air environment

The KleenJet ® Supreme 3000CVP - ATIS ® is one of the most powerful ANTI-BACTERIAL commercial steam vacuum cleaners in our line. Featuring patent pending ATIS ® (Advanced Thermal Ionic Sanitization) technology, the 3000CVP has been certified by an independent laboratory to destroy disease-causing pathogens and bacteria. In fact, in approved lab testing, ATIS® produced a kill rate of 99.999% against MRSA, Methicillin-resistant Staphylococcuaureus bacteria.
Supplemental to the 3000CVP's ability to destroy harmful bacteria using a patent-pending, anti-bacterial device in the boiler is the water filtration system which captures and discards dirt and allergens; while the HEPA filter provides an additional layer of protection against dangerous allergens that worsen allergies, asthma and other respiratory disorders. Every 3000CVP label includes an EPA number.
Daimer offers the most powerful 120v commercial steam cleaners in the industry. The Supreme 3000CVP/3000CV along with the Ultra 5000CVP/5000CV combination steam cleaner and steam vacuum cleaner feature Daimer's proprietary, advanced technologies. The result is a superb 120v power configuration approaching that generated by 230v systems.
The anti-microbial Supreme Mega 3000CVP steam cleaner offers outstandingly high temperatures up to 364ºF and pressure levels up to 115 psi, over and above the 1000CVP. The 3000CVP's huge 14 liter extraction vacuum recovery tank has greater capacity than that included with the Mega 1000CVP steam cleaner. In addition, the Mega 3000CVP is a self-regulating continuous refill steam cleaner.
This machine model is ideal for business and commercial cleaning requirements demanding powerful cleaning ability and high extraction/wet vac storage.. The 3000CVP can be purchased with optional 16' steam hoses and 24' steam vacuum hoses, the longest in the industry offering a cleaning radius of up to 2000 square feet without moving the machine!
For added versatility when tackling a range of steam cleaning applications, the 3000CVP also comes standard with Water Ejection & Chemical Ejection.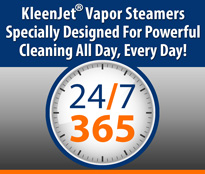 Learn about the Daimer® Difference.
View a list of disease-causing microorganisms killed by ATIS® Technology.
Review Daimer's 2-Stage Filtration Technology.
Note: Vapor steam cleaners are inappropriate for cleaning industrial equipment and machinery.
Dry steam is not appropriate for removal of carbonized grease or carbon build-up.

Read how to save a fortune on steam cleaner detail brushes. Daimer charges only $2.50 versus up to $20.00 per brush from other vendors.
Read about how Daimer's direct-sales approach results in the lowest prices to you. Compare and review other important issues you should consider when evaluating steam cleaners.

Product Specifications
System Warranty 1 year on parts/labor, 3 years on partsBoiler WarrantyLifetime

| | |
| --- | --- |
| Pressure | up to 115 psi |
| Steam Temperature | up to 364ºF |
| Continuous Refill | Yes |
| Boiler Volume | 5 liters |
| Water Chamber Capacity | 4 liters |
| Boiler Material | Stainless Steel |
| Presurized Tank | N/A |
| Pressure Cap | N/A |
| ATIS ® Technology | Included |
| Detergent Chamber Size | 2 liters |
| Heating Element | removable rod |
| Heating Time (cold) | Approx. 15 min |
| Heating Time (hot) | Approx. 10 min |
| Operating Time | continuous use |
| Vacuum | Yes |
| Extraction Chamber Size | 14 liters |
| Vacuum Suction | 2200mm water column lift |
| HEPA Filter | Yes |
| Water Filtration | Yes |
| Steam Hose Length | 10' standard |
| Steam Vac Hose Length | 10' standard |
| Optional Steam Hose | 16' |
| Optional Steam Vac Hose | 24' |
| Cover Material | Durable Plastic |
| Base Material | Stainless Steel |
| Power | two power cords for two 1500 watt (15 amp) circuits |
| Weight | 69 lbs |
| Dimensions | 36"L X 27"W X 36"H |
Parts List
 Daimer's advanced, patented features unavailable through any other vendor
PARTS INCLUDED WITH THE SYSTEM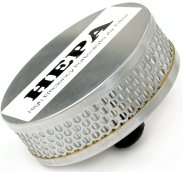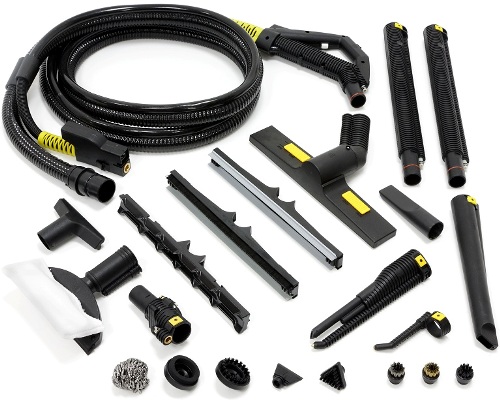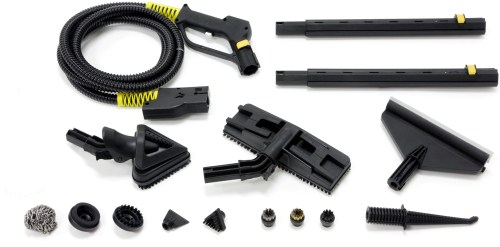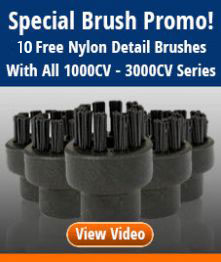 Free Bonus for Ordering Online:
6 Extra Extra Plushy Microfiber Towels Valued at Over $19.00
Standard Parts / Quantity
| | |
| --- | --- |
| Ten Foot Detachable Steam Hose with Heavy-Duty Connections | 1 |
| Extra Heavy-Duty Steam Extension Rods | 2 |
| Large Triangular Brush with Towel Clips | 1 |
| Large Rectangular Brush with Towel Clips | 1 |
| Steam Squeegee for Mirrors and Windows | 1 |
| Single Hole Steam Lance for Brush Attachment | 1 |
| Nylon Detail Brush | 4 |
| Brass Detail Brush | 4 |
| Stainless Steel Detail Brush | 2 |
| Daimer Steam Scraper | 2 |
| Round Detail Brush | 2 |
| Daimer Steam Plunger to Sanitize Bathroom Sink Drains | 2 |
| Small Triangular Brush for Corners etc... | 2 |
| Steel Wool Pad to place Over Some Brushes to Target Grease Buildup | 1 |
| Steam/Vac Floor Tool | 1 |
| Steam/Vac Grout Cleaning Tool | 1 |
| Steam/Vac Squeegee & Squeegee Floor Tool Insert | 1 |
| Steam/Vac Squeegee & Brush Strip Floor Tool Insert | 2 |
| Steam/Vac Carpet Tool Floor Insert | 1 |
| Steam/Vac Squeegee for Window and Glass Cleaning | 1 |
| Cloth for Steam/Vac Squeegee | 1 |
| Single Hole Steam/Vac Lance | 1 |
| Upholstery Nozzle | 1 |
| Extra Heavy-Duty Steam/Vac Extension Rod | 2 |
| Ten Foot Detachable Steam/Vac Hose | 1 |
| Plush Microfiber Towels | 10 |
| Instruction Manual | 1 |
Video
KleenJet Vapor Steam Tile & Grout Cleaning Video
Loading ...
Related Videos
Related Videos
---
KleenJet Vapor Steam Low-Cost Brushes
Daimer Vapor Steam Gum Exterminator on TV
KleenJet Gum Exterminator Vapor Steam Gum Removal
Applications
Bathroom Cleaning - Residential
Blinds - Cleaning In-Place
Cleanroom Cleaning
Disinfection and Sanitizing
Disinfection and Sanitizing (Certified Anti-Bacterial)
Floor Cleaning and Maintenance - Linoleum
Furniture (Hard Surface) Cleaning
Glass Cleaning
Hotel Room Cleaning
Kitchen Cleaning - Food service Operators
Marble Floor Cleaning - Residential
Mattress Cleaning
Mold Removal - Bathroom Showers
Oven Cleaning
Restroom Cleaning - Commercial
Shower Cleaning - Commercial
Shower Cleaning - Residential
Soap Scum Removal
Tile (Non-Porous) and Grout Cleaning
Upholstery Cleaning (Hard Surface)
Wall Cleaning - Most Non-Painted Hard Surfaces
Window Cleaning
Testimonials
3000CV
We purchased two 3000CV steam cleaner machines last year for our cleaning business.
(We are cleaning contractors with lots of health club clients.) We love the wet/dry vac
because they save a lot of time. We also like that we can tell clients the machines can
remove dust and substances that can cause allergies. Our business increased and we are
going to buy a third machine. Keep up the good work.
Ken D.
Tuscon, AZ
3000CV
I'm now a big fan of the 3000CV. The machine is fast and powerful and the vacuum
saves a lot of time when I'm cleaning floors and tile. I've also been using the
attachments. (Thank for including all of them!) I love the vacuum attachments and all
the brush options. Also, I think it's great that you don't try to screw me on replacement
brushes -- $2.50 for detail brushes is a score.
Also, your sales people are excellent. I was considering a steam cleaner from a
Canadian company that promised I could use the machine for everything from carpets
to degreasing. When I talked your rep, he let me know what I can and can't do with
a steam cleaner. The Canadian company seemed to be confused about the difference
between a steam cleaner and a carpet cleaner. (Imagine that… And their products were
more expensive. Imagine that…And their replacement brush prices. Oh, don't get me
started…)
Ron P.
Portland, OR
3000CV
I just wanted to drop you a line about the Daimer 3000CV. Excellent machine. I
recommended to my boss in the housekeeping department at the university where I work.
He's been very pleased and it has made me look really good. Now, when he wants to
purchase cleaning products, he asks my opinion. Thanks for making me look good! (I
just told him to consider one of your carpet cleaners to replace one of our old ones. We're
thinking of the XPH-5900I or 5800T)
Thanks again,
Peg N.
Raleigh, N.C.
3000CV
I have been in the grout cleaning business for years and nothing cleans grout like my Daimer 3000CV! I absolutely love the power (3000 watts) of the steam vacuum cleaner with the 2 power cords. I had used another brand that cost me $1700.00 before I switched to Daimer. The other steam cleaner system was a smaller unit with no vacuum, and I must say the vacuum saves me hours over using a towel attached to a floor brush like I did with the other brand.
I also love the steam extraction grout tool that has eliminated wiping the grout lines with a towel. Plus, all those towels I had to change when cleaning the tile with that other over-priced steam cleaner, which didn't present the best image in front of customers. I had to bring as many as 3 dozen towels and now that has stopped. The Daimer system allows me to clean up to 300 square feet per hour versus as low as 100 square feet with the other model, and I am making more profits than I did with the steam cleaner I used before.
Thanks Daimer for actually increasing my income. I would highly recommend this steam vac to any tile and grout cleaning contractor who doesn't want to fool around with a toy like I did! I was so happy with my 3000CV I bought an Ultra 1500C.
Thanks,
Cole W.
President
Grout cleaning company
3000CV
Great machine! Not only does it have all the features I need for my employees, but it includes lots of extras. That's a real plus in this economy. We've been using it for all types of hard floors -- hardwood, tile, linoleum. Recently, I've been telling customers that it removes allergens, which has added new business. (One pet store clients asked me to clean his home because his wife has allergies.)
I also like that machine is easy to use, so I don't need to spend a lot of time teaching new employees to operate it.
Arturo S.
Oceanside, CA

3000CVGP
Dear Daimer,
I purchased a 3000CVGP last September and I've been very happy with it. Also, I wanted to commend you on your knowledgeable sales staff. I need a powerful unit for both removing gum and disinfecting jobs at my nursing home clients. Your sale associate steered me to this machine and I've been very satisfied with the capacity, steam power, temperature and the way it takes up gum. I use it on sidewalks, playgrounds and inside a local school.
Recently, I added a couple of health club customers all because of the ATIS® sanitizing system.
John V.
Jersey City, NJ

3000CVP
I have been using two KleenJet® Supreme 3000CVP steam cleaners for my pest control business. They're reliable, fast, kill bed bugs dead as a doornail. Being able to tell my clients that these [ATIS®] systems also kill germs, has helped me win jobs.
Sincerely,
Peter G.
Bangor, ME