Description
Free Bonus for Ordering Online: 6 Free Extra Plushy Microfiber Towels Valued at Over $19.00

FREE CART is Included.

FREE SHIPPING within the Continental United States.

Please call for freight pricing if shipping outside the
Continental United States.
 Daimer Vapor Steam Vacuum Cleaner Systems Now

Include Special Water and HEPA Filtration Technologies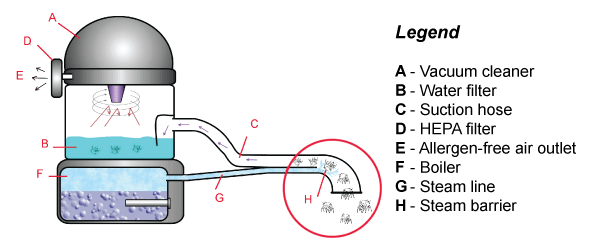 * HEPA Filter to 3 microns for extra protection against allergens
* Wet Vacuum Cleaner to extract moisture while cleaning to help eliminate the need for towels required by conventional steam cleaners that include no extraction capability
* Dry Vacuum Cleaner to extract dirt, pollen, dust mites, bed bugs, pet hair, and other allergens from carpet, hard floors, mattresses, and more surfaces and deposits them into water for easy disposal
* Air Purification for a cleaner, fresher indoor air environment


The KleenJet® Ultra 5000CVP - ATIS® is an anti-bacterial industrial steam vacuum cleaner featuring patent-pending ATIS® (Advanced Thermal Ionic Sanitization) technology. The 5000CVP is certified by a nationally recognized independent lab to kill disease-causing bacteria and pathogens using a patent-pending, anti-bacterial device in the boiler. These tests concluded a 99.999% kill rate against MRSA bacteria, drug resistant Methicillin-resistant Staphylococcus aureus.
The Ultra 5000CVP features temperatures of up to 369°F and pressure levels up to 125 psi. The 5000CVP, like the 3000CVP, generates up to 200% greater steam thickness than competitive steam cleaner models. The 5000CVP includes a larger boiler, more sizable refill water chamber, and more substantial sized recovery and detergent chambers than the 3000CVP commercial steam vacuum cleaner.
A Direct Water Feed feature (a $500.00 value) is included with every machine during our promotion. Simply select Direct Water Feed mode and the system will automatically draw water from a hose line while the user works. This self-regulating, continuous refill feature is ideal for users who do not wish to stop cleaning to refill the machine. If a water line is unavailable, select the standard mode without a hose connection and refill the water chamber manually.
This industrial steam vacuum cleaner is designed for the most demanding applications requiring proven anti-microbial technology as well as higher pressure and temperature levels than conventional steam cleaners.To tackle the most demanding applications, the 5000CVP also comes standard with Water Ejection and Chemical Ejection.
The 5000CVP industrial steam vacuum cleaning machine is ideal for business and commercial cleaning requirements demanding powerful cleaning ability and high extraction/wet vac storage. The 5000CVP can be purchased with optional 16' steam hoses and 24' steam vacuum hoses. The hoses are the longest in the industry and provide a cleaning radius of up to 2000 square feet without moving the machine.

Learn about the Daimer® Difference.
View a list of disease-causing microorganisms killed by ATIS® Technology.
Review Daimer's 2-Stage Filtration Technology.
Note: Vapor steam cleaners are inappropriate for cleaning industrial equipment and machinery.
Dry steam is not appropriate for removal of carbonized grease or carbon build-up.
Read about how Daimer's Direct-Sales approach results in the lowest prices to you. Compare and review other important issues you should consider when evaluating steam cleaners.
Read about tips and equipment for cleaning tile and grout.
Learn more about floor/hard surface cleaners with this buyer's guide.


One Example of a Daimer Steam Cleaner Application:
Steam Mopping Using Floor Brush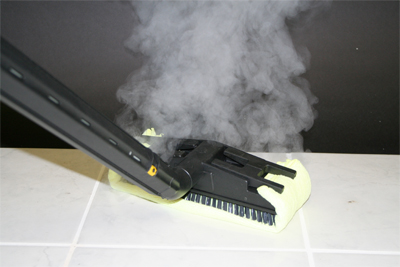 *Steam mop by attaching towel to floor brush under clips.