October 20, 2014
A Car pressure Washer Makes the Job Simple
Washing a car is serious business, as you have probably discovered by now. There are so many things you absolutely have to do correctly! The windows need to be cleaned properly, it is also important to make sure the tires are free of mud. Doing all of these things can be difficult, especially considering the routine abuse that a car goes through every single day and the scant number of times that an individual actually visits the car wash. Of course sometimes an automated car wash won't do the trick – sometimes you need to give it more of a personal touch by washing it yourself. You have likely seen students running car washes in the name of fundraisers, using a hose or a bucket of water but let's face it, if you're going to do a professional job, you need to do something a bit more serious, perhaps by using a car pressure washer. How exactly will this help you? What makes it better than washing the vehicle by hand? Most importantly, why use a car specific pressure washer over a regular pressure washer? We'll discuss all of that along with finding the best pressure washer for cars.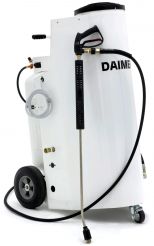 Why Do You Need a Car Pressure Washer?
In the name of being professional and doing a thorough job, you will in fact need a car pressure washer so that you can do the job quickly and efficiently. It is also very important that you avoid using just any pressure washer and go with something that is industry specific. If you have ever used a pressure washer, then you are probably well aware that accidents can happen, especially under the extreme pressure. The wrong pressure washer can actually strip the paint from the vehicle, and perhaps even cause damage to the chassis if one is not careful. It is strongly recommended that when washing cars, one use a pressure washer for cars that does not exceed 1500 PSI(Pounds per Square Inch) so as not to damage the vehicle in question.
Sometimes, even if you are doing the best you can with the cleaning of your vehicle, you really do need to go the extra mile. The surface of any car attracts both grease and oil spots, which can be difficult to remove with a standard power washer. That said, a pressure washer for car cleaning should also include steam capabilities with high temperatures. These advanced temperatures are extremely useful in detailing as they will increase efficiency by dissolving grease as well as dirt buildup. Commercial car pressure washers can eliminate a number of issues and blemishes on a vehicle exterior, making it the go-to weapon in your cleaning arsenal. With a car pressure washer you can clean at a faster rate, getting rid of dirt, dust, mud, smudges, and even debris that you find lodged in certain car parts, such as the windshield or the cracks between the doors. The idea is to make the job as quick as possible, and to make an overall cleanse as easy as possible. A good pressure washer is also able to take care of the dirt and mud that you will find on the grooves long each tire, as well as the spaces behind the hubcaps. There are so many small places to clean on any car, and it can be very easy to overlook them. Fortunately, a good pressure washer is capable of giving an overall cleaning and laying the groundwork for what can be an outstanding detail job. Your car pressure washer can also be used to clean areas beneath the car, reaching areas that you would have found utterly impossible otherwise. As you can see, having a specially designed pressure washer for a car is an absolute necessity whether you are washing your own car, running a business, or even working on company cars. These washers deliver great cleaning results in record time where you would have otherwise spent hours of manual labor scrubbing and polishing. Without it, you would have a boatload, or at least  car load of work to do!
If you are planning to open a car wash or even a car detailing business, you now know what you have to do; a car pressure washer will take the pressure off of YOU and put it onto the CAR where it belongs. Daimer is capable of providing you with the equipment you need. It might be a bit expensive, but you will find that the devices actually pay for themselves quickly, and soon enough, you will be reaping the benefits of a car pressure washer. Start looking at the different models, compare them side by side, and make sure you are getting exactly what your business needs. You will thank yourself later, for saving a plethora of backbreaking work.