May 03, 2016
Daimer's Top Auto Detailing Solutions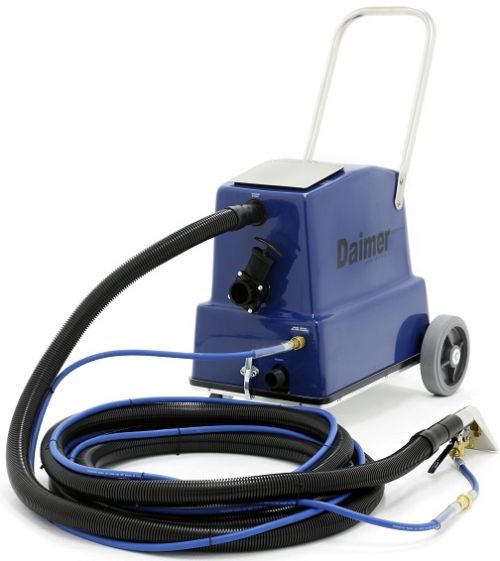 Auto detailing is the best way to make your older car feel like it just came off the lot. Months and months of little leaves, pieces of food, dirt, trash and other assorted stuff can make a fancy car look a bit disheveled. Getting an automobile detailed is a great way to reverse the effects of those things and get your automobile looking like it's brand new, not to mention smelling brand new.
You could try to do it with some random cleaners, some towels and a whole lot of elbow grease. But that's simply too much labor and it's frustrating. That is where Daimer comes in.
Daimer industries produces five different auto detailing machines that can make the process much easier and much more fruitful. We do it with an eye to power when it is needed and a soft touch when it is required inside the car, giving users ultimate flexibility. Read more to see what each product brings to the table.
XTreme Power XPC-5700U
This machine cleans upholstery without heat and is used for carpet and fabric upholstery. It holds 4.5 gallons and can make the water inside as hot as 140 degrees Fahrenheit, so it can be used in home and commercial settings. It's a low flow machine so drying can occur in about an hour. Optional wands can help with getting into tight spaces as well. Purchase this and get two gallons of Daimer's exclusive Carpet Care liquid.
XTreme Power XPH-5800TU
The 4.5-gallon tank has a heating element that can raise temperatures to 150 degrees Fahrenheit. On top of that, it has a pressure level of up to 170 pounds per square inch for even better detailing. The low flow feature will help with drying times – about an hour – and this machine comes with a 4-inch heavy gauge stainless steel wand for getting into small spots. It comes with two gallons of Eco-Green fabric and carpeting solution as well.
XTreme Power XPH-5900IU
This is Daimer's most popular commercial product in the 5000 series. It holds 4.5 gallons of liquid and because it has two inline heating elements, it can get the unit all the way up to 210 degrees Fahrenheit. In addition to the temperature, the pressure can go up to 170 PSI. The low flow feature will help dry things in about an hour and a 4-inch wand comes with this product, while other wands are available as additional purchases. This product comes with two gallons of soap-free cleaning chemical.
XTreme Power XPH-6400IU
Talk about power, this one has it. It is a whopping 10 gallons when it comes to capacity and the inline heating feature gets it all the way to 210 degrees Fahrenheit. The pressure level is 170 PSI and the low flow feature can reduce drying time to within an hour. What sets this apart, aside from the size of the tank, is the massive wand. It is 12 inches, patented and adjustable, perfect for extracting stains from tough spots on car seats and floors. You can also add additional wands if desired. Daimer will throw in two gallons of its "green" solution with the purchase of the XPH-6400IU.
XTreme Power XPH-9300U
And then there is the king machine that Daimer has to offer. The XPH-9300U uses its inline heating feature to get temperatures up to 210 degrees Fahrenheit. Here is where things get even more awesome: The machine can hold 17 gallons of liquid in its tank, and offers an amazing pressure level of 220 PSI. That type of pressure makes any stain likely to get blasted away. But the low flow feature also makes sure that drying times stay around one hour, just like with the less powerful models. The durable stainless steel wand that comes with this model measures 4 inches and comes with the purchase. In addition to that wand, you also will get two gallons of the company's eco-safe liquid.
In summary, each machine will provide exceptional service and exceptional portability, as each comes with two wheels and a durable handle to make it easy to move around. These American-made machines all have basic attributes needed for auto detailing, and then you can choose what suits you or your business best in terms of water temperature and pressure. Each product is its own unique color, but all of them trend to the blue and gray side of things with no flashy, bright colors. That can help with aesthetics, as grime won't stand out as it would with lighter colors.
Daimer offers competitive pricing on all its models and also can provide potential buyers with financing plans to make an auto detailing machine easier to purchase.  Check out their website to learn more.