April 06, 2015
Comparing Professional Car Detailing Equipment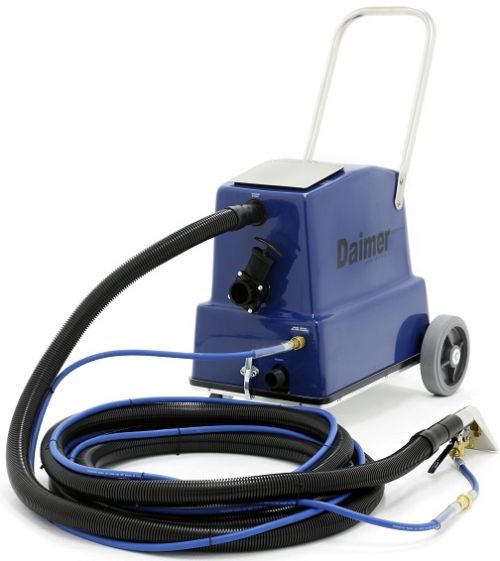 Car detailing equipment is a good investment, especially for someone who clearly loves their vehicle. Every car has unique features that you need to show off. In order to get your car sparkling clean and keep it that way, you need a range of specialized equipment to get the job done right. A mop and bucket simply won't do, especially if you are running a professional car wash or other business.
When choosing mobile car detailing equipment, it is important to remember that each machine is a little different. They each have their own benefits and can be used for specific purposes. You need to get equipment that will provide you with the best clean possible. That won't necessarily be the most expensive or largest car detail equipment available. Daimer has a wide range of specialty cleaning equipment that you can use in both casual and professional settings. Use these tips to help you find the device that's right for you.
Professional Car Detailing Equipment Gets the Job Done
Cutting through grease and stains isn't always the easiest task. The more powerful the machine you choose is, the easier the job can be. On the other hand, you don't want to work with professional car detailing equipment that isn't adjustable or is too powerful. Because the machines that Daimer carries are all designed for use in professional environments, you get the perfect balance of power and effectiveness without having to worry about damaging the vehicle.
Vapor steamers are one of the top choices for mobile car wash equipment for sale online because they use continuous refill technology. This means that you don't have to keep the steamer near your water source for long periods of time. This is great if you are working on several car interiors in a row. You'll get the same powerful surface clean without all of the hassles, making it a favorite in the auto detailing industry.
Choosing the Best Car Detailing Tools and Equipment
Now that you have a better understanding of some of the car detailing tools and equipment available from Daimer, you need to start picking and choosing between models. There are several different choices available, so you will easily be able to find something that meets your needs. All you need to do is a little research and understand what kind of a solution your business is looking for.
The best car detailing equipment available will list these factors, making them easy to research. Consider researching cleaning temperature, flow rate, power level and overall size of the device. These are also the key differences between the models available.
 Price may also be a factor, but this should have the smallest influence on your decision. Companies that sell professional car wash equipment online like Daimer offer a range of financing and payment options that can make the decision easier. You should never feel restricted by your price range and you should never choose the cheapest equipment available simply because of its price tag.
Why Flow Rates and Temperatures are Important
The reason price shouldn't be very influential is because of the difference having the right flow rate or temperature can be. If you are working with sensitive automobiles, using the incorrect flow rate or temperature can harm the vehicle. You wouldn't want to wash a plastic cup with scalding hot water. When it comes to mobile car wash equipment, there can be a right and wrong solution. Shop carefully in order to ensure you are getting the correct features.
Daimer helps to make selecting proper equipment easy by having a well-trained and knowledgeable staff. If you aren't sure what you need to get the job done right, we can always give you a hand. Our customer service representatives are always willing to answer questions or help you choose between units. Buying steam mobile car wash equipment online has never been so easy!
Get the Best Auto Detailing Equipment Online
Cleaning a car is a science and you need the right tools by your side in order to get the job done right. No matter what kind of auto detailing equipment you are looking for, you can find a model to fit your needs at Daimer. With highly detailed product descriptions and a wealth of information available, you can rest assured knowing you are getting the best.
One of the biggest things that sets Daimer apart from others in the industry is that we sell the bulk of our machines online. This not only makes your search for mobile car wash equipment for sale much easier, it also helps to save you money. Our reduced overhead cost allows us to sell you top quality equipment for a fraction of the price.
When searching for professional detailing equipment for sale online, Daimer truly has a lot to offer. We understand the importance of selling not only a quality device, but one that will fit your needs as well. We use only the best parts and most practical designs to help give you peace of mind. We work hard to offer durable machines that can help keep up with your business and last you for years.
To get the best car wash mobile equipment on the market, visit the Daimer website or contact us directly. One of our friendly representatives will be happy to help you find the equipment you need to make your auto detailing or car wash business successful.