February 16, 2016
The Best Car Steam Cleaners for Leather Seats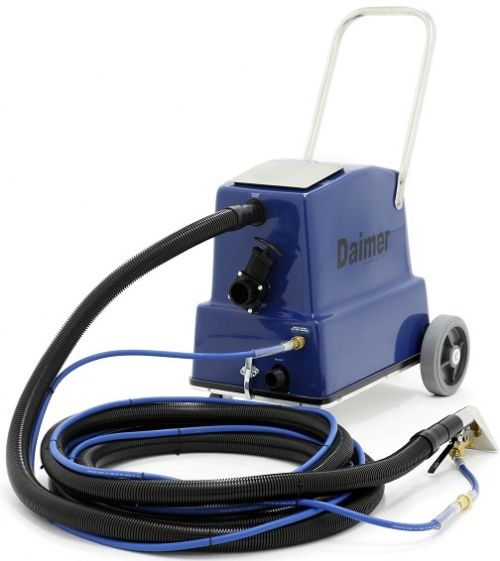 These days, people spend an astronomical amount of time in their cars. Did you know that the average person spends an average of 3 hours a day in their vehicle? For this reason, these people know and understand how miserable it is to have a car that's dirty, especially on the inside. A dirty car interior will be repulsing aesthetically, to the touch, and it's also likely to stink (not to mention carry germs that shouldn't be there). If you spend a decent amount of time in your car and would like to improve your quality of life, you'd be surprised how much a quick cleaning of your interior can help. Many like the knowledge or understanding of what it takes to clean a car interior, however, and often buy chemicals that are harsh on upholstery in an effort to scrub out stains, dirt and grime. When it comes to leather seats, extra care must be taken as these can be easily damaged, which is unfortunate since they're usually more expensive to begin with.
Daimer understands how much a clean car interior means to you, and we don't want you to trek to a chain store car wash, where they'll likely use harsh chemicals and industrial size washers every time you wish to clean your car. Rather, we've created a series of cleaning options that are affordable, easy to use, effective and gentle on even the most delicate car interiors; we've found that most experienced detailers who truly care about their work have opted to use car steam cleaning as their method of choice – and of course, Daimer is their cleaner of choice.
Steam Cleaning as a Cleaning Method
You might be wondering what the benefit of using a steam cleaner is in the auto world... why not use tried and true chemicals that will surely lift those stains right out? Those chemicals you've been using, the same one that industrial car washes use, those may do the trick temporarily, but they'll wreak havoc on your interior over time – expediting the wear and tear that otherwise might be avoided.
Our car steam cleaners use heat and vapor as a primary cleansing agent. The heat loosens the molecules found in dirt, stains and stenches and lifts it right out. This not only proves to provide excellent results aesthetically, but it's also guaranteed to sanitize since it puts out such high temperatures; this will naturally improve the sanitation and smell in your car as it kills germs and bacteria – and all without ever touching a harsh or damaging chemical cleaner.
Our car steam cleaners are also eco-friendly since they make use of very little water when washing the car, and there's essentially little to no water run off (waste) during the clean. The chemicals we avoid using are also potentially damaging to the environment and contain toxins that aren't particularly safe to breathe. When we can be efficient in vapor and steam cleaning, why use them?
Best Steam Cleaner for Leather Seats
It's a well known fact that leather tends to be a little more sensitive in terms of what it tolerates as well as sustainability, which is why you should take extra care to ensure that you're getting the appropriate steam cleaner when you purchase one. Rest assured, not all cleaners are created equal, and an ill-informed decision may prove to have devastating results on the life of your leather interior. Daimer does, in fact, create steam cleaners for leather interiors. Feel free to peruse our collection at our web site or give us a call to speak to a professional who will answer your questions and steer you in the right direction.
Why Daimer?
Daimer is simply the best in the industry in terms of commercial and industrial cleaning equipment for homes, businesses, and cars. With an informative web site that represents purchasing options in over 200 different countries, a staff of friendly and helpful representatives, and some of the most effective, eco-friendly, and affordable options in the business, there's simply no other option if you wish to be successful in your cleaning efforts.
Don't wait – if you need car detailing equipment, give Daimer a call.