April 15, 2015
Gas Powered Pressure Washers vs. Electric Pressure Washers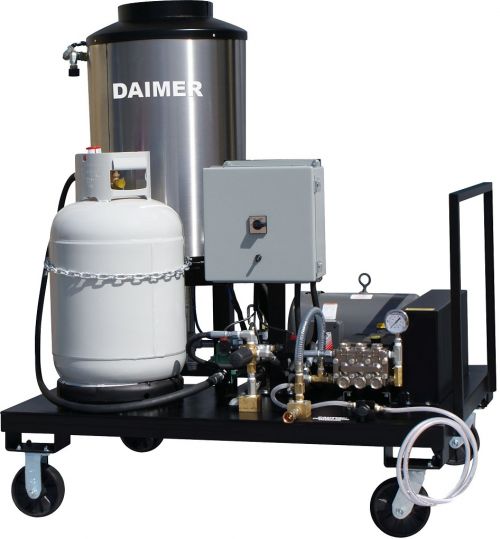 Gas powered pressure washers and electric pressure washers are excellent tools for all sorts of outdoor cleaning projects, for both residential and commercial use. However, for heavy-duty projects such as stripping paint, or for multiple projects requiring frequent use such as with commercial use, a gas powered pressure washer is the best option. If you are considering purchasing a pressure washer, or would like to know how their gas and electric motors stack up against each other, this article is for you.
Electric Pressure Washer
The electric pressure washer is ideal for small, occasional cleaning projects such as ones around the house or small business. These machines push water at a rate of 1300 to 3000 PSI (pounds per square inch) with an electric motor that must be plugged in to an electrical outlet. The biggest advantage of using an electric pressure washer is its small size and affordability.
Pros
Quiet operation
Affordable
Virtually maintenance-free
Eco-friendly – does not emit fumes
Small in size
Lightweight
Cons
Can only be used where an electrical outlet is available.
Cannot be plugged into an extension cord to extend reach.
Gas Power Pressure Washer
For industrial use, a gas power pressure washer is ideal. It is much more powerful than its electric counterpart, with a PSI of 4000 or greater. This high powered machine is built to conquer heavy-duty cleaning task on a regular basis, and it has a longer life expectancy than the electric washer. The biggest advantage with a commercial gas powered pressure washer is its portability and deep clean capabilities.
Pros
More powerful than electric
Portable
Cons
More expensive than electric
Requires a measure of maintenance
Louder than electric
Can only be used outdoors because it emits gas fumes.
Tips for Buying the Best Gas Powered Pressure Washer for the Job
If you are in the market for a heavy-duty pressure washer for industrial use, or if you have multiple large cleaning jobs you want to conduct, the following tips should help you find the best gas powered pressure washer for the job.
The Pump
One of the most important parts of the pressure washer is its pump. Many quality pressure washer manufacturers purchase their pumps from specialized companies who are experts at this type of technology. High quality pumps result in excellent performance and are spare parts are easy to find should the pump need repair.
A word of advice: if you cannot find the name of the pump, chances are it is a lesser quality pump. Another tell-tale sign of quality is the pump's component parts. Industrial-quality components include brass heads, thermal relief valves and ceramic plungers. These types of parts ensure the pump is durable and long-lasting.
Vertical Shaft and Horizontal Shaft Engines
Even if you don't know anything about engines, this specific spec is something you should ask the salesperson about. The direction of the engine shaft (vertical or horizontal) helps determine the durability and quality of the pressure washer, gas powered or otherwise. Vertical engine shafts tend to be less durable and cost less to buy. Horizontal shaft engines are more expensive, but you can expect them to last longer. If you plan to use your pressure washer more than once or twice a year, opt for a horizontal shaft machine.
The Price
The old adage "You get what you pay for" holds true with pressure washers. While it may be tempting to save as much money as possible initially, if you are buying a machine for professional use, it pays to spend the money for a more durable, longer-lasting commercial gas powered pressure washer.
Find an Affordable Gas Powered Pressure Washer
When you have decided to purchase a commercial pressure washer, be sure to visit us at Daimer.com for the most affordable gas powered pressure washer on the market today. The Super Max 12500 GE Commercial/Industrial grade pressure washer features an 18 horsepower (HP) gas motor and a flow rate of 5 gallons per minute (GPM). With an output of 3000 PSI, this gas powered hot water pressure washer can handle just about any cleaning job you have in store.
A Few FAQs You Should Know
What kind of nozzle do I need for my pressure washer?
Most pressure washers come with a fan nozzle that is good for simple jobs such as washing cars are siding. However, for more specific, heavy-duty applications, different nozzles make the job easier.
Rotary Nozzles – For aggressive cleaning of sidewalks, concrete and brick surfaces, a rotary nozzle, or "dirt blaster" nozzle makes cleaning a snap.
Extension wands – Up to 24 feet long, these allow users to clean high places such as gutters and rooftops without using a ladder.
Sand Blaster – This attachment removes tough grime and dirt, and even strips paint.
Concrete/flat surface cleaners – With this attachment on the pressure washer, it becomes more like a floor polisher or vacuum. You simply push the machine along and it cleans the floor. This works especially well for large areas such as warehouses.
Can I use bleach in my machine?
No. Only use cleaners that are approved for use in a pressure washer, otherwise the machine may become damaged.
Can I run hot water through my pressure washer?
No. Never run hot water through a cold water pressure washer as it could damage the internal components.
If you have more questions about gas powered pressure washers, be sure to visit us at Daimer.com.