Description
Free Bonus for Ordering Online: 6 Free Extra Plushy Microfiber Towels Valued at Over $19.00

FREE CART is Included.

FREE SHIPPING within the Continental United States.

Please call for freight pricing if shipping outside the
Continental United States.
View This Video - Watch Daimer's Advanced
Vapor Technology Steam Technology Remove
Ugly Back Gum Spots from Concrete

KleenJet Gum Exterminator Vapor Steam Gum Removal
Loading ...
Daimer Vapor Steam Vacuum Cleaner Systems Now Include

Special Water Capture and HEPA Filtration Technologies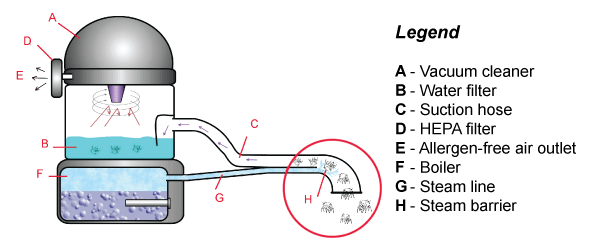 * HEPA Filter to 3 microns for extra protection against allergens
* Wet Vacuum Cleaner to extract moisture while cleaning to help eliminate the need for towels required by conventional steam cleaners that include no extraction capability
* Dry Vacuum Cleaner to extract dirt, pollen, dust mites, bed bugs, pet hair, and other allergens from carpet, hard floors, mattresses, and more surfaces and deposits them into water for easy disposal
* Air Purification for a cleaner, fresher indoor air environment

The Industry's Most Advanced, Effective Vapor Steam Gum Removal Equipment
Daimer's KleenJet® Gum-Exterminator® Ultra 5000CVGP is a powerful ATIS® ANTI-BACTERIAL Chewing Gum Removal Machine with unrivaled power and capabilities. The KleenJet® 5000CVGP steam machine features Daimer's Patent Pending, EPA Registered ATIS® (Advanced Thermal Ionic Sanitization®) anti-bacterial technology, which increases boiler performance and efficiency while effectively sanitizing surfaces and killing 99.9% of harmful bacteria, including E-Coli, S. aureus, and other harmful pathogens and mold. In recent laboratory testing, ATIS® technology produced a kill rate of 99.999% against harmful MRSA bacteria, Methicillin-resistant Staphylococcus aureus. These results are achieved through the addition of a patent-pending, ATIS® anti-bacterial device in the boiler. An EPA number is printed on label of every 5000CVGP machine.
The included chewing gum removal kit includes the double squeegee gum removal tool with 6 heavy gauge stainless steel brushes and Daimer's chewing gum removal solution. This crucial add-on for the Ultra 500CVGP steam vacuum machine allows for rapid removal of chewing gum.
With high steam temperatures reaching 369ºF and pressure levels up to 125 psi, the KleenJet® Gum-Exterminator® Ultra 5000CVGP can function as a robust steam cleaning machine, steam vacuum cleaner, and a powerful wet/dry vac with extraction capabilities and a 2200mm water column lift in addition to its sanitizing and gum removal features. This steam machine also features direct water feed, a $500 value, which when in use allows the system to automatically draw water from a hose line while the user works, thus enhancing the self-regulating continuous refill feature. Additionally, the Ultra 5000CVGP can be purchased with optional hoses, 16' or 24' in length, allowing for a steam cleaning radius of 2000 feet without moving the machine.
With its wide variety of features and functions, Daimer's KleenJet® Ultra 5000CVGP is the ideal steam machine for demanding industrial or commercial application where a versatile, sanitizing, gum removal steam vacuum cleaner is needed. For added versatility and efficiency, Water Ejection and Chemical Ejection come standard.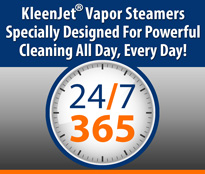 Learn about the Daimer® Difference.
Learn how to start a gum removal business in 7 easy steps!
View a list of disease-causing microorganisms killed by ATIS® Technology.
Review Daimer's 2-Stage Filtration Technology.
Dry steam is not appropriate for removal of carbonized grease or carbon build-up.
Expand your business by using chewing gum removal equipment for cleaning tile and grout.
One Example of a Daimer Steam Cleaner Application:
Steam Mopping Using Floor Brush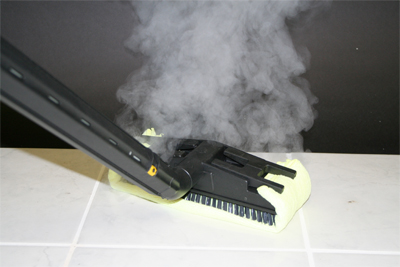 *Steam mop by attaching towel to floor brush under clips. 
Testimonials
5000CV
I clean tile and grout professionally, and I just want to let you know I'm very happy with the machines I bought from Daimer. My Mega 1000CV and Ultra 5000CV steam cleaners clean grout and makes it look like new again. My customers are very pleased with the results and also very impressed by the professional appearance of the machines. I would recommend Daimer to anybody and I look forward to doing business with you soon as my business is growing and will be buying more equipment from you soon.
Anthony O.
Garfield, NJ
5000CV
I started my tile cleaning company 1½ year ago. I went through a lot of tile cleaning machines before I found the right one. I am glad I chose Daimer for my business. I use the Daimer 5000 CV industrial steam cleaner for heavy duty commercial cleaning and 300CS steam cleaner for smaller jobs like upper level cleaning of residential houses. I have no regrets on choosing these machines. The machines are easy to setup, easy to use and very reliable. I will highly recommend it to others in the business.
Rey D.
Only by Steam Tile Cleaning Co.
Vancouver, BC Canada
5000CVGP
I am writing to tell you that the Supreme 5000CVGP I bought in 2008 has been working very well. I love the steam power and the vacuum cleaner for helping me clean gum outside as well as tile cleaning.
Before buying your steamer, I owned a cheap steam cleaner I bought in Toronto, but I had so many problems with it I just wanted to buy one with much more power. Daimer's reputation seemed very good and I'm glad I made the decision to buy!
Thanks,
Stephen R.
Toronto, Ontario, Canada
5000CVGP
Dear Daimer,
I was struggling for an idea for a new business and I just happened to notice lots of black spots on sidewalks in front of local businesses. After learning that the spots were chewing gum, I searched the Web for gum removal systems and found your Web site.
I also searched for competition and didn't find much. But I still had trouble deciding between 3 of your gum remover machines before I called your salesperson who recommend I go for the Ultra 5000CVGP antibacterial machine.
I also use the machine to clean kitchens and floors with the system in restaurants and other places that care about bacteria.
Thank you for a great machine that has been making me a good living for the past 2 1/2 years.
Pierre D.
Montreal, Quebec, Canada
5000CVGP
I own a growing cleaning contracting business with 10 employees. We needed a several cleaning services that could handle any job one of our cleaning associates encountered at a client. So, we bought a 5000CVGP. So, far the machine has handle every job we've thrown at it: cleaning tile and grout, hard flooring, walls, removing gum from sidewalks, killing germs at a pet hospital.
I don't normally write these kinds of letter, but I believe in complimenting people when they get something right. With this machine, you got it right.
James R.
Haralson, GA