Description
Free Bonus for Ordering Online: 6 Free Extra Plushy Microfiber Towels Valued at Over $19.00

FREE CART is Included.

FREE SHIPPING within the Continental United States.

Please call for freight pricing if shipping outside the
Continental United States.
 .
Daimer Vapor Steam Vacuum Cleaner Systems Now Include

Special Water Capture and HEPA Filtration Technologies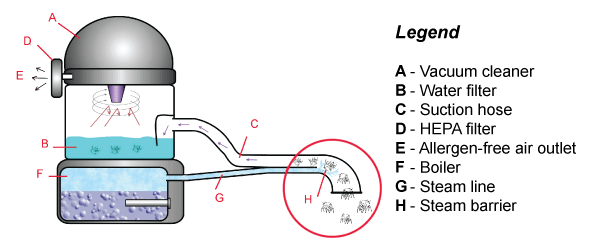 * HEPA Filter to 3 microns for extra protection against allergens
* Wet Vacuum Cleaner to extract moisture while cleaning to help eliminate the need for towels required by conventional steam cleaners that include no extraction capability
* Dry Vacuum Cleaner to extract dirt, pollen, dust mites, bed bugs, pet hair, and other allergens from carpet, hard floors, mattresses, and more surfaces and deposits them into water for easy disposal
* Air Purification for a cleaner, fresher indoor air environment

The Industry's Most Advanced, Effective Vapor Steam Gum Removal Equipment
The KleenJet® GUM-EXTERMINATOR® Supreme 3000CVPG - ATIS® Chewing Gum Removal Machine is one of the most powerful ANTI-BACTERIAL self-regulating continuous refill commercial steam vacuum cleaners in our line, featuring patent pending ATIS® (Advanced Thermal Ionic Sanitization) technology. The 3000CVP is independently certified to kill disease-causing pathogens and bacteria, through the use of a patent-pending, ATIS® device in the boiler. In fact, in tests conducted by an independent lab ATIS® steam cleaners produced a kill rate of 99.999% against MRSA, Methicillin-resistant Staphylococcus aureus bacteria. The 3000CVGP label shows an EPA number.
Daimer offers the most powerful 120v commercial steam cleaners in the industry. The unique GUM-EXTERMINATOR® Supreme 3000CVPG/3000CVP/3000CV commercial steam vacuum cleaner models along with the Ultra 5000CVPG/5000CVP/5000CV combination steam cleaner and steam vacuum cleaners feature Daimer's proprietary, advanced technologies. The result is an outstanding 120v power configuration approaching the performance of many 230v steam cleaner machines.
In addition to combining a powerful Gum-Exterminator® with ATIS® technology, the 3000CVGP offers water filtration to remove harmful dirt and allergens from the water while steam cleaning. The HEPA filter provides significant protection against harmful allergens that heighten respiratory disorders by providing the 3000CVGP with an extra layer of protection.
The anti-bacterial Supreme 3000CVPG - ATIS® Chewing Gum Removal Machine offers temperatures up to 364ºF and pressure levels up to 115 psi, which are both a step above the Mega 1000CVP. The 3000CVGP's huge 14 liter extraction vacuum recovery tank is larger than the tank than the on included with the Mega 1000CVGP steam cleaner.
The Supreme 3000CVPG - ATIS® commercial steam vacuum cleaner is ideal for business and commercial cleaning environments demanding powerful cleaning ability and high extraction/wet vac storage. The 3000CVGP can be purchased with optional 16' steam hoses and 24' steam vacuum hoses, the longest in the industry offering a cleaning radius of up to 2000 square feet without moving the machine.

Water Ejection and Chemical Ejection are also included.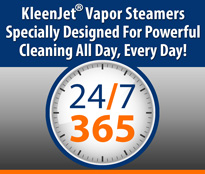 Learn about the Daimer® Difference.
Learn how to start a gum removal business in 7 easy steps!
View a list of disease-causing microorganisms killed by ATIS® Technology.
Review Daimer's 2-Stage Filtration Technology.
Read about the uses, applications, and limitations of steam cleaners.
Dry steam is not appropriate for removal of carbonized grease or carbon build-up.
Expand your business by using chewing gum removal equipment for cleaning tile and grout.
One Example of a Daimer Steam Cleaner Application:
Steam Mopping Using Floor Brush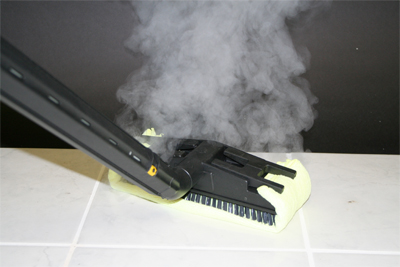 *Steam mop by attaching towel to floor brush under clips.
Testimonials
3000CV
I have been in the grout cleaning business for years and nothing cleans grout like my Daimer 3000CV! I absolutely love the power (3000 watts) of the steam vacuum cleaner with the 2 power cords. I had used another brand that cost me $1700.00 before I switched to Daimer. The other steam cleaner system was a smaller unit with no vacuum, and I must say the vacuum saves me hours over using a towel attached to a floor brush like I did with the other brand.
I also love the steam extraction grout tool that has eliminated wiping the grout lines with a towel. Plus, all those towels I had to change when cleaning the tile with that other over-priced steam cleaner, which didn't present the best image in front of customers. I had to bring as many as 3 dozen towels and now that has stopped. The Daimer system allows me to clean up to 300 square feet per hour versus as low as 100 square feet with the other model, and I am making more profits than I did with the steam cleaner I used before.
Thanks Daimer for actually increasing my income. I would highly recommend this steam vac to any tile and grout cleaning contractor who doesn't want to fool around with a toy like I did! I was so happy with my 3000CV I bought an Ultra 1500C.
Thanks,
Cole W.
President
Grout cleaning company
3000CV
Great machine! Not only does it have all the features I need for my employees, but it includes lots of extras. That's a real plus in this economy. We've been using it for all types of hard floors -- hardwood, tile, linoleum. Recently, I've been telling customers that it removes allergens, which has added new business. (One pet store clients asked me to clean his home because his wife has allergies.)
I also like that machine is easy to use, so I don't need to spend a lot of time teaching new employees to operate it.
Arturo S.
Oceanside, CA

3000CVGP
Dear Daimer,
I purchased a 3000CVGP last September and I've been very happy with it. Also, I wanted to commend you on your knowledgeable sales staff. I need a powerful unit for both removing gum and disinfecting jobs at my nursing home clients. Your sale associate steered me to this machine and I've been very satisfied with the capacity, steam power, temperature and the way it takes up gum. I use it on sidewalks, playgrounds and inside a local school.
Recently, I added a couple of health club customers all because of the ATIS® sanitizing system.
John V.
Jersey City, NJ

3000CVP
I have been using two KleenJet® Supreme 3000CVP steam cleaners for my pest control business. They're reliable, fast, kill bed bugs dead as a doornail. Being able to tell my clients that these [ATIS®] systems also kill germs, has helped me win jobs.
Sincerely,
Peter G.
Bangor, ME