July 10, 2015
Getting a Perfect Surface Clean with the Xtreme Power HSC 14000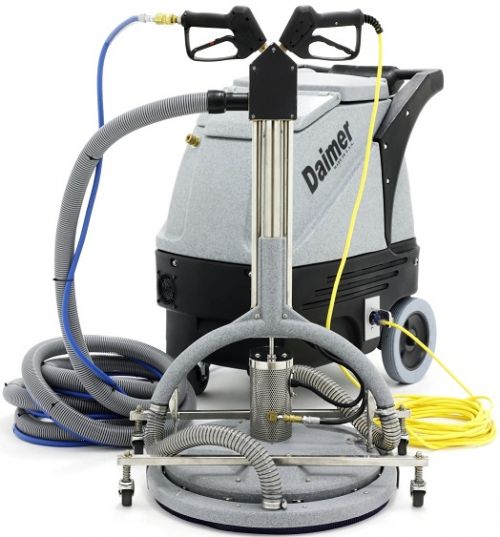 Getting the perfect clean isn't always easy. It takes the help of an incredibly versatile machine to effectively remove dirt and grime from surfaces. Steam cleaners can be a very efficient solution, offering several different removal methods. In fact, many business owners have turned to the Xtreme Power HSC 14000 to help them clean concrete, brick, marble, grout and other surfaces with ease.
Non-Heated Cleaning Power
Temperature can play a huge role in the cleaning process. Many different surfaces become damages when exposed to the high temperatures that most steam cleaners offer. While heat is important for sterilization, it is not always the best choice. If you are working with fine upholstery, for example, heat could rip or burn the fabric.
The Xtreme Power HSC 14000 is a non-heated hard surface cleaner designed to work on a variety of areas. Because you don't have to worry about heat damage, you can easily use the device on sensitive areas. The floor steam cleaner system removes dirt and grime off of limestone, brick, concrete and more.
Versatile Hard Surface Steam Cleaner
When investing in a hard surface steam cleaner, it is important to find a system that can be used in multiple areas. Businesses never have only one area that needs to stay clean, and you don't want to have multiple machines taking up valuable space. The Xtreme Power HSC 14000 is a wise choice for businesses because it can act as a:
Commercial wall cleaning system
Commercial pressure washer
Multi-surface portable cleaner
Jet wall squeegee wand
Commercial upholstery cleaning machine
Commercial carpet cleaner extractor
The Xtreme Power HSC 14000 is designed to be several different machines in one. It is a powerful machine that is built around Daimer's exclusive motorized spinners. These spinners allow you to clean 60 percent faster and get 70 percent better results, creating a substantial difference. With it's power-enhanced features, the Xtreme Power HSC 14000 is able to clean about 30 times faster than other vapor steam cleaners. This allows you to get noticeable, consistent results every time.
What Makes the Xtreme Power HSC 14000 Unique
The Xtreme Power HSC 14000 is designed to be a powerful machine unlike any other. It uses innovative technology that helps it stand out among others in its class. Several unique features help you give you a complete, effective clean:
Multiple settings allow you to safely clean several areas.
Motorized spinner head allows machine to be fully adjustable to 1,500 PSI.
Adjustable water temperatures up to 140 degrees.
Powerful vacuum provides 200 cfm air flow to extract dirt and grime.
System meets EPA guidelines for waste disposal.
Optional 9" spinners allow you to clean tight spaces with ease.
Several wands and squeegees are available.
As a hard surface cleaner, the Xtreme Power HSC 14000 is able to perform both indoors and outdoors. The system uses environmentally-safe methods of disposal, giving you peace of mind no matter where you choose to use the machine. You will be able to easily clean sealed and unsealed tile, travertine, quarry and more. Because of the machine's large size, you will be able to clean wide areas like parking lots or walkways without any issues.
Residential and Commercial Applications
One of the biggest benefits of choosing the Xtreme Power HSC 14000 is that it has a variety of settings. This makes it ideal for residential and industrial applications. Aside from cleaning tile, the Xtreme Power HSC 14000 serves as an excellent bathroom cleaning system, cutting away at grime and dirt. Foodservice kitchens can also benefit from the versatile machine as the clean floors and walls with ease.
Daimer cleaning systems have a long history of being used in the service industry. They provide a professional clean that is hard to match with other machines. Because the m Xtreme Power HSC 14000 is suited for most non-painted hard surfaces, it is great for window cleaners, hospitals, kitchens and custodial work.
While the Xtreme Power HSC 14000 may seem bulky, the system is actually very easy to move. This makes it perfect for large commercial buildings, but also makes it great for every day, quick cleaning. The Xtreme Power HSC 14000 truly has a lot to offer homes and professional buildings.
Choosing a Daimer Hard Surface Cleaner
As a company, you will have lots of options when it comes to choosing a non-heated hard surface cleaner. The Xtreme Power HSC 14000 is one of the best options for you because it is built with integrity and expertise. Daimer has years of experience helping home owners and businesses alike find cleaning devices that suit their needs. With our help, you will be able to get a durable machine that will last for years.
Because we trust our products, we offer a warranty on the Xtreme Power HSC 14000. The extractor system and spinner system both have with a 1 year warranty, while our durable extractor housing has a 5 year warranty. This can help you feel confident in you decision to purchase one of these useful and strong systems.
Daimer is also known for providing excellent customer service. If you are looking at the Xtreme Power HSC 14000 or any other non-heated hard surface cleaner, we are here to help. Contact us today to learn more and see how your business can benefit from this powerful device.