June 26, 2015
Get a Deep Clean With the Super Max 12860-PW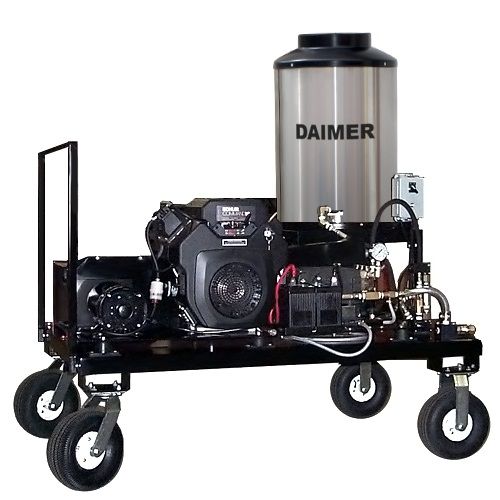 When cleaning, it is important to pay close attention to detail. Whether you are trying to keep your floor sanitary or need something to cut through the grease on your shop walls, the Super Max 12860-PW is here to help. This versatile machine helps you get the clean that your customers expect to see. Made from Daimer, the Super Max 12860-PW is a multi-purpose truck mounted pressure washer with a lot to offer.
The Super Max 12860-PW is an industrial electric pressure washer with three different modes: cold water pressure, hot water pressure and steam pressure. It is an industrial oil heated fired pressure washer designed to produce incredible amounts of power. This makes it suitable for a number of different commercial settings, including kitchen cleaning, pool tile cleaning and paint removal. Powerful degreasing capabilities also make it ideal for metal workshops, machine shops, factories, oil rigs and more.
Three Ways to Clean
The Super Max 12860-PW is a tri-mode pressure washer with a lot to offer. Acting as a hot water pressure washer, you will be able to cut through tough grease and dirt without issues. The cold water pressure washer features are perfect for more sensitive surfaces and can allow you to clean without risking damage. A steam pressure washer helps you to detail-clean your building, getting in to all the tight areas.
The goal of the Super Max 12860-PW is to provide you with multiple cleaning options. This allows you to clean more areas and get more out of your investment. Use the powerful system to complete difficult tasks with one or two gun attachments. The device can be used with heating oil, diesel, or kerosene fuel, giving you even more options, allowing you to find a custom cleaning solution that best suits your needs.
What Sets the Super Max 12860-PW Apart
The Super Max 12860-PW has several unique features that help make it one of the most powerful pressure washers available. A heavy duty schedule 80 heating coil and 30 second response time make it ideal for many businesses. In addition to being able to convert cold to hot water very quickly, this tri-mode pressure washer has several outstanding features.
Here are just some of the things you can look forward to when you purchase a Super Max 12860-PW:
Tremendous pressure levels of up to 3000 PSI
Fast, powerful flow rate of 5 GPM
Steam temperatures up to 330 degrees
Large, 9-gallon fuel tank
Easy to move and truck mounted
This special pressure washer is designed to withstand regular, heavy use. When Daimer built the Super Max 12860-PW, we paid close attention to detail and made a device that was ideal for industrial use. Having a wider variety of settings and features make the Super Max 12860-PW a practical choice in almost any setting.
How Does It Work
Using powerful cleaning equipment isn't always easy. The Super Max 12860-PW looks like a complex cleaning device, but it is very simple to understand. Mount the pressure washer onto a trailer to move it to the spot you want cleaned. When turned on, the fuel inside heats the coils to up to 330 degrees. Multiple settings allow you to control how hot the water and coils should be. Then, all you need to do is spray the water or steam on the area you want clean.
While some business owners may be wary about investing in a large cleaning device, the Super Max 12860-PW actually uses its size to its advantage. A heavy duty motor and 9 gallon fuel tank means you don't have to rely on electric outlets to use the device. Instead, you can continuously use the large pressure washer until the job is done.
Multiple attachments are available to help you reach different areas of your facilities. Included is a durable 3-inch trigger wand with quick disconnect and an assortment of nozzles. You will be able steam with a specially designed wand or get the right angle with a 0, 15, 25 or 40-degree nozzle. A 50-foot high pressure steam hose also allows you to save time moving the machine from place to place. Additional and fully customizable hose lengths are also available to better suit your needs.
The Benefits of a Daimer Pressure Washer
Daimer is a reliable manufacturer of industrial pressure washers. For years, we have helped businesses find the powerful cleaning devices they need to get their jobs done right. By using a combination of industry experience and quality parts, we are able to make commercial cleaning machines that you can depend on.
The Super Max 12860-PW is built with all the integrity that Daimer has to offer. Our company backs every pressure washer we build with a warranty. This helps you rest assured knowing that you are getting a long-lasting product. If you have any questions about our warranty, or the individual parts used to build the Super Max 12860-PW, please contact our customer service department directly.
When it comes to your business, you deserve to work with only the best tools available. Daimer is happy to help provide you with an industrial pressure washer that can perform a number of different tasks. Explore the features of the Super Max 12860-PW and see first-hand how they can benefit your business. Contact us today to learn more.