May 05, 2015
Super Max 9500 Steam Cleaner for Restaurants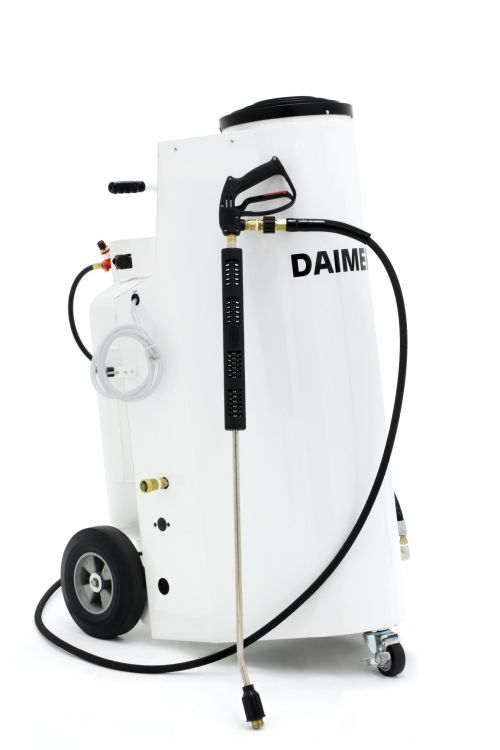 You are the owner of one of the premier eateries in a metropolitan area.  Food critics love you, foodies take their friends to sample your culinary genius, and the waiting list to get into your restaurant is a little over a year.  Just like your diverse menu, you want to make sure that you aren't caught by surprise when it comes to inclement weather: from the lightest sun shower to the fiercest winter blizzard you want to be armed and ready. To defend your surfaces from not only weather related stains but tougher ones as well, your best choice is a Daimer Super Max 9500 Wet Steam Cleaner. 
Why go with a Super Max 9500 Steam Cleaner? 
Especially in a restaurant environment you want to use a wet steam cleaner like the Super Max 9500 Wet Steam Cleaner.  This specific model uses wet steam with temperatures up to 330ºF.  The Super Max 9500 Steam Cleaner has an impressive 2000 psi water pressure.  This could also be extremely useful to you because when you use our product, it also keeps your restaurant from smelling like a cleaning checmials.  While yes, you want to make sure your diners and staff know that you've cleaned, you don't want the scents of the cleaners to overpower them, causing a loss in business.
The Super Max 9500 Wet Steam Cleaner is also a portable device.  We know that sometimes work environments can be a little crowded.  With its 23" width, 30" depth, and 45" height, our cleaner could be placed in a closet or small space for convenient storage.  It has contoured rubberized handles and is mounted on top of three industrial strength wheels, which will make it a breeze to move it from room to room. 
We also would like to mention that the Super Max 9500 Wet Steam Cleaner is a time efficient device.  For the manager who is paying their employees on an hourly rate, if you have a wet steam cleaner that takes a while to warm up, you know that's just money walking out of your pocket.  When you use our wet steam cleaners, it only takes 30 seconds to warm up to a temperature of up to 330 degrees.  Our wet steam cleaner is ideal if you have inclement weather and have to clean your floors repeatedly because after the day is done, the steam will evaporate overnight, giving your business a nice and clean appearance.
One of the best features is that the Super Max 9500 Wet Steam Cleaner is an incredibly versatile machine.  With its continuous water flow from its direct drive pump, our water pressures get up to 2000 psi, which with this amount of force, no additional elbow grease is required.  With such a high psi, our equipment will blast away various troublesome stains.  These stains include gunky stains like peanut butter or molasses as well as stains that seem to seep into porous materials like paint and oil.  For a demonstration of the Super Max 9500 Steam Cleaner, please feel free to watch by clicking on this link and scroll down.
The Super Max 9500 Wet Steam Cleaner is extremely easy to use.  We offer various accessories that will make your steam cleaning needs simple less painful than traditional methods.  Our durable 3' trigger wand has a long enough barrel that when it comes to cleaning, you just have to pull the trigger and watch it work.  When the Super Max 9500 Wet Steam Cleaner is armed with our revolutionary auto shutoff technology, safety concerns will be abated with a simple explanation instead of a filed complaint.  Concerned about stooping over to get a good shot at the stain?  This concern will disappear with our 25' high pressure steam hose, which will give you ample room to spray the surface from a safe distance.  If this length is too long, we do have additional sizing options available.  We offer many different angle nozzles in our accessory package, which we will be including in your Super Max 9500 Wet Steam Cleaner package.  Nozzle angles and sizes include 0°, 15°, 25°, and 40° steam nozzles which are, adding to the flexibility and versatility of our machine. 
At Daimer, we pride ourselves on providing a product that is long lasting.  When we are looking to build and design our products, one of the first things we will make sure that our materials are the best quality.  A couple of our components are steel including our high-pressure stainless steel heater exchange coil and the housing for the Super Max 9500 Wet Steam Cleaner is made of powder coated high gloss chip/chemical resistant steel.  By using steel as a building material, our wet steam cleaner will be more resilient to rust.  In addition, the Super Max 9500 used aheavy-duty 3.0 horsepower NEMA certified motor.  For additional technical information on the Super Max 9500 Steam Cleaner, please feel free to read our specifications by clicking on this link and selecting the Warranty & Specifications tab.
Because we are so dedicated to you, our customers, your Super Max 9500 Wet Steam Cleaner comes with a few limited warranties: a single year overall limited warranty; a two year limited warranty on our motor/engine; and a five year limited warranty on our water pumps.  For addition on all of our products, please feel free to visit our website and learn more.