May 11, 2015
Xtreme Power XPC-5700U by Daimer®: The Carpet Cleaner/Extractor that was Made for Auto Detailers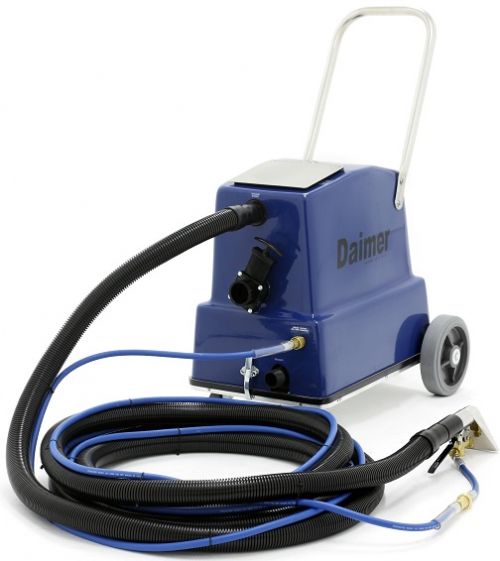 In order to clean the interior of a vehicle efficiently and quickly, you need to use a machine made for carpet cleaning and extracting that is reliable and has the right specifications.  Many machines of this type have been designed poorly and lack the power that is necessary which means that when they are used in car wash businesses, they only reduce productivity.  Daimer® carpet extractors, by comparison, are full of features that have been geared towards making a great improvement in productivity while also giving you results that are better.
Carpet cleaner extractors need to have temperature levels that are high for when you intend to clean very dirty carpet daily.  Most of Daimer's models include inline heaters that will heat the water in the machine.  The XPC-5700U is a more economical model that does not include heaters. Hot water that is up to 140ºF, however, can be added to the solution tank This type of carpet cleaner will be less expensive than machines like the XPH-5900IU that include inline heaters.
Carpet cleaners should use as little water as possible in order to thoroughly clean the carpets.  Typical carpet extractors will use more than a hundred gallons of water only to clean a single carpet!  This will result in more water being wasted as well as larger challenges in terms of disposing of the water.  Now look at the XPC-5700U by Daimer®.  It features a low flow technology which means that much less water is used.
Carpet extractors need to be able to get the most amount of moisture from the carpet that is possible.  When a carpet extractor leaves the carpets too wet, there is the possibility of mold developing.  For this reason, the upholstery or carpet cleaner needs to be equipped with a vacuum that is powerful as well as the correct wand so that the extraction of water can be maximized.
Upholstery cleaners that are equipped with larger tanks for the solution and the recovery will naturally be able to work for longer periods of time than ones that do not have large tanks.  With the XTreme Power® XPC-5700U both the recovery tank and the solution tank have the capacity to hold 4 gallons.  This is one of the features that makes this machine so popular when it comes to Daimer's auto detailing carpet cleaners.
Features at a Glance
The recovery tank capacity is 4 gallons
The solution tank capacity is 4 gallons
Drying time when using this machine is approximately 6 hours
The machine is powered by a powerful 2 stage motor
With this machine you can get water temperatures up to 140⁰F
The pressure level is at 120 PSI
The XPC-5700U is an excellent machine that is meant to be used to clean upholstery and detail vehicles.  It features a single jet wand for upholstery that is 4 inches and the same specs for performance as the Daimer® XTreme Power® XPC-5700.  The powerful 2 stage vacuum motor features an air flow of 100 cfm as well as a water lift of 100 inches.  This is a cleaning machine for carpet and upholstery that is easy to use and the perfect choice for cleaning auto upholstery or carpet stains.  Additionally, this small cleaning machine is perfect for applications in auto detailing because it can be used to clean the headliner, foot well and the seats.
Standard Parts
Single jet 4 inch upholstery wand
20 foot vacuum hose which is a 10 foot upgrade from the XPC-5700 model
20 foot solution hose which is a 10 foot upgrade from the XPC-5700 model
2 gallons of Eco-Green® Carpet Care & Upholster Cleaner which is enough concentrate to make 66 gallons of liquid cleaning solution
It is suggested that before you clean carpets with the machine, you first spray the carpets with the carpet cleaning solution.
Daimer® offers over 20 different models of carpet and upholstery cleaners in the XTreme Power® line.  These machines are available in various configurations that have been designed for use in applications that range from detailing vehicles to shampooing low pile carpet.  The XTreme Power® line includes models that are unheated as well as heated models.
Depending on where in the world you are, these machines are offered in 50 HZ models as well as in 60 Hz models. 
This carpet upholstery cleaner features low flow technology that is exclusive to Daimer®, which works to reduce the amount of time needed for drying without having any sort of negative impact on the cleaning power.
Daimer® carpet upholstery cleaners such as the XTreme Power XPC-5700U are sought out the world over for their ease of use, effectiveness, fast drying times, reliability and durability.