August 06, 2015
XPH TM 15230
If you are in the market for a truck mount carpet cleaner, take a few minutes to read this article. In it, we explain the difference between CFM and lift, both of which are important, but highly misunderstood by the majority of carpet cleaner users. Once we are finished discussing the difference, we will recommend an impressive machine for your commercial and industrial carpet cleaning needs.
Everyone is familiar with how a carpet extractor works. It sprays water onto the carpet and then sucks it and the dirt back up. While a machine may have other features to enhance the cleaning process, it is ultimately the suction power that makes or breaks its performance. The more suction power you have, the more dirt and water you remove from the carpet.
While this sounds pretty basic, many people looking for a new carpet extractor forget the basics and get distracted by all the bells and whistles. Essentially, you can put all the cleaning solution, water, agitation and heat you want on a carpet, but if the machine isn't powerful enough to suck it all back out, all you have is dirty, wet carpeting.
Defining CFM and Lift
CFM stands for "cubic feet per minute." This measurement is for airflow into the machine.
Lift is the measurement of the machine's pull.
Both measurements are dependent on the other. When one goes up, the other goes down. They both have their place in carpet cleaning, but it is lift that dictates how much water the machine can pick up.
In order for a carpet extractor to pull as much water as possible out of carpeting, it must create a vacuum. The vacuum motor does this by sucking all the air out of the hose, which allows the lift part of the equation to work. On a truck mount system, this is easier said than done.
Because truck mount systems often use hundreds of feet of hose, there is a need for massive amounts of CFMs in order to suck all the air out of that much hose. This is why manufacturers of these extractors boast of high CFM levels rather than the lift levels, which actually tells you how powerful the machine really is. Without enough CFM to suck out the air in these long hoses, truck mount extractors would not be able to suck out the impressive amounts of water that they do.
It sounds a bit confusing, but ultimately, when looking for a truck mount carpet cleaner, pay attention to the water lift measurement. The higher the number, the more water the machine pulls from carpet, which in the end, produces better results.
Daimer's XPH TM 15230 Truck Mount Carpet Cleaner
Before we get into all the extra features of the XPH TM 15230, we want to tell you, this machine is one of the most powerful on the market. It has a 25 HP motor that produces an airflow rate of 410 CFM with a 16" Hg lift. This is more than enough suction power to accommodate the 300 feet of hose that comes standard with this machine. With measurements like this, the XPH TM 15230 is capable of removing most of the water from carpeting to decrease drying time dramatically.
In addition to these impressive numbers, this carpet extractor delivers adjustable pressure levels up to 1500 PSI with an adjustable flow rate up to 4.8 GPM. It heats water to temps up to 210ºF for added cleaning power. This is accomplished by two stainless heat exchange coils driven by adjustable heat exchange temperature control.
The vacuum features four filters in sequence for the ultimate in clean air return.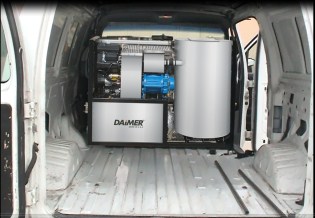 Constructed with a steel frame, the XPH TM 15230 is rugged and durable. It includes an 80-gallon stainless steel recovery tank and for safety, features vacuum and pressure safety valves. Also included standard with this machine is an adjustable chemical feed, tacometer, pressure gauge and hour meter.
While the XPH TM 15230 does an excellent job of cleaning carpets in an industrial or commercial setting, it is also versatile in that it can clean a variety of other surfaces as well with some optional attachments. You can clean walls, stairs, hard surfaces, upholstery and more with the addition of any of the following optional attachments:
Vacuum hose reel
Adjustable thermostat
Solution hose reel
Standard solution hose reel
Stair wand
Inline auto dump system
Crevice tool
Upholstery wand
12" 4-Jet squeegee wand
18" 4-Jet squeegee wand
12" 4-Jet wall wand
9" spinner head
19" spinner head
If you are in the market for a new truck mount carpet extractor, be sure to consider the important aspects of the machine first and then look for the extras you want. Remember, it is the water lift (Hg) measurement that tells you how clean the machine gets carpet, but don't overlook the CFM measurement as well. One cannot exist without the other, so pay close attention.
We are proud to say the XPH TM 15230 leads the market in both lift and CFM, so give us a call to discuss how this machine meets all your industrial and commercial carpet cleaning needs. We have knowledgeable representatives on hand 24 hours a day, 7 days a week to take your call. When it comes to quality and service, the Daimer name leads the pack. We look forward to hearing from you soon.