July 13, 2015
Get several machines in one with the XTreme Power HSC 13000A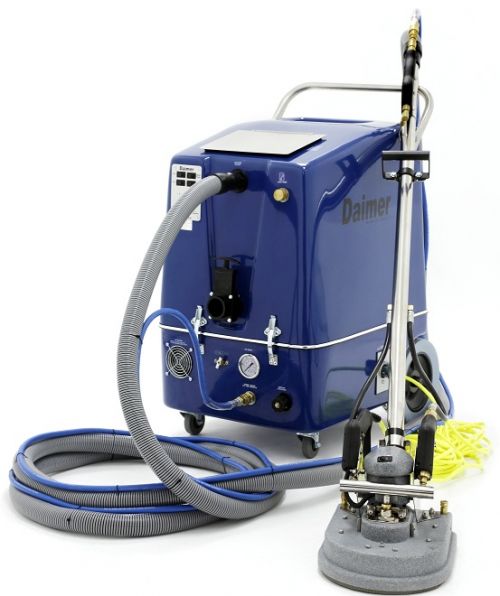 You have reached a level in your business where it's time to think about a more powerful and serious cleaning machine. You have quite a few top-of-the-line products, but there's something missing that you know will help you get the job done more expeditiously and more thoroughly. We totally understand and we have the undeniably perfect product for you.
The XTreme Power® HSC 13000A Turbo Forced Charged Portable Commercial Industrial Cleaning High Speed Hard Surface Cleaning Machine is the one you have been looking for. It's several machines in one and includes our breakthrough technology, XTreme-Impact. This machine combines our formidable HSC 950 9" motorized spinner head with the HSC 11500 extractor resulting in effective and multipurpose cleaning. That's not all: It is the world's quietest and most powerful portable turbo forced machine with a rotational hard surface spinner.
We are really excited about our exclusive motorized spinner because it is 60 percent faster in cleaning power and produces 70 percent better cleaning results compared to non-motorized spinner systems on the market today. This is a power-boosted apparatus that cleans 30 times faster than vapor steam machines and is up to 10 times faster than other conservative technologies.
The biggest bells and whistles you've ever seen
The XTreme Power HSC 13000A comes with a bevy of bells and whistles. In addition to the 13000A's portability it is powerful in commercial settings and can tackle multiple surfaces with the 1500 psi hard surface spinner cleaning machine. Named after its capabilities, the Multi-Surface Portable 1500 psi Hard Surface Spinner Cleaning Machine is fully adjustable from 0 to 1500 psi and if you add the optional 19" spinner for larger cleaning areas you will definitely have a formidable machine on your hands. Other wands that can be included optionally are a 12" 4-jet and 18" 6-jet squeegee wand that's for cleaning small, tight spaces.
You will also get a completely adjustable – from 0 to 500 psi – commercial carpet cleaner extractor that has an optional carpet wand available; also of commercial standards is the upholstery cleaning machine that features the same adjustability as the extractor and has an optional upholstery wand; of note is the commercial pressure washer that's also fully adjustable up to 15000 psi and up to 1.2 GPM and, you guessed it, an optional pressure washer wand is available; and finally the 13000A packs in the power with the commercial wall cleaning system. The wall cleaning system is also fully adjustable up to 1500 psi with a 9" spinner and an optional 12" wall squeegee wand.
This versatile floor cleaning machine is similar to the HSC 13000 as it's able to clean a multitude of surfaces including porous, uneven and flat at the same level of performance and with the 9" motorized spinner head. The difference is the 13000A has a sound reducing acoustic case that decreases noise to 58 decibels. The quiet feature makes this machine ideal for use in the health care industry and other similar environments where noise should be at a minimum, but the best part is it does not compromise the strength of the cleaning power.
The features of the 13000A seem endless
The 13000A has continuous extraction capabilities and allows for the removal and collection of runoff. (When the job is complete it won't take long to dump the waste.) In addition to being able to handle the runoff, there's no doubt it can clean  a multitude of surfaces such as tile, marble, uneven hard surfaces, rubber floors, carpet, upholstery, tile and grout and wall; just about every application you will put in its path. All of this is possible due to the 9" spinner head rotating at 1000 rpm while it fires water onto the surface at 1500 psi.
That's not the end of the additional positive features that this machine boasts including the automatic fill and automatic dump functions. The 13000A dumps at five minutes per gallon with the auto discharging pump, which can be turned off when neither are needed.
Even though we have shared quite a few features of the XTreme Power HSC 13000A, there are still quite a few you should be aware of. Hopefully, with all the knowledge you've gained about this product you'll be ready to purchase it and see that it's the type of cleaning machine you need to add to your arsenal. Here are additional features that make the machine the ultimate choice: The water temperature supports up to 140°F inlet temperature, the airflow is 200 cubic feet per minute with a water lift of 150 inches. Also, there are several optional choices available: a 4" upholstery wand, 3' pressure wand, 12" 4 jet wall squeegee wand, 12" 4-jet squeegee, 18" 6-jet squeegee wand, 19" motorized spinner, 14.5" extraction wand and a dual jet carpet wand.
We know you want to protect your investment so we offer a few warranties with the XTreme Power HSC 13000A. There are one (1) year limited warranties on the extractor system and spinner system; a three (3)-year warranty on the spinner housing and on the extractor housing there is a five-(5) year warranty.
You have reached the part in this article where it's time to make a decision. We understand that you're in a phase of your business that requires moving forward and growing, or maybe you're a newbie to the industry who is able to begin big. Whatever your business status is you have all the necessary information to make the right choice.