June 09, 2015
XTreme Power XPH TM 10110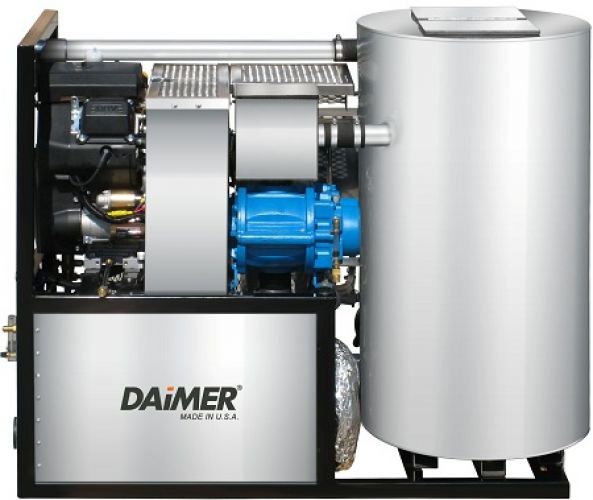 We know there is a different standard of cleaning when it comes to commercial and industrial properties and their possessions. It is for that reason that we are gladly able to offer you the XTreme Power XPH TM 10110. Being one of the leading providers of cleaning and steam machines, you can rest assured that our industrial grade truck mount carpet cleaning machine will get the job done and get it done well. Properly cleaning the inside of a truck often falls to the wayside because it can be difficult to reach certain area and it requires multiple tools to accomplish. Though this is just one of our truck mount carpet cleaning machines, this particular option has an abundance of features to aid you in your cleaning.
To encourage efficient and superior cleaning, this tool is powered by an 18 horsepower engine and is accompanied with a maximum airflow of 344 CFM in addition to a 16" HG vacuum lift. In order to really help loosen up and remove grime, the Xtreme Power XPH TM 10110 is equipped with our patented Xtreme-Xtraction wand and is able to reach temperatures up to 210°F. At a temperature like that, pressure levels are able to reach up to 1,000 PSI and flow rates of 2.1 GPM, any crud embedded in your carpets will surely loosen more easily.
In order to reach the high temperature of 210°F this machine boasts stainless steel heater exchange coils that efficiently heat the water in a timely manner. This enables the handler of this product to clean continuously without the interruption of unwanted drops in water temperature.  Though all of these features are adjustable to ensure comfort for the handler of the machine, any setting used is sure to produce the desired finished product. By having the adjustable feature of the temperature, vacuum and pressure, this carpet cleaner provides you with the ability to clean different types of carpets at the most ideal settings.
Equipped with both vacuum and pressure safety valves, the XTreme Power XPH TM 10110 is constructed to ensure durability and longevity. With a 40 gallon recovery tank and the ability to add chemicals through the chemical injection function, this machine is crafted to give the user an ample number of options for cleaning.
There is nothing more frustrating than using a carpet cleaning machine that lacks the necessary tools to get the job done. One of the most valuable features included with this carpet cleaner are the 100' vacuum and solution hoses, each of which are expandable to 200'. With the addition of the 12" XTreme-Xtraction carpet wand, this provides the user with the freedom and opportunity to reach every nook and cranny of the carpet that may have been missed otherwise.
Worthy optional features
The amounts of attachable features don't stop there either. In an effort to make cleaning the carpet even more efficient, there are an abundance of optional features offered to add onto this machine. Though the XTreme Power XPH TM 10110 is by far the best truck mount carpet cleaning machines available, even the world's most reliable industrial carpet cleaner will improve with the addition of these bells and whistles.
With vacuum and solution hoses that can expand up to 200', it is important to have somewhere for those lengthy hoses to hang up. In order to keep them in the best condition possible from year to year as well as ensure the least amount of space consumption, the vacuum and solution reels are important to keeping the hoses properly organized. This machine filters like a pro thanks to the four-in-a-row filters that are included.
Another optional feature that will be one of the most helpful when cleaning carpet is the inline auto dump system. We all know it can be a hassle having to constantly stop in the middle of cleaning in order to dump out contaminated water. Not only is it a hassle, but it can also be a messy task. By draining dirty water with ease this system, together with the stainless steel heater exchange coil, is sure to further enable uninterrupted cleaning time.
The XPH TM 10110 is another of our versatile machines that users brag about. It can be used on floors, in crevices, on upholstery and stairs thanks to the attachment of the 9-inch or 19-inch motorized spinners or the 12- and 18-inch four-jet squeegee wands. And those jobs can't be completed without upholstery and crevice tools and the stair wand. When using this cleaning machine you'll also achieve ease of use with an adjustable thermostat, a standard solution hose reel and the inline auto dump system we mentioned above.
With features like that, what's not to love? We have the answer for you: Nothing. There's nothing you won't love about this power packed cleaning machine. Instead of wondering whether this will work for you, go ahead and commit to the purchase with the peace of mind you're getting a lot of machine along with our fair guarantee. In the very unlikely event something does go wrong with this machine we will gladly honor our warranty, which is a one year systems warranty. And if there is a part that needs to be replaced you'll save time and money by being able to replace it yourself. None of our machines have to be returned to the manufacturer for repair. The way they are assembled makes for very simple part replacement; another convenience that our customers have enjoyed and you will as well.