XTreme Power XPH-9600
125829172
Description
FREE FREIGHT within the Continental United States.
Please call for quote if shipping outside the Continental United States.

View This Video - See a Powerful Carpet
Cleaner in Action with Outstanding Results!

XTreme Power Carpet Cleaners
Loading ...
Most Powerful, Reliable Portable Carpet Steam Cleaner Technology
in its Class ... Pressure up to 500 psi and Temperatures up to 210º F
►Now Includes Upgraded 100' Hoses for Cleaning up to
up to 31,000 Sq. Ft. Area Without Moving the Machine!  
This is our most popular heavy-gauge, stainless steel upholstery tool for fabric furniture; carpeted stairs; car interiors' fabric upholstery and carpeting; carpet spot removal ...
  ► Cleaning only low pile commercial carpets?Daimer's XPH-9650's CFM (air flow) and water column lift (suction) are optimized for low pile commercial carpeting.

  ► Includes an extra long 100' total hose length, comprised of qty. 4 - 25' sections. Use 25' or 50' or 75' or 100'. Use what you need and easily connect or disconnect additional pieces as you want.
Important Daimer XTreme Power® Features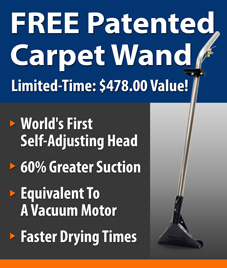 ► Unbeatable Daimer technologies at unbeatable worldwide promotional pricing: The XTreme Power® XPH-9600 industrial carpet cleaner is one of Daimer's top of the line models. It is the perfect answer for those who either do not have the means to buy a truck mounted carpet cleaner, or else want a very powerful portable system with outstanding features and unsurpassed quality.
Outstanding pressure: Pressure levels up to 500 psi (selectable from 0-500 psi) with selectable, automatic auto-fill and/or auto-dump for the ultimate in user productivity. Add an optional 4" wide tool for upholstery or stairs. Simply lower the pressure to 150 psi, 200 psi, or whatever your preference.
Absolutely Outstanding Suction Power: The equivalent of 3 vacuum motors, including the suction provided by our patented XTreme-XTraction® carpet wand.
Optimized for the greatest flexibility .... targeted towards those cleaning both push high pile residential carpets plus low pile commercial carpets       
Featuring 3 powerful 2-stage motors. Daimer engineers the machines for maximum airflow (CFM - drying power) and exceptional water column lift (water extraction/suction) for this model. The machine's 250 inch water column lift and 100 CFM of airflow maximizes cleaning power and minimizes drying time.

Two powerful inline heating elements allow the XPH-9600 commercial carpet steam cleaners to achieve temperatures up to a remarkable 210º Fwithin only 5 minutes.

The 9600's rapid drying time of within 2 hours makes this heavy-duty industrial grade carpet steam cleaner ideal for commercial cleaning contractors, hotels, restaurants, business, and practically any facility seeking the best, most powerful and reliable machine available. Also, the 9600 eliminates waiting hours upon hours for the carpet to dry is ideal especially in humid environments, or when cleaning large surface areas.
Automatic auto-fill and/or auto-dump: Unlike other systems that require the manual filling of the water chamber and the emptying of the extraction chamber when full, the XPH-9600 automatically draws water into the water chamber when it needs it, and automatically forces the extracted water from the recovery chamber down a drain, or into a tank or toilet. Simply attach a garden hose from a water line to the water chamber and another from the vacuum chamber to the drain, etc. It is that easy. The user can focus simply on cleaning!
The system can be operated in self-contained mode without garden hoses in cases where a water supply and drains are unavailable.

Daimer'sexclusive, patented wand technology offers much better suction power and more effective cleaning results than any other carpet cleaner in the industry. Our technology creates a constant "seal" on the carpet while the head simply glides over the surface and allows a non-professional to work like a pro immediately. No other wands in industry can come close to our wand's suction power and ease of use.
Patented low-flow technology found on all Daimer carpet cleaners allows for effective, powerful, and efficient cleaning that minimizes water use.

The Daimer Difference ... We take reliability and durability to a whole new level - Our XTreme Power® machines are made in the USA and shipped worldwide. They include only the best and highest quality parts to ensure many years of use. Our machines are extremely rugged and specially engineered in a way so our customers themselves can replace a part in the rare case it is necessary. They do not need to be returned to Daimer or any other repair facility!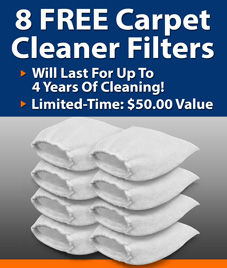 Free Eco-Green® Soap-Free Carpet Cleaning Liquid
with Each System ... Clean up to 64,000 Sq. Ft.
FREE with every machine: We are providing free during our promotion a set of 2 gallons of Daimer soap-free, Eco-Green® Carpet Care & Upholstery Cleaner. Carpets stay cleaner longer because they is absolutely no residue left behind to attract dirt and other buildup!

The two gallons make up to 64 gallons of ready-to-use liquid to clean up to 64,000 square feet of carpet.
Eco-Green®, which Daimer offers for those wanting to order more, is priced very competitively with harmful, soapy shampoos and other carpet cleaning liquids so widely used currently in the industry. The solution extracts immediately and has absolutely no negative effect on those with allergies, chemical sensitivities, etc. Eco-Green® will actually improve indoor air quality and help relieve allergy and asthma symptoms. Keep in mind eco-unsafe chemicals are most likely within your carpeting now, but rest assured the use of your new Daimer machine and chemical will remove it.
Clean like a the pros when you clean like they do: Even though Eco-Green® can be added to the water chamber, Daimer urges you to save money and clean the carpet more effectively/professionally by NOT ADDING IT TO THE WATER CHAMBER.
A low-priced sprayer: We suggest buying a $20-$30 pump or weed sprayer at a local hardware store, adding Eco-Green® per our instructions included with each machine, then prespraying the carpet like the pros do it. Let the solution dwell for up to 15 minutes, then use the machine.The dwell time helps to greatly increase the cleaning power.
Daimer's chemical added to the water chamber will be simply extracted immediately ... dwell time is much more important!
Optional Upholstery Tool for Furniture and Stairs
Product Specifications
Warranty System1 year (limited)Warranty Housing5 years limited warranty

| | |
| --- | --- |
| Pump Pressure | can be dialed from 0 to 500 psi with pressure gauge |
| Temp | up to 210ºF |
| Flow Technology | special low flow for faster drying |
| Solution Tank Size | 17 gallons |
| Recovery Tank Size | 15 gallons |
| Heating Elements | 2 powerful inline heating elements |
| Heating Time | up to 5 minutes |
| Drying Time | approximately 2 hours |
| Water Lift (max) | 250 inch |
| Air Flow (max) | 170 cfm |
| Vacuum Motor | 3 powerful 2 stage motors |
| Wand Included | 12" patented, adjustable carpet cleaner wand |
| Upholstery Wand | available |
| Optional Wands | upholstery, stair |
| Solution Hose | 100' total - can also be split into 25', 50' and 75' hoses for smaller areas |
| Vacuum Hose | 100' total - can also be split into 25', 50' and 75' hoses for smaller areas |
| Alternative Pumps | N/A |
| Power Cords | 2 |
| Watts | 4800 |
| Required Circuit(s) Amps | 20 |
| Color | red |
| Dimensions | 31" L x 21" W x 40" H |
| Weight | 150 lbs |
| Auto Fill | Yes |
| Auto Dump | Yes |
Parts List
PARTS LIST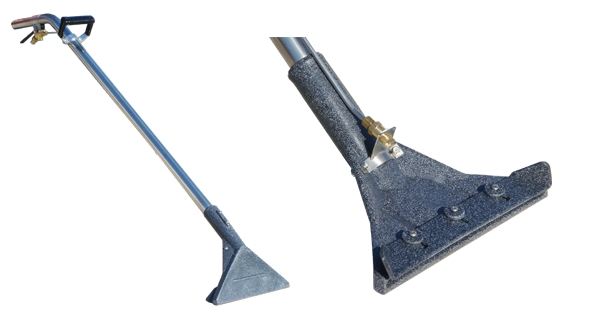 Standard Parts / Quantity
NEW 12" Patented, Rugged, Adjustable Carpet Wand for 60% Greater Extraction
1
100' Vacuum Hose (not shown)
1
100' Solution Hose (not shown)
1
Set of 2 FREE GALLONS of Eco-Green® Carpet Care & Upholstery Cleaner
to make up to 64 gallons of ready-to-use liquid
1
*We suggest users pre-spray the carpeting with a carpet cleaning solution prior to cleaning with the machine. For additional cleaning power, users can add additional solution if they desire to the water chamber along with water for operation of the machine.
Video
XTreme Power Carpet Cleaners
Loading ...
Related Videos
Related Videos
---
XTreme Power Carpet Spot Cleaning & Car Interior Cleaning
XTreme Power Low-Flow Carpet Cleaner Machine: Easy Assembly
Testimonials
XPH-9600
To Whom It May Concern,
Our cleaning contracting business has been using an XPH-9600 for the last two years.
We clean a lot of casinos in our business and needed a heavy duty system that had large
capacity solution and waste tanks.
Your machine has been very reliable. We even purchased some of your Eco Green
carpet cleaner solution. The solution and the machine have more than surpassed our
expectations. Please keep offering great products.
Susan T.
Stamford, CT
XPH-9600
I don't normally write these kinds of letters, but I just wanted to let you know how
pleased my boss is with the 9600 carpet cleaner that I recommended we buy. You guys
made me look really good.
Let me explain. Last year, our walk-behind machine conked out and my boss asked me to
find a heated carpet cleaner that was more versatile and powerful than the walk-behind.
He ended up giving me a long list of features he wanted: heat, adjustable pump pressure,
large solution and recovery tanks, fast drying time, optional upholstery wands, 100 foot
hoses, and on and on.
When I called you guys, you said you had the perfect machine. And you did. Much
appreciated.
Albert G.
Phoenix, AZ