Harmful cleaning chemicals designed to clean, sanitize, degrease, and more within homes, businesses, and industrial settings can promote cancer, allergies, and many other devastating conditions and illnesses within virtually everyone: adults, children, elderly, pets, and workers.
* All Patented Eco-Green® Chemicals Work at a Molecular Level
The Future is Now ...
Daimer's Exclusive Bio-Based,
Eco-Green® Micro-Blasting® Technology
Sets a New Green Chemical Industry Standard!
Harmful Chemicals, the Realities of Global Warming,
Atmospheric Erosion, and Negative Health Implications

GLOBAL WARMING AND ECOLOGICAL HARM: The world is finally aware global warming is a fact and not fiction. Dangerous carcinogenic chemicals of all types ... from pesticides used in agricultural and farming to those cleaning and other chemicals used within buildings and homes, are emitted into the atmosphere, further negatively impacting air quality, and accelerating global warming. In fact, indoor air quality is approximately ten times worse than outdoors, a truly alarming statistic!
TRAGIC DANGERS TO HEALTH: Harmful cleaning chemicals designed to clean, sanitize, degrease, and more within homes, businesses, and industrial settings can promote cancer, allergies, and many other devastating conditions and illnesses within virtually everyone: adults, children, elderly, pets, and workers. Most popular environmentally unsafe chemicals also contain endocrine disruptors that lead to reproductive, growth, developmental and even behavior problems. Endocrine disruptors have been also been linked to fertility reduction, menstrual irregularities and problems, ADHD, miscarriages, abnormal prostate growth, etc.
The bottom line is we cannot place a price on human or pet health, and even the wealthiest of people are just as vulnerable to health problems as those less fortunate. In addition, the sun's rays are stronger and more dangerous than ever before, and skin cancer as well as premature aging are unfortunate realities associated with atmospheric deterioration due in a large part to harmful chemicals! We now realize everyone must do his/her part to help save the earth and our precious health.
Daimer's Powerful, Breakthrough
Commercial & Industrial
Green Chemicals Can Make a Real Difference!
No Other Chemicals in the World Using Corn, Soybeans
and Other Food Products Work Like Eco-Green®!!
FINALLY! Daimer, a major green chemical supplier, exporter, marketer and distributor, is proud to be the first to introduce specialized green chemical formulations available in up to 5000 gallon containers ... using NEW Breakthrough Green Chemistry as well as Micro-Blasting® and Patented Colloidal Technologies. Importantly, our green chemical formulas are absolutely harmless to the earth, water, air, human, animal, plant or water life and work at a molecular level to allow for unsurpassed results for use in practically all industries and for virtually unlimited applications.

DAIMER OFFERS SAFE, UNIQUE TECHNOLOGIES THAT ARE "BEYOND SAFE": Our Eco-Green® line of green chemicals is the first in the industry to offer PROPRIETARY Eco-Green® bio-based/plant and vegetable based chemical solutions using the world's only, unmatched, super small Micro-Blasting® molecules. These ULTRA-POWERFUL, nano-based particles are 1/80,000 the thickness of human hair, allowing them to effectively target and breakup stains and substances unlike any other technology available. The molecular structure of these particles is so small they can forcefully penetrate the molecules of daunting stains and substances for their quick and easy removal so they cease to deter from the appearance of virtually any surface, in a way like no other cleaning chemical product in the world can duplicate!

UNSAFE INGREDIENTS IN OTHER CHEMICALS: Unfortunately, other chemicals in the industry promoted as "GREEN" are not truly green since some still contain harmful ingredients proven to be dangerous to health and the environment, such as: volatile organic compounds (VOC's), chlorine, benzene, triclosan, nonylphenol and nonylphenol ethoxylates, alkylphenolethoxylates (APEs), other ozone depleting substances, synthetics, terpenes, petroleum distillates, glycol ethers, caustics, builders & reagents, and many more.

Those traditional harmful chemicals that are even household names selling chemicals that are not promoted as "green" are far, far more dangerous and potentially deadly than the general public can even imagine. In fact, more than 80,000 chemicals, most of them harmful, are used in cleaning solutions alone, and many of the chemical names are even difficult to pronounce.

SURFACES STAY CLEANER LONGER: Since the Eco-Green® molecules create a unique tough barrier after the product is applied, surfaces cleaned with our cleaning solutions remain cleaner for a longer period of time. Daimer's Micro-Blasting® technology helps delay the re-adherence of stains or substances on surfaces for a longer lasting clean versus other cleaning chemicals in the industry.

BREAKING DOWN ORGANIC SUBSTANCES: Moreover, all of Eco-Green®'s ULTRA-POWERFUL formulas are capable of effectively emulsifying organic matter. This capability allows the Eco-Green® solutions to dissolve and remove hydrocarbon residues, such as: petroleum derivatives, oils, fats, greases, sugars, and proteins; which can become a pesky problem in many industries and for many applications.

Eco-Green® is:
• Soap-Free Leaving Behind No Residue
• Bio-Based
• Readily Biodegradable
• Non-Toxic to Human, Animals, or Plant Life - In fact, there is no evidence of any adverse effects with respect to eye contact, swallowing, inhalation, or even skin contact or absorption!
• Non-Corrosive
• Non-Hazardous
• Non-Caustic
• Non-Flammable
No other chemical supplier in the world offers a completely green,
nano-based line of chemicals using anything like Daimer's
Micro-Blasting® technology, and with all zeros for Hazard Rating Chart values ... GUARANTEED!
NO HAZARDS: Importantly, Eco-Green® is recognized by ASTM as having their highest biodegradability level, certifying our green chemicals biodegrade completely within 28 days! Also, no ingredients within Eco-Green® are listed as carcinogenic by IARC, ACGIH, NTP or OSHA! the Hazard Ratings Chart, which is present on every MSDS sheet for every chemical in the industry shipped within the United States, displays zero ratings for every category: reactivity, fire, health, and special!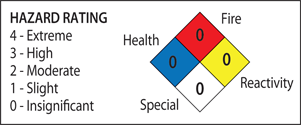 Related Products
Related Articles