April 09, 2015
Providing The Best In Tile And Grout Cleaning Machines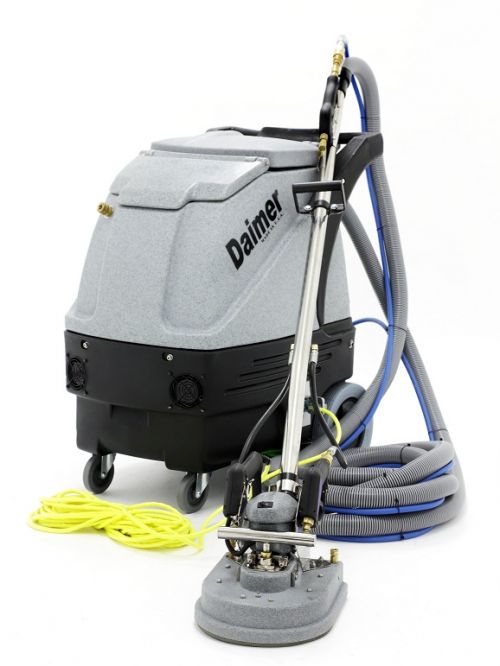 Tiles are the most widely used option for covering floors and walls. They are presentable and durable, at the same time enhancing the look of your walls and floors. However, maintaining their clean look is essential for durability. Cleaning tiles and grout require the right kind of tile and grout cleaning machines. They come with different features that can be helpful in removing dirt and grime stuck in the tiles. We have the best collection of tile and grout cleaning machines that clear out dirt patches in a matter of minutes.
Dirt and dust build up can easily be spotted in the grout sealed edges of the tiles. This may lead to joints becoming the breeding ground for mould and mildew. In such areas it may appear untidy and dirty a unsightly and with ordinary tile and grout cleaning equipment cannot be trusted to get rid of those black patches. With our advanced tile and grout cleaning machines keep the walls and floors clean and germ free. Tiles are commonly used in restaurants, retail shops, department stores and even commercial kitchen where they should remain spotless.
Tiles can easily discolor due to quick accumulation of dirt grime and other deposits. With regular cleaning using our advanced tile and grout cleaning machines ensures clean and fresh looking tiles. Grout is porous and with time dirt build up can leave the tiles looking discolored and dirty. Regular mopping and spot cleaning can easily restore the original look of tiles and grout. We recommend the use of special machines to clean grout in tiles. We have the best steam cleaner for tile and grout able to remove even the hardened and unyielding deposits and dirt from tiled surfaces.
We offer the best and most reliable tile and grout cleaning equipments for commercial and residential cleaning. Our cleaning equipment offers the best professional tile and grout cleaners to keep them looking sparkling clean. Our cleaning systems makes cleaning tiles and grout become remarkably easy designed to offer the highest level of user convenience. Here are some reasons why you should invest in our cleaning machines
They are designed to remove dirt, spills, grime and other toughened deposits with amazing ease.
With our machines the extraction features comprehensive cleaning with minimal human effort.
Our technology is designed to ensure 99.9% of harmful bacteria and disease causing germs are killed.
Powerful motor spinners that deliver superior cleaning results faster than ordinary floor cleaners
Our series of steam cleaner machines are perfect for tile and grout steam cleaner that generate high steam temperatures that remove all types of dirt and deposit effortlessly. With advanced technology operators can easily clean large tile surfaces like commercial kitchens, hospitals and schools more effectively.  Invest in reliable steam cleaning equipments and take care of your tiles for a smooth and clean finish.
Where to find the best tile and grout cleaning equipments
We understand the needs of our customers and the importance of having clean tiles for your home. We make it our business to develop high technology power models for efficient cleaning of tiles and other surfaces. With our distributors set across the world, you can find the best tile cleaning equipment online. Our line of commercial tile cleaning equipment is made up of several unique features that make it the best in the industry. Cleaning wands are part and parcel of our cleaning equipment, with easy access to corners of tiles. If you are looking to purchase cleaning equipment for commercial purposes then our range of commercial tile cleaning equipments is the best choice. You have the choice to get tile cleaning equipment for lease with a quick return policy. With leasing you are not in charge of maintenance of the equipment at all times.
We offer the best in commercial kitchen tile and grout cleaning equipment designed with high powered technology. With most of our commercial grade tile and grout cleaners we have designed features that make them worth the investment. Buying steam tile and grout cleaners will save you on time and effort. At daimer we understand the effort it takes to keep your floor looking spotless and with our engineers we endeavor to make your work easier. We make it our business to work towards developing high powered models with helpful features. Our reliable line of cleaning equipment can be bought online which takes a few weeks to reach the customer.
If you have any doubts regarding the any of our cleaning machines, then read through our customer reviews for positive feedback. If you love the reviews then you can easily make a choice on which one you would like to buy. Tile and grout cleaning machines have numerous features that make it work well. We have a selection of cleaning machines that deliver ultimate results at minimal efforts for an extended time. With high temperature and pressure levels to get rid of grime on tiles corners. With additional acoustic case vastly reduces the operating noise of our power grade tile cleaning equipment. There is no need to go further into searching for the best tile and grout cleaning machine, with its versatility it can handle cleaning even the toughest stains. Black patches on the floor and wall tiles become cleaner using steam tile and grout cleaning machines for everyday use no more mopping.