Description
Free Bonus for Ordering Online:10 Free Extra Plushy Microfiber Towels Valued at Over $30.00
FREE SHIPPING within the Continental United States.
This model is available only within the Continental United States and Canada
and is unavailable in Alaska, Hawaii, and elsewhere.

View This Video - Discover Daimer's Exclusive
Technologies & Savings Over Other Brands!

KleenJet Vapor Steam Low-Cost Brushes
Loading ...
Daimer, Your Direct Source for Exclusive Technologies on the
Industry's Most Technologically Superior Line of
Advanced Vapor Steam Cleaners ... at UNBEATABLE Pricing!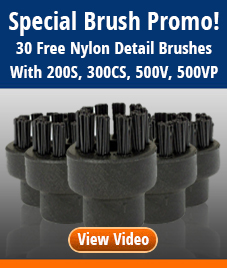 ***Compare to other brands priced at up to $2500 .... without our technologies and features! Save money now and take advantage of our incomparable worldwide Daimer-Direct sales promotions .... machines are priced for lower profit margins to create a very high product turnover!

Outstanding Features
The KleenJet® Pro Plus 300CS vapor steam cleaner is our flagship model and the most popular system of its size for commercial use, and is very often purchased by homeowners seeking rugged, commercial-grade systems.
Watch the fantastic cleaning power of vapor steam. See over 20 Daimer vapor steam cleaner videos.
The 300CS offers vapor steam temperatures up to 310°F, pressure levels up to 75 psi, but with the addition of Advanced Self-Regulating Continuous Refill technology. Read about the benefits of Continuous Refill steam cleaners and how our technology can maximize productivity.
Dual Chambers: The Pro Plus 300CS heats within 7 minutes and has a total capacity of 4 liters, a 2 liter water chamber that feeds a 2 liter boiler.
Boiler Scale Reduction: Unique, patented scale reduction technology. A continuously vibrating mechanism is featured to help prevent mineral and scale buildup and maintain maximum pressure and temperature.
Importantly, Daimer's 300CS and non-Continuous Refill 200S models offer the maximum pressure and temperature levels possible from any canister-based system!
The 300CS vapor steam cleaner model is ideal for commercial work or homeowners wanting higher pressure and temperature levels than other steam cleaner brands on the market. In fact, some of North America's largest professional cleaning companies' workers use the 300CS model for daily cleaning tasks.
The durable two liter, stainless steel boiler can be refilled with water during use via a separate two liter, non-pressurized refill chamber. Machines without this important feature require users to shut down, refill, and reheat. The 300CS continuous refill technology, on the other hand, enables operators to refill the machine while working for non-stop cleaning.
The machine features a professionally polished, 100% stainless steel housing. Prospective buyers prefer pure stainless steel canister based machines over other metals since stainless is the most rugged.
This system is bundled with a variety of accessories ("Accessories Included"), including a large rectangular floor brush with towel clips for steam mopping with included microfiber towels.
Real Advantages: Besides our many other exclusive technologies, all of Daimer models feature our patented, replaceable heating elements. All of our popularly purchased detail brushes are only $2.50 each versus up to $20.00 from other brands.
DO NOT BUY a vapor steam cleaner if it will not work for your application!For instance, this technology is not a carpet steam cleaner or steam pressure washer, or even a steam car wash. Also, dry steam is not appropriate for removal of carbonized grease or carbon build-up.
Important Information Before Considering Other Brands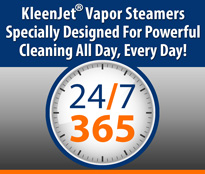 One Example of a Daimer Steam Cleaner Application:
Steam Mopping Using Floor Brush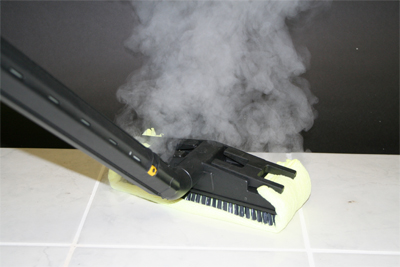 *Steam mop by attaching towel to floor brush under clips.
Testimonials
As per our conversation on April 14th, I must write you to tell you how impressed my crew and I were to see this machine work flawlessly through the day. We were able to work a seven hour period cleaning a commercial stove in Malibu. My client had been waiting for me to receive the equipment which is the 300 CS steam cleaner with the continuous fill feature built in.
Right out of the box, we were working as the owner stood and watched in amazement. The accessories were professional looking functioning and feeling and the fact that I could work for that long to complete the job in one day could not have worked out better. I might also add that the machine paid for itself in 1 job.
We will be ordering a second machine from you and your company in the coming days. I am also trying to implement a plan to have one of these machines on board all 5 of our portable MRI and Cancer Scanning Medical trailers. These are ultra clean environments and must be cleaned daily. So with no chemicals and buckets, this will be a great addition to our units.
I also might add that having never owned one of these machines, one of the biggest selling points was the replaceable heating element.
Thank you so much again for a superb product.
Best regards,
Jerry S.
Portable MRI and Cancer Scanning
Oak View, CA

I bought a KleenJet 300 CS from Daimer Industries two years ago after a lot of careful research into different brands when I knew I wanted a steam cleaner. I've used it for a lot of different things, mostly cleaning up pet accidents, but it's the latest use I've discovered that makes me want to share with the world. Our house has concrete throughout which is covered by carpeting and tile. I don't like anything but bare floors because of having 4 cats, so I decided I would pull up the carpeting and tile and finish the concrete underneath. But knowing what a big undertaking that would be, I decided to start on a small area, our mud room, and see how it goes.
I pulled the tile up quite easily but underneath was all the tile adhesive. I started dry scraping and I ended up with shoulder pain, so then I found a water-based spray called Krud Kutter that you spray on and let sit for 20-30 minutes and it's supposed to dissolve the adhesive and you can scrape up the goop. But that was only taking off thin layers at a time. Then I read about somebody using a heat gun and scraper. I thought, hmm, I have my steam cleaner - I wonder, if I turn it to the highest heat setting if it could somewhat approximate the temperature of a heat gun. I put the brass brush on the end of the nozzle and started working. I thought it might make a small dent in the job, but it cut right through the adhesive. It's amazing.
I will be able to get the job done in one weekend now, after having looked at this awful floor for the past month while trying to figure out how I was going to get the adhesive up without using caustic chemicals. And the best part about the KleenJet over using a heat gun and scraper is that I can do it all with one hand because of the brass brush. By the way, I was able to turn the heat back in order to get more pressure and it still works great.
I'm also grateful every time I use the machine that I opted to pay a little more for the continuous fill model because I almost always use it for bigger type jobs. And, as much as I've loved my machine for the past two years, this adhesive removal discovery really makes me so happy to have had it on hand for such a huge job.
Marcia H.
Seattle, WA

My Daimer KleenJet 300CS is without a doubt the absolute best of the four steamers I've owned. Because I have experience using other lower-priced steam cleaners, and because of my enthusiasm for your steam cleaner, I felt compelled to offer my feedback to you. I think the KleenJet is thoughtfully and well designed. I've had a 300CS for a few weeks; my only regret about the KleenJet is that I did not know about it before I purchased those other ... steamers I've owned.
I love the LIFETIME boiler warranty, especially since the lower-priced steamers in the past did not last very long. The long 10' hose makes the nozzle very maneuverable; other steamers with short hoses are cumbersome to use. The sliding latch, on the hose, is much easier to operate than the spring loaded button on other steam cleaners. The electric Steam Control Switch is very sensitive to touch, easier to operate and much less fatiguing than the spring loaded trigger on other steamers.
The swivel action on the larger brushes makes it easy to get the attachment and steam where it is needed. Customer Service is fantastic! They don't treat you like an annoyance, put your call on long holds, tell you to get the information off the Web site, or just hang up the phone. They will discuss with you problems and solutions to help you get the most out of your Daimer product.
I would highly recommend Daimer to anyone wanting a high quality steam cleaner along with a company that stands behind its product! Well done Daimer!
Ed T.
San Francisco, California

Just a note to tell you how much I love our steamer. We live in a 10,000+ square foot home and have daily house cleaning. My housekeepers use it on the marble floors, in the bathroom showers, and for the windows; we have 85 windows. We love the PRO PLUS steam cleaner because we don't have to use harmful cleaning products that would ruin the finish on the marble floors and in the bathrooms.
Since we have 2 dogs, 7 cats, and a bird, it is important that the house is disinfected, and the steamer is perfect for this chore too. Daimer has been so helpful answering questions, and has been quick to send any new supplied I need. I'm extremely happy with my Daimer steam cleaner and with the company.
Thanks for all the special attention!
Jill C.
Miami, FL

Love all the features! This is such a great machine. I use it for cleaning tile and grout on walls and hallways at the condo that I manage. I even use it for defrosting the communal freezer and getting ice off of windows.
I also like the fact that refilling is so quick and easy. I was looking for a machine with a refill chamber and this was it.
Also, thanks for all the extra towels.
Ronnie G.
Bangor, ME

I started my tile cleaning company 1½ year ago. I went through a lot of tile cleaning machines before I found the right one. I am glad I chose Daimer for my business. I use the Daimer 5000 CV industrial steam cleaner for heavy duty commercial cleaning and 300CS steam cleaner for smaller jobs like upper level cleaning of residential houses. I have no regrets on choosing these machines. The machines are easy to setup, easy to use and very reliable. I will highly recommend it to others in the business.
Rey D.
Only by Steam Tile Cleaning Co.
Vancouver, BC Canada