November 11, 2014
Daimer® is the Best in Tile Cleaning Equipment
Daimer® is hands down the best in tile cleaning equipment that is available today. Whether you have ceramic tile flooring, a tile and grout bathroom or kitchen, or a tile swimming pool, Daimer® has you covered. With a wide range of models and equipment available to over 240 countries worldwide, we aim to meet every cleaning need you may have. We are a company devoted to America and the purchase of American made products and services. With representatives available  24 hours a day to answer your incoming calls and product specialists to assist you in choosing the best products and equipment for your individual needs, Daimer® is ready to serve you with the best in tile cleaning equipment. We have both pressure washers and steam cleaners available to assist you and your business with all tile cleaning needs. Our company has enjoyed year after year of success even during the recent economic downturn and subsequent recovery. We have maintained our high standards and service commitment at all times. As our company grows so does our mission to be the best in our industry!
Why Use Tile Cleaning Equipment?
Why should you use tile cleaning equipment? Tile is made from many different materials and come in many formations. Many forms of tile are porous and easily pick up dirt, grime and bacteria. Mold and mildew are always a risk where tile is concerned.  There is no simple method for cleaning tile. It is a highly specialized endeavor. One cannot easily mop, spot clean, or wipe down tile on a regular basis and expect it to maintain its brilliance and luster. Nothing is more beautiful than a new tile floor, bathroom, or swimming pool. However, once that new luster wears off, customers will notice that the tile may be dingy or look dirty. In the business world, perception is a very important factor! At Daimer®, we believe that you cannot sacrifice quality for price! A clean and beautiful tiled area is worth much more in potential sales and profit than the price you pay for the ability to maintain the brand new beauty of your space. By using commercial grade tile cleaning equipment you are guaranteeing that your customers always walk away with a perception of cleanliness and brilliance that will bring them back to your business again and again! Whether you own a restaurant, a hotel, or any other business that may have tile floors, tile walls, or swimming pools, you want to have happy and satisfied customers. In fact, this is an essential component of your success in business! Let Daimer® help you meet your tile cleaning needs!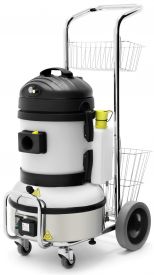 The Best Tile Cleaning Equipment Online
With the best tile cleaning equipment online, Daimer® stands ready to assist you. Visit our website to see our wide variety of equipment with both specs and prices. Our informative, user friendly website also contains detailed information on how each piece of equipment can meet the varied needs of our customers, as well as many "how to" articles on effectively cleaning everything from commercial kitchens and bathrooms to swimming pools. We offer numerous models that meet every need from light commercial jobs to highly specialized industrial work. Whatever your needs, you can get started on our website and learn about the best tile cleaning equipment online, and then call our professional staff to get started on either purchasing or leasing the equipment you need! Visit our website today at www.daimer.com and see what we can do for you!
 Our mission at Daimer® is to offer the best quality equipment for the best price, use the highest grade materials available to provide the best quality equipment, and never sacrifice quality for price. We also aim to provide the best customer support before and after a sale. We want you to be assured that we will make sure you purchase or lease the equipment that meets your needs. In order to do this we have product specialists on hand at all times to assist our customers with assessing the needs of our customers. In addition, we make sure that you receive the best in post-sales support and service. Daimer® is here for you, our customers. We strive to support our customers on every level. This commitment to quality and service has allowed us to have a wide range of customers. We are proud to count the White House, as well as many prominent businesses as our clients. Burger King, Arby's, General Electric and ACE Hardware are just a few of our well known clients. Visit our website for a list of other clients that speak of our commitment to the highest quality and service there is to offer in our industry.
You too can have the assurance of quality enjoyed by our clients. By using Daimer® to provide your business with the best tile cleaning equipment available today, you can guarantee your ability to effectively clean all your tile surfaces with the highest quality products and ensure a beautiful and clean space for your customers to enjoy again and again. Customers who can rave about how clean your business is can bring in new customers. Word of mouth is the best advertising your money can buy. You can buy that advertising by enjoying the best tile cleaning equipment the industry has to offer by using Daimer®.