June 16, 2015
Daimer XTreme Power XPH-5900IU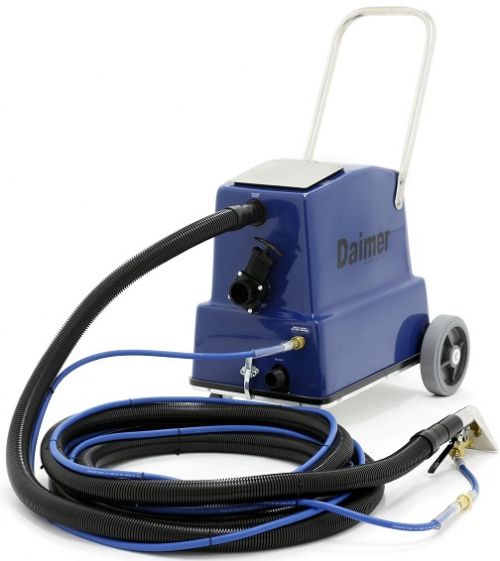 As you well know as a cleaning professional, not all carpets are created equal. Some seem to do a better job as trapping dust, dirt, and harmful allergens that can attack the immune system of even the healthiest of humans. Good, quality car vacuum cleaners and upholstery cleaners can certainly be effective at providing temporary cleaning power to a room or vehicle, but a professional and heavy-duty steam carpet and upholstery cleaner is necessary to perform the job to exceptional standards. This is particularly important in commercial buildings or vehicles that heavy foot traffic, no matter how thick or thin the carpet might be, or what type of fabric is on the furniture. All types of carpets and upholstery are fair game for unseen bacterium and dirt, so cleaning should be performed on a regular basis. This is where the Daimer XTreme Power XPH-5900IU comes into play.
This particular model of carpet and upholstery cleaner is designed for commercial and industrial use. It is a heated unit that professionally cleans upholstery and doubles as an auto detailing machine. The XTreme Power XPH-5900IU model is able to heat roughly 10 minutes faster than previous models, making it the perfect choice for individuals who need high temperatures, but do not have a lot of time to wait. This unit also emits a most respectable pressure level up to 170 psi, which compares favorably with other machines that carry a much higher price tag. The heating technology incorporated into the XTreme Power XPH-5900IU allows water to be heated rather quickly, with temperatures reaching as high as 210 degrees Farenheit in only 5 minutes.
Depending on the item being cleaned, temperature might need to be adjusted. Many units either do not allow for this feature, or it is quite cumbersome and time consuming. The design of the XTreme Power XPH-5900IU not only allows for a change in temperature in the flow of the water, it is done with relative easy, and rapidly. How this is done depends on the specific application that you make use of at the time, so feel free to ask a customer service representative at Daimer if you have any questions. With the low flow technology incorporated into this particular steam cleaner, carpets and upholstery dry rapidly and within about one hour. The low flow technology mentioned here is standard with all of the carpet upholstery machine models that Diamer manufactures, so keep that in mind as well.
Regarding suction and air flow, users will not be disappointed with the XTreme Power XPH-5900IU either. The water column lift is measured at 100 inches, and the air flow comes in at a nice 100 cfm. The hose length that is standard with this model is 25 feet. This enables cleaning professionals to easily reach great distances within a given area without having to readjust and move the machine itself. Speaking of moving the machine, this particular steam cleaner is easily transported. It is small enough and light enough that professional detailers can move the unit with either a car or an SUV. If you were to purchase a larger and more expensive model, it would not be nearly as portable, and cleaning action would either be the same, below par.
For easy cleaning, the XTreme Power XPH-5900IU comes standard with a durable and reliable 4-inch stainless steel wand. In addition, water is extracted quite easily and the machine makes use of a 100% soap free chemical that has been especially engineered by Daimer to be eco-friendly. Every unit also comes complete with a 100% Eco-Green Carpet Care liquid that is plant based. This is enough to make up to 256 quart spray bottles, so you will be ready to clean from the very first day. Other shampoos on the market leave behind a soap residue that adds to the cleaning process and is not good for the environment. In addition, such shampoo is often difficult to completely remove from the cleaning process itself, which defeats the purpose in the first place. The cleaning solution developed by Daimer not only comes out clean, but also does not provide any harmful toxins that are often associated with certain cancers and other illnesses. In short, the Daimer XTreme Power XPH-5900IU is an all-in-one steam cleaning machine that will afford auto detailers and upholstery cleaners an easier way to do their job effectively, without leaving any environmental footprint to speak of.
It is helpful to note some of the product specifications of the XTreme Power XPH-5900IU in order to ensure that they meet with your own unique requirements. The pump pressure on this unit is 170psi and has a maximum temperature of 210 degrees F. There is a revolutionary flow technology incorporated into the design that allows for low water flow and faster drying times overall. The tank size for the cleaning solution if 4 ½ gallons, while the recovery tank size is an equally impressive 4 gallons. This particular unit does make use of 2 powerful inline heating elements, and the heating time can be up to 5 minutes, which is still great for this size of machine. Carpets will generally be completely dry within 2 hours after cleaning, while upholstery will be dry in only one hour. There is 1 powerful 2 stage motor forming the basis for this unit, so the XTreme Power XPH-5900IU is an affordable option for the professional auto detailer and upholstery cleaner.