May 30, 2015
Super Max 12200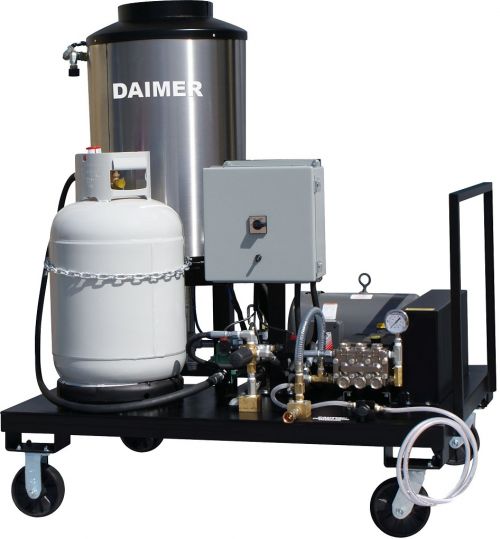 For high-powered industrial cleaning, the Super Max 12200 propane-fueled pressure washer is the perfect tool to get the job done. You will love the versatility of this rugged machine: it operates as a cold pressure washer, a hot pressure washer (temperatures up to 210ºF) and as a steam pressure washer (steam temperatures up to 330ºF) to meet your every cleaning need. With a flow rate of four gallons per minute and a pressure of 2000 psi, this pressure washer is a valuable tool in industrial cleaning applications.
Adding to the versatility of this powerful model is the ability to use two guns at the same time. Another benefit is its capability of becoming a trailer-mounted system for even greater portability. For tough cleaning applications, the Super Max 12200 has chemical injection for even greater cleaning power.
The Super Max 12200 is perfect for cleaning jobs where high pressure and high flow rate are a must. This robust machine has the power for continuous use and comes in a variety of power configurations to meet worldwide requirements. Please call us for more information about power configurations outside the U.S.
A Word about Propane Fuel
One of the biggest benefits of the Super Max 12200 is the fact that it is driven by propane fuel. Propane is a clean-burning fossil fuel that is approved in the 1990 Clean Air Act and in the Energy Policy Act of 1992. In tests conducted by the U.S. Environmental Protection Agency (EPA), propane powered vehicles and other equipment produced 30 to 90 percent less carbon monoxide and roughly 50 percent fewer emissions and toxins than gas powered engines. Furthermore, propane is nontoxic and won't contaminate water or soil.
From an economic standpoint, propane fuel is anywhere from 30 to 50 percent cheaper than gas and electricity.
What you get with the Super Max 12200 Pressure Washer
The Super Max 12200 comes with several attachments to make tackling any industrial cleaning task easy and quick. For instance, the 3 foot long Durable Trigger Wand with Quick Disconnect allows you to clean above your head or down to the ground without stretching or bending. And, with the 50 foot High Pressure Steam Hose, you are never limited in your reach. This pressure washer also comes with several different nozzles (0º, 15º, 25º, 40º & steam nozzle), making it a highly versatile machine.
What you can use the Super Max 12200 for
As we mentioned before, the Super Max 12200 is a highly versatile, portable pressure washer. This means that just about any durable surface is cleanable with this machine. For example, the Super Max is powerful enough to degrease just about anything. Use it to eliminate grease on industrial equipment, machine shop equipment, metal, and even on walls and floors.
The Super Max 12200 is more than just a degreaser, though.
It powers away dirt and scum in bathrooms, kitchens, on concrete and brick. It flushes debris and unclogs gutters so fast you won't mind cleaning the gutters ever again. Wash cars. Wash buses. Steam clean airports. The sky is the limit with this portable pressure washer.
Pressure Washing Concrete
One of the most common uses for a machine such as the Super Max 12200 is cleaning dirty, stained concrete. If you purchase this machine solely for keeping the sidewalks and parking lots clean in front of your building, it is well worth it. Of course, we're sure you'll find other reasons to use it.
If you're tired of looking at those ugly oil stains in the parking lot, or the sidewalks just look dirty, the Super Max has you covered. Concrete can be one of the most difficult surfaces to clean because dirt, oil, grime and grease just soak right in. However, they are no match for the power of this pressure washer.
Step 1: Apply a detergent. Remember earlier we told you the Super Max has chemical injection? That's a fancy way of saying it has the ability to apply cleansers to the surfaces you're cleaning.
Spray the cleanser on a small section at a time and let it sit for five to ten minutes. If the area starts to dry, rewet it.
Step 2: Rinse. Rinse the area thoroughly using a nozzle that produces a general high-pressure spray pattern.
If an area is especially soiled, you might need to repeat the process a couple of times. If after a couple of applications with detergent and rinsing the stains still persists, use the turbo nozzle (0º included) to break down and remove the stubborn grime.
Tip: When using the turbo nozzle, keep the wand moving constantly to avoid damaging the surface.
The Super Max 12200 Handles All your Industrial Maintenance Needs
If you're looking for an industrial pressure washer that can handle all kinds of cleaning tasks, our Super Max 12200 tri-mode pressure washer offers the best cleaning results in any industrial setting. Many maintenance experts agree that using a hot water or steam pressure washer is best to remove dirt, grease and other grime from floors, walls and industrial equipment.
The Super Max 12200 is capable of cleaning with cold water, hot water or steam to flush away the toughest, greasiest stains. If you're in need of a powerful, portable pressure washer with the capability of being a trailer-mount model, contact us today for more information on the Super Max 12200. We look forward to helping meet your industrial cleaning needs.