June 19, 2015
Super Max 12500 DE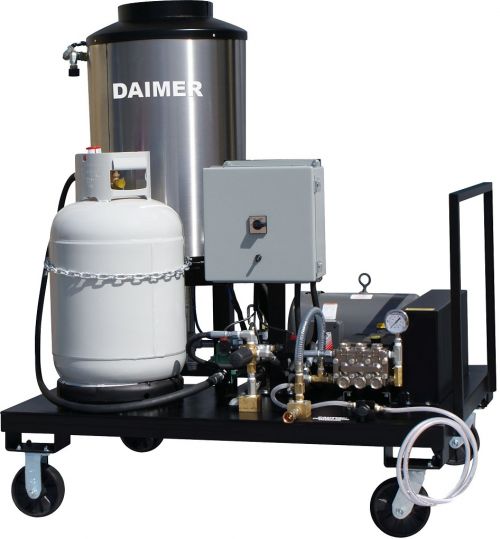 One of our most versatile and user-friendly pressure washers is the Super Max 12500 DE. This machine is our only diesel-powered model heated by propane. With a pressure rating of 3,000 psi and a flow rate of 5 GPM, and the ability to clean with cold or hot water and wet steam this high-powered pressure washer is perfect for just about any commercial or industrial application.
Since this system is diesel-powered, it gives the unit more portability to tackle outdoor jobs where electricity isn't readily available.
Special Features of the Super Max 12500 DE
Daimer takes pride in our products, so when it comes to quality, we offer the best. The Super Max 12500 DE is a great pressure washer for industrial use. As we stated before, grease and grime don't stand a chance against the high-powered pressure and flow rate this machine puts out. In addition, the Super Max reaches temperatures up to 210ºF in the hot water mode, and up to 330ºF in the wet steam mode for even greater cleaning power. The chemical injection feature allows you to add cleaners to the jet stream to cut through tough, stubborn stains.
A Word about Pressure (PSI) and Flow Rate (GPM)
When it comes to buying an industrial pressure washer, the two main specs you should pay attention to are the psi rating and the flow rate. For both measurements, the higher the number, the greater the cleaning power. PSI stands for pounds per square inch and is the amount of pressure exerted by the machine on the surface to be cleaned.
Flow rate, measured in gallons per minute (GPM) is the amount of water that comes out of the nozzle in a specific measure of time (one minute). For the heavy-duty tasks an industrial pressure washer must tackle, choosing one with a high PSI and GPM rating such as the Super Max 12500 DE ensures you get the job done quickly and easily.
What's Included with the Super Max 12500 DE
The Super Max 12500 DE comes standard with several attachments to make any cleaning job a breeze. The 3-foot Durable Trigger Want with Quick Disconnect gives you plenty of reach and the ability to switch nozzles quickly. It also comes with a 50-foot High Pressure Steam Hose. Nozzles included with the 12500 DE model include:
0º (turbo nozzle)
15º
25º
40º
Steam nozzle
Also standard with the Super Max 12500 DE is a 9-gallon capacity diesel fuel tank and a 50 lb. empty propane tank. These large capacity tanks allow you to tackle large jobs without having to refuel often.
What can you do with the Super Max 12500 DE?
The real question is, what can't you do with the Super Max 12500 DE? This portable pressure washer is great for degreasing machinery, walls and floors. It can be used in food service kitchens for a variety of purposes and then jump right into cleaning oil slicks and grime off concrete sidewalks and parking lots. Use it in public bathrooms to clean showers and stalls, or use it on the farm to clean equipment and other agricultural tasks. This machine will even strip paint. Because a power cord doesn't limit this pressure washer, it is suitable for all types of outdoor uses.
How to Strip Paint with a Pressure Washer
One common industrial application pressure washers are used for is paint stripping. Manually stripping old paint with a paint scraper is hard, time-consuming work. However, with an industrial grade pressure washer such as the Super Max 12500 DE, you can strip old paint in no time.
Step 1: Cover the surrounding area with landscape material. This catches the paint chips while allowing the water to pass through. A good rule of thumb is to extend the landscaping material 10 feet for every 15 feet of height.
Step 2: Set up your pressure washer and attach a delicate, low-pressure nozzle. This will give you enough power to strip away the paint without damaging the surface of your project.
Step 3: Use plain water and direct the spray at a 45-degree angle to get under the paint chips. Direct the paint chips downward so most of them land on the landscaping material.
Step 4: Continue to spray the surface until most of the paint layers are gone. If you need more power, switch the nozzle to a general, low-pressure one, but keep in mind it's not necessary to completely remove all of the old paint.
Step 5: Once the area is stripped of paint, let it dry completely, sand as necessary and repaint.
Why Daimer's Super Max 12500 DE for all your Industrial Cleaning Needs
The Super Max 12500 DE is perfect for outdoor cleaning applications because its diesel-powered operation makes it highly portable with no restrictions by cords or wires. This model uses propane to heat the water to super high temperatures, and the 5 GPM flow rate and 3,000 psi pressure rating make this pressure washer a great choice for the many challenges of industrial cleaning.
For those who prefer diesel power over gasoline power, the Super Max 12500 DE is ideal. Clean larger areas quickly and easily using this highly portable, high-temp industrial pressure washer. Contact us today for more information on the Super Max 12500 DE. Let us show you how this superior pressure washer can meet and exceed your every cleaning need.