June 30, 2015
The Super Max 12885 DE Is The Power Horse On The Market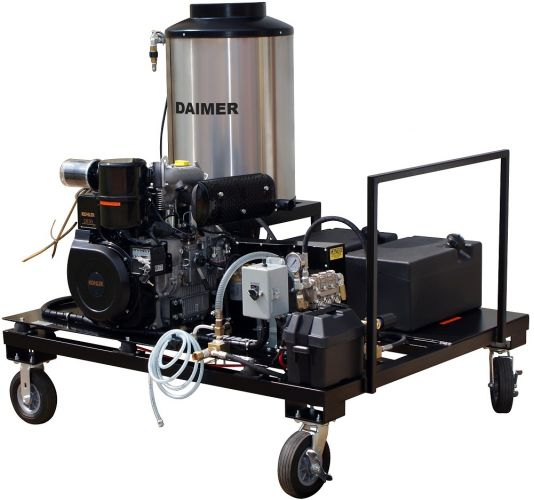 The 950-pound Super Max 12885 DE is an improved commercial and industrial grade version of our previous model in the same series; it has all the immense power and diesel functionality, but now offers even more power at the high pressure level of 4000 PSI and 5 GPM flow rate. That's the perfect kind of power to get your toughest jobs done and done quickly.
This wet steam pressure washer is versatile with variable temperatures including a cold feeling room temperature, hot water that reaches up to 210°F and steam temperatures of up to 330°F. The versatility doesn't stop there, this cleaning machine supports multiple users, offers various heating methods and much more. It's a multi-job, multi-tasking machine that definitely pays for itself in the long run.
The Super Max 12885 DE is powered by diesel, which makes it the ideal application for outdoor use where the availability of electricity is nil and if you simply prefer using diesel, this is your best option. Should you desire to use this pressure washer inside, the system must be placed outdoors or in an environment that is exhaust friendly. And, in order to complete the job all you have to do is use our long hoses to complete the job. We have Long Hose Technology that gives you optimal power and continued performance regardless of whether you're using a shorter hose or one that's up to 300 feet long.
The strength behind this pressure washer
You should see this model in action, it has a wet steam degreasing capability and blasts through grease, grim and any other gunk it faces with an ease that can only come from its configurations. Power configurations offered with our pressure washers include 110-120V, 208V, 220-240V, 380V, 415V, 440-480V and 575V; there's also the single and three-phase at 50 or 60 Hz. All you have to do is guide the machine along and it does all of your dirty work for you.
Let's review the product specifications:
Water pressure of 4000 PSI
Flow rate of 5 GPM
Cold, hot and wet steam temperature options
Steam temperature of up to 330°F
Hot water temperature of 180°F to 210°F
Standard power diesel engine with no optional power methods
Heavy duty motor size of 25.2 HP
Nine (9) gallon capacity gasoline/diesel fuel tank and heating fuel capacity
Heavy duty schedule 80 heater exchange coil
Number 1 or number 2 heating oil, i.e., diesel or kerosene heating method
Heater response time from cold to hot water is about 30 seconds
Electronic direct spark ignition system
Continuous use operating time
Belt drive pump method
High pressure chemical infusion injection
Additional and customized pressure hose options are available
Manageable dimensions of 41" wide x 57" deep x 58" in height
Wheels removed for trailer mount at no additional charge
Other options that are available by request include a phosphatizing system, multi-gun operation and a wet sandblasting system. The Super Max 12885 includes one each of the following standard parts/attachments: 3' quick disconnect durable trigger wand; the blast 0° nozzle as well as the 15°, 25° and 40° nozzles; steam nozzle and a 50' high pressure steam hose. It's not only the bells and whistles of this pressure washer that cause it to stand out, it also has a professional and sleek outer appearance that's black and silver with stainless steel and a powder-coated, high gloss look that's chip and chemical resistant. That is a great feature in a machine that works hard; just because it works hard doesn't mean it has to look beat up and run down.
A reliable machine for tough jobs
This machine has the ability to work on many applications including the cleaning of buses and trucks, concrete and brick, gutters and drums, floors and walls, industrial and machine shop equipment and a multitude of other areas and machinery that only a powerful pressure washing machine can clean. The Super Max 12885 DE is a mega cleaning machine at degreasing in foodservice and other industries, removing paint and rust in small areas and any other space that needs tough attention. Whether you're a contractor, employer, business owner or employee your toughest job will be tackled by a tough machine.
Get in contact with us right now to learn more about how the Super Max 12885 DE can work its magic for you and to receive pricing information. With your purchase your pressure washer is under a limited warranty for one year, the water pump has a five-year limited warranty and the motor/engine has a two-year limited warranty. We offer these warranties as a service to you even though we believe there is nothing for you to worry or anything you will need your warranty for – our machines rarely break down and need repairs. (We'll tell you a secret: Our machines are made so you have the ability to replace a part should the need arise. That's another great added benefit: You don't have to worry about returning the cleaner to the warehouse for repairs.)This model of steam pressure washer is durable and able to withstand hours upon hours of operation. You will poop out before it will.
Just add this one to the list of our more than 400 powerful steam cleaning machines that are necessary for keeping your business or your clients' business, if you're a contractor, immaculate. With the 12885 DE you'll be pleased with the advanced functionality and ease of use and, of course, with the end results.