July 30, 2015
Durability and Strength of the Super Max 8720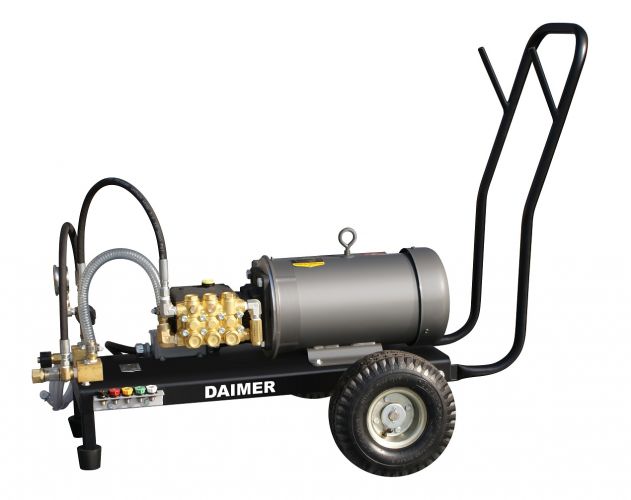 Cold water pressure washers are ideal when it comes to a machine that needs to get the job done, yet is affordable, require less maintenance and they are economical. These pressure washers only use cold water, eliminating the need to for extra cleaning power that a heated water pressure washer would need. Industrial and commercial users turn to these cold water pressure washers for basically those reasons given. The Super Max 8720 does just that along with other features to make it a great tool all around.
Super Max 8720 Pressure Washer Standards
The Super Max 8720 is a durable and tough machine that can handle jobs from indoors to outdoors. Removing mud and caked on dirt from surfaces will be a quick and easy with its high pressure of 2000 psi and flow rate of 4 GPM. With this type of pressure and flow, it has more cleaning power than the 8700, plus an optional wet sandblasting system. The heavy duty motor size of 5 H.P., powers up this electric power washer. Due to its portability, the machine can have a continuous use from work area to work area. If the Super Max 8720 needs to be stationary, the wheels can be removed and the machine can either be wall mounted or trailer mounted.
The Super Max 8720 comes with a standard 3' durable trigger wand with a quick disconnect. The trigger can be upgraded with the Automatic Shutoff Technology that controls the water pump and motor which will reduce unnecessary wear and tear on the parts. There are several nozzles that are included such as the 0° (blast), 15°, 25°, 40°, steam nozzles and a 25' high pressure hydraulic steam hose. The hose and trigger wand will give you a better reach, while the steam nozzles will help cover more area to clean. The machine does carry a bit of weight of 290 lbs, yet with the wheels that are attachable, it makes pulling the machine without a great deal of effort. The Super Max 8720 also allows an optional multi-gun operation that allows for two users to operate machine at the same time. Additional and customization lengths of pressure hose options are also available.
The popularity of electric cold water pressure washers has grown throughout the years and is able to be more of a convince of being an indoor and outdoor compared to a gas cold water pressure washer which is only an outdoor used machine. Since the Super Max 8720 is electric, it can be used in indoor areas such as food processing and manufacturing buildings without the worry or looming gasoline fumes and it is a much quieter machine. The outdoor use for this pressure washer is just as simple as using it indoors. It works best with decks that has bare wood because the cold water keeps the wood from swelling and being damaged. It is also great for cleaning surfaces such as concrete, decks, masonry, brick, siding and asphalt.
Using the Super Max 8720 to Clean Brick Areas
Surfaces that are covered in brick such as patios, walkways and even homes can become discolored and dull looking over a period of time. The Super Max 8720 can bring back that fresh look of new brick that the surface once had.
First, soak the brick areas with regular water with a low pressure spray pattern. This will create a protective barrier from the detergent that will be use. The brick should be thoroughly soaked with the water.
Next, use a low pressure stream with plenty of detergent. This will give the best results without damaging the brick.
Third, allow the detergent to sit for 5 - 10 minutes to the work area. Apply more water to areas that are beginning to dry. Don't allow the detergent to dry into the bricks as they are porous.
Next, the detergent should be flush with water as a basic rinse. Once that has been completed, the brick should be rinsed more thoroughly. Go over a small area at a time. Repeat several times to make sure all detergent has been removed.
An efflorescence remover can be used if there is any powdery white residue that was left behind after the brink dries. The pressure washer should not be used to apply the efflorescence remover should be worked in by hand with a brush.
What Does the Warranty Cover?
The Super Max 8720 comes with a few warranties to ensure your machine stays in top condition to continue do its job. The first one is a 1 year, limited warranty that will cover the machine for parts. There is a 5 year limited warranty to cover the water pump and a 2 year limited warranty that covers the motor/engine.
The Super Max 8720 is a great machine for users that need a multipurpose tool. From grind in dirt to moderate grease stains, it is invaluable to any task at hand. The machine also has a variety of power connections so that it can be used worldwide. Contact Daimer for over 400 model and configurations to choose from. Our cold water pressure washers can range up to 8000 psi and up to a 5 GPM. They are also available in 50 Hz and 60 Hz. When you want the best in a cold water pressure washer like the Super Max 8720, Daimer is the best company for your business.