July 22, 2015
When To Choose a Cold Water Pressure Washer - Super Max 8900C-322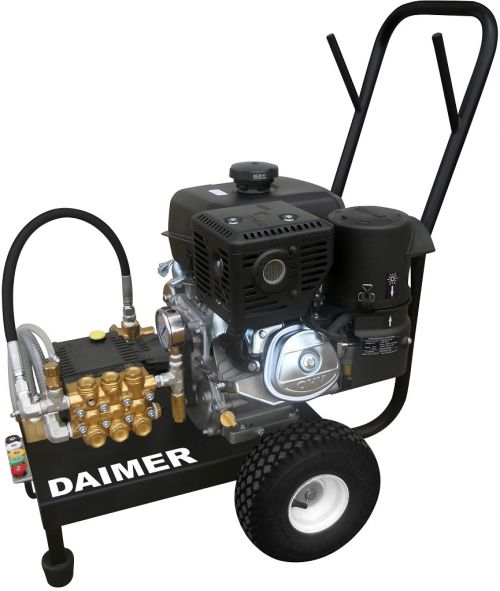 There are so many different ways for items and places to be cleaned on a commercial level that it can sometimes be confusing to know what equipment to use for the best results. As many of us know, there are two types of pressure washers to choose from, but let us consider why one would be used instead of the other. When deciding on the best pressure washer for the job, it would be most helpful to analyze exactly what you will be using your pressure washer on.
Hot water pressure washers are great for washing surfaces like the floor of an automotive workshop that is harboring a mixture of dirt and grease or oil. The hot water in addition to your detergent of choice has the added benefit of cutting through the grease and grime without much effort. But if you just happen to need a pressure washer to help get rid of dirt alone, then you will certainly want to utilize a cold water pressure washer like the Super Max 8900C-322.
To some, a hot water pressure washer may sound more efficient, but this machine is guaranteed to clean a variety of surfaces such as siding, roads and bridges. With the ability to quickly and efficiently remove dirt and mud, the Super Max 8900C-322 is made to last for both industrial and commercial applications. Though it is not typically used to clean surfaces that have been contaminated with grease, combined with an equally effective detergent, the cold water pressure washer can even remove such filth.
Gas powered is sometimes best
Once the cold water pressure washer has been chosen to be your go-to pressure washer for your specific cleaning needs, the next choice to consider is what method of power would be best. Much like your decision on whether to utilize a hot or cold water pressure washer, your decision about the best power source for your pressure washer really depends on what it is being used for. While the Super Max 8900C-322 is a gasoline powered cold water pressure washer, let us again consider why it could be your best option.
While there are pros and cons to both gas and electric pressure washers, it is important that you are truly making an informed decision when you choose the Super Max 8900C-322. Generally speaking, electric pressure washers are great for smaller jobs and utilize less power than a gasoline powered pressure washer. Being a commercial industrial pressure washer, there is comfort in knowing that this model offers a water pressure of up to 2000 pounds per square inch compared to the typical pressures of 1,300 to 1,700 psi that is offered with electric models. This of course means that you should certainly be able to efficiently and quickly clean the desired surface.
However, know that electric models are an option when it comes to choosing your pressure washer. Typically best for smaller areas and outdoor furniture, these types of pressure washers will still get the job done. The major downside to using an electric commercial industrial pressure washer is having the need to be near an outlet at all times. This is one of the ways that the Super Max 8900C-322 shines as the best option for your commercial industrial needs.
By choosing this version of one of the gasoline powered options, you are sure to enjoy the luxury of portability that you cannot have with an electric pressure washer. Now, even though the gas powered models of water pressure washers are heavier than their electric counterparts, with the 8900C-322 there is the option to have it trailer mounted when the wheels are removed, which can make the concern of heaviness a moot point.
Be aware of your options
Aside from choosing the proper temperature and power method, it is important to be cognizant of what type of attachments are included. For a cold water pressure washer that boasts 2000PSI like the Super Max 8900C-322, you should look for a variety of attachments that range from poly- or steel-braided high pressure hoses, spray wands that can connect quickly and a variety of spray tips. Luckily, most of these items, or similar, are included with the equipment. These attachments include:
0° blast nozzle
15° nozzle
25° nozzle
40° nozzle
3' durable trigger wand with quick disconnect, and
25' high pressure hydraulic hose
Tips for using your Super Max 8900C-322
Now that you have chosen the ideal cold water pressure washer for the job there are a couple of tips that we can offer all users when it comes to using this industrial machinery.
Because this is a great tool for washing the siding of buildings, one tip for cleaning such surfaces is to wash from the bottom up and then rinse from the top down. This ensures you are able to successfully continue your efforts in being efficient. One of the most frustrating things that can happen while cleaning any surface, whether with a pressure washer or not, is having to re-clean the surface because of dirt running into a spot you've already cleaned. By washing up and rinsing down you'll eliminate the runoff very quickly.
Another rule of thumb is to always clean at a distance and angle when using pressure washers in order to prevent damaging the surface you're cleaning. With a pressure of 2000PSI the targeted surface is guaranteed to get clean, however such pressure could damage certain surfaces if it's not handled with care and at a distance.
With these general tips, your decision to use the Super Max 8900C-322 as your go-to cold water pressure washer will ensure efficient cleaning every time.