July 24, 2015
Super Max 8900C-525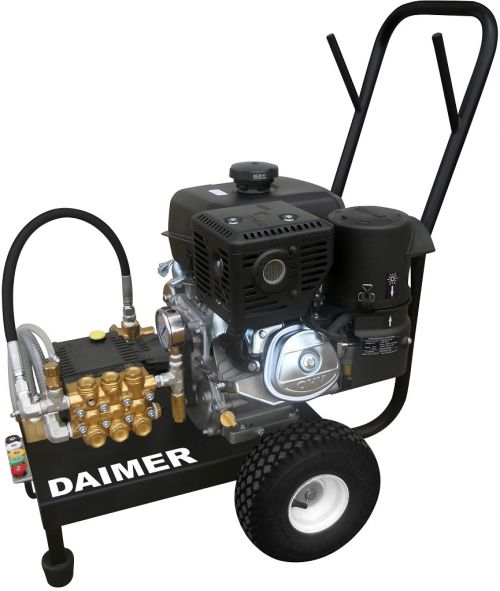 The Super Max 8900C-525 cold water pressure washer is ideal for a variety of commercial and industrial uses. This pressure washer features a 10 HP gas engine, which gives you plenty of power to tackle even the toughest cleaning jobs. The Super Max 8900C delivers an outstanding pressure level of 2500 PSI with a flow rate of 5 GPM. When you need convenience and power in a pressure washer, the Super Max 8900C-525 is a sure bet.
Why Choose Gas over Electric in an Industrial Pressure Washer
While electric pressure washers are usually less expensive than their gasoline powered counterparts, nothing beats the power and convenience of gas. The gas-powered Super Max 8900C-525 cold water pressure washer is perfect for large outdoor cleaning and stain removal on decks and siding, as well as removing sap and other stubborn stains from a multitude of outdoor surfaces.
Gas pressure washers deliver greater pressure levels and flow rates than electric models, and also offer the convenience of being able to use them almost anywhere because they are unrestricted by power cords.
For industrial use, a gas-powered pressure washer like the 8900C-525 will handle the tough jobs you throw at it with ease, each and every time.
How to use the Super Max 8900C-525 to clean Buildings
One of the many uses of a cold water pressure washer such as the 8900C-525 is cleaning the outside of buildings. Over time, dirt and grime build up causing a building's surface to look dingy and unkempt. It is easy to make your building look fresh and clean with the Super Max 8900C.
Step 1: Get a cleaning solution that is right for the job. The Super Max 8900C-525 has a low-pressure chemical injection system that sprays solution on the surface to be cleaned. Only use cleaning solutions specifically designed for use in a pressure washer.
Step 2: Apply the cleanser first. Using even, overlapping strokes to apply the cleaning solution. To avoid missing spots or causing streaks, start from the bottom and go up.
Step 3: Sit back and relax. Give the cleaning solution time to do its thing for five to ten minutes – just don't let it dry. If it begins to dry, rewet it.
Step 4: Test the water's strength. Pressure washers pack quite a punch, so stand a couple of feet away from the surface of the building and begin spraying. This should be far enough away that you will not damage anything, and it gives you plenty of room to move closer if more power is needed. Alternately, you can change nozzles (several are included with the Super Max 8900C-525) to adjust the water stream's strength.
Step 5: Rinse. Once you have figured out how close you can stand and which nozzle to use, you can begin rinsing the building. Be careful not to spray directly at light fixtures, vents or eaves. Do not spray directly at windows, either.  Your best bet is to keep the angle of the wand pointing downward to avoid spraying underneath vinyl siding or damaging any surfaces.
Although this 8900C-525 is a cold water pressure washer, it does have the capability to use hot water up to 180ºF for added cleaning power if need be.
Accessories included with the Super Max 8900C-525
No pressure washer is complete without a sturdy wand and nozzle attachments for tackling a variety of applications. The Super Max 8900C-525 is no different. Included with this powerful and versatile pressure washer is:
A 3-foot Durable Trigger Wand with Quick Disconnect
A 0º blast nozzle
A 15º nozzle
A 25º nozzle
A 40º nozzle
A 25-foot pressure hydraulic hose
Since the nozzle determines the strength of the water stream that comes out of the wand, let us take a look at the differences between these nozzles.
0º Nozzle
This nozzle delivers the smallest, most concentrated stream of water. It is typically used for applications such as removing stains from pavement or metal. Do not use this nozzle when cleaning siding or any wood surfaces. The water stream from this nozzle is quite powerful, and it will damage soft surfaces quickly.
15º Nozzle
This nozzle produces a powerful, yet not as concentrated stream of water that works well for preparing surfaces by removing dirt, paint or mildew. It is usually safe for most surfaces.
25º Nozzle
This nozzle delivers a lower-pressure spray suitable for whisking away dirt or rinsing off detergents. It works good for sweeping leaves off sidewalks, too.
40º Nozzle
This is the lowest pressure nozzle included with the 8900C-525 model. This nozzle is typically used for applying soaps and cleaners as was mentioned in Step 2 of the building washing tutorial above.
If you've never used a pressure washer before, it is best to start with a less powerful nozzle until you get the feel for the machine to avoid damaging the surface you wish to clean. You will soon get the hang of using it and know instinctually before you even start, which nozzle is best for which application.
If you are in need of a pressure washer for your business, please call us at 1-877-482-1009 today to discuss your options. We carry a large line of pressure washers for every need, so even if the Super Max 8900C-525 is not the pressure washer for you, we are confident that our experienced staff can put the right pressure washer in your hands today.