July 23, 2015
Improving Efficiency with the Super Max 8900C-640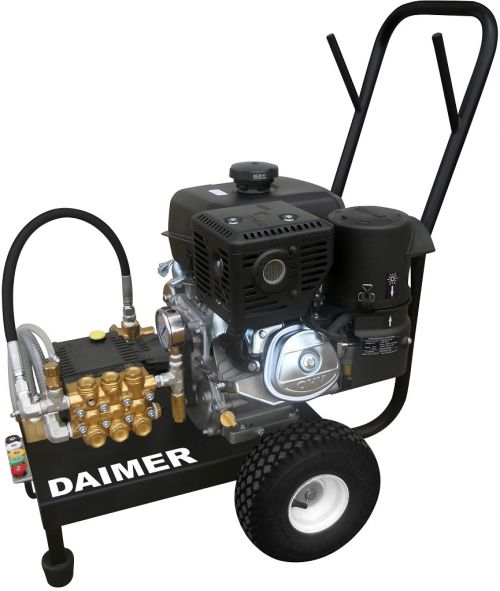 If you have a lot of space, then you already know the struggle that comes with cleaning Pressure washers are designed to make cleaning easier and significantly more effective. The only issue with this is that they tend to use hot water to create steam. This means frequent water fill ups and a longer start time. Cold water pressure washers are very efficient, especially when it comes to cleaning commercial buildings.
The Super Max 8900C-640 from Daimer is an industrial cold water pressure washer built for a busy work enviornment. It offers high amounts of pressure with a low flow rate to help you clean almost any surface. Unlike many other cold water pressure washers on the market, the Super Max 8900C-640 is gas powered for improved portability. Learn more about this powerful model and see how it can help improve your business.
Benefits of Using a Cold Water Pressure Washers
Cold water pressure washers have a lot of advantages over systems that use hot water. One of the most noticable differences is the overall size of the unit. Cold water systems don't need heating mechanisms, therefore, they tend to be a lot smaller. This makes them more portable and significantly more affordable. Because there is a wide variety of Super Max models available, you will be able to find something that suits your needs perfectly.
While a cold water pressure washer doesn't have the high-powered sanitatizing capabilities that a hot water pressure washer has, it makes up for it in many other ways. They can still blast away dirt, but they can do so on a wider variety of surfaces. Heat sensitive areas, such as vehicles, can get the benefits of a a pressure washer without risking damage.
Because they are smaller, they also tend to be very efficient when it comes to cleaning. Each system allows you to quickly clean surfaces. This makes a cold water pressure washer a valuable asset for commercial businesses. These types of pressure washers can also have several practical uses around the home.
A Practical Cleaning System
The Super Max 8900C-640 is a lot like many of the other systems in its product line. It features cutting edge technology, two hoses, and is able to work in a variety of enviornments. What sets the Super Max 8900C-640 apart from other models is its ability to work both indoors and outdoors. Because it is very portable, it is ideal for auto detailing and other professional uses.
The Super Max 8900C-640 has a lot to offer. Some of the features include:
2-gallon gas tank for increased portability.
High pressures of 3000 PSI to help cut through dirt.
Lower flow rates of 4 GPM
Low pressure injection options for chemical infusion.
3' trigger wand with quick disconnect included.
A variety of durable nozzels are included to help you reach a wider variety of places. Standard nozzels include a 0-degree blast, 15 degrees, 25 degrees and 40 degrees. Along with a 25-foot high pressure hydraulic hose, you will be able to save time.
If you need to reach even more places, the wheels can be removed. Then, mount the Super Max 8900C-640 to a trailor. This makes transportation a breeze.
Increased Durability with the Super Max 8900C-640
One thing that makes the Super Max 8900C-640 a worthwhile investment is its durability. Made by Daimer, the Super Max 8900C-640 contains high quality parts made to withstand continuous use. It is built by professionals who understand the importance of having an industrial-grade cold water pressure washer.
The system itself is made from powder-coated steel. It uses an attractive high gloss that is also chip resistant. This means that your system will not only withstand some of the tests of time, but it will also look professional. The Super Max 8900C-640 is truly a machine you can be proud to use for your business.
Best of all, Daimer includes a warranty with the system. A 2-year motor and engine warranty allows you to rest assured knowing your system will always be running smoothly. The 5-year water pump warranty lets you feel confident in your cleaning ability. Should any other issues arise, a 1-year warranty can help. Daimer works hard to give you the confidenence you need to make a decision.
Shopping for a New Pressure Washer
Getting the perfect pressure washer for your job can be easy if you know where to look. Daimer has several cold water pressure washers for sale that can help clean a variety of areas. We are dedicated to helping residential and commercial clients get exactly what they need to detail clean their cars or buildings.
If you are shopping for a pressure washer for the first time, try looking at a variety of models in the same series. For example, if you like some of the features of the Super Max 8900C-640, but still aren't sure if it is the right fit for you, try looking at some of the other Super Max products. This will help you gain a better understanding of what's available. Should you have any questions, contact one of our customer service representatives to help you learn more.
With the right cold water pressure washer by your side, you will be able to tackle a number of cleaning projects. Contact us today to learn more about the Super Max 8900C-640 and how it can help your business.